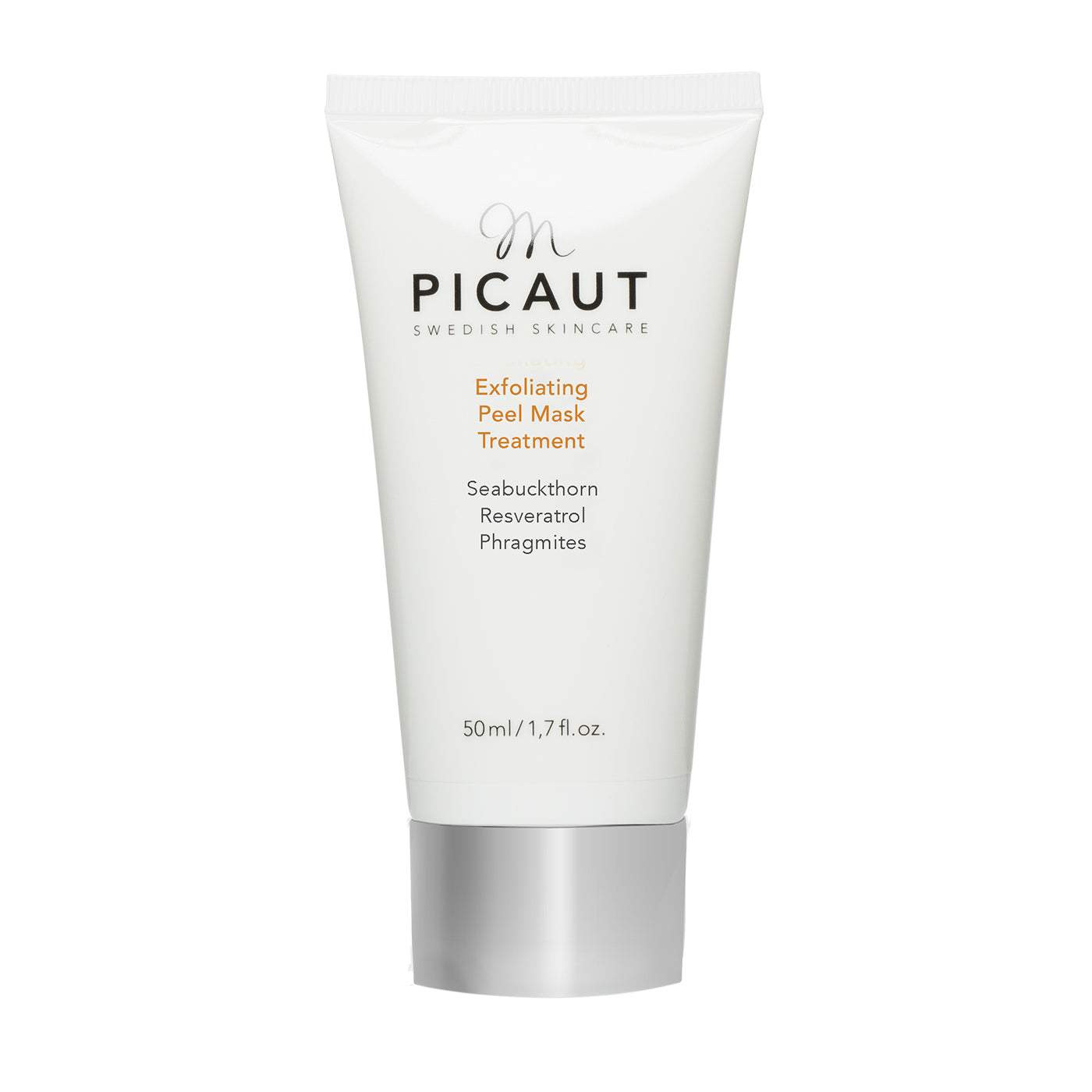 Description
Nourishing, cushy, 2-in-1 scrub and moisture mask / 1.7 oz 
M Picaut Exfoliating Peel Mask was probably made just for you if you're intrigued by the word "peel" but your skin recoils in fright at the thought. This interesting little 2-in-1 tube is one of the gentlest exfoliators we've found, thanks to the fact that it bathes your skin in a cushy moisturizing mask right after you gently ease off dull skin with a supremely gentle scrub.
This formula is similar to that of Luzern's Micro-Exfoliant, since both are creamy bases with jojoba microbeads; this peel mask is more moisturizing thanks to a blend of hydrating glycerin with nourishing sunflower seed, coconut, castor, sea buckthorn, and apricot kernel oils with cocoa butter. Those goodies are blended with botanicals like phragmites karka (doesn't sound like it, but is actually a very calming grass) and poria cocos (a type of mushroom that helps restore skin's moisture). You apply the creamy mixture to your face, scrub gently in small circles, and then let your skin soak in all of that moisturizing, restorative goodness.
Thank you, M Picaut, for including even the most delicate flowers in the peel experience.
How to Use
1. Apply generously to face and neck, avoiding the eye area.
2. Scrub gently in small circles, then allow the mask to stay on for 10 minutes.br> 3. Rinse with warm water.
Ingredients
Phragmites Kharka (Organic): A grass with anti-inflammatory properties. Calming and rebalancing for sensitive skin.
Poria Cocos (Organic): Natural extract from mushrooms used in traditional Chinese medicine to give the skin more glow, restore skin moisture and prevent skin pigmentation. Sea Buckthorn (Organic): Naturally rich in vitamin C. Does wonders for redness-prone skin.
Apricot kernel oil (Organic): Rich in vitamin A.
---
All Ingredients
Aqua (Water), Helianthus Annuus Hybrid Oil (sunflower seed oil)*, Glycerin (from Coconut Oil)*, Hydrogenated Jojoba Wax (Microbeads from Jojoba), Phragmites Kharka Extract (Reed)*, Poria Cocos Extract (Mushroom)*, Olivoyl Hydrolyzed Wheat protein (Olive and Wheat)*, Theobroma Cacao Seed Butter (Cocoa Butter)*, Cetearyl Alcohol (Coconut Oil), Ricinus Communis Seed Oil (Castor Oil)*, Potassium PCA (Natural Salts), Hippophae Rhamnoides Fruit Extract (Sea buckthorne)*, Allatoin (Comfrey), Rosmarinus Officinalis Leaf Extract (Rosemary Antioxidant)*, Glycerine Oleate (Olive Oil)*, Ethylhexyl Glycerine (Preservative), Potassium Hydroxide, Phenoxy Ethanol (Preservative), Xanthan Gum (Corn), Parfume (Hypo-allergic scent), Citric Acid (pH regulator).
*Ingredients from certified organic farms
Aqua (Water), Helianthus Annuus Hybrid Oil (sunflower seed oil)*, Glycerin (from Coconut Oil)*, H...
See All
"Religiously using it every two days, my skin stays clear and I believe my after-products are more easily absorbed and do their magic much easier. Not using micro beads makes my environmentally concerned soul tremendously happy. "
Sherry