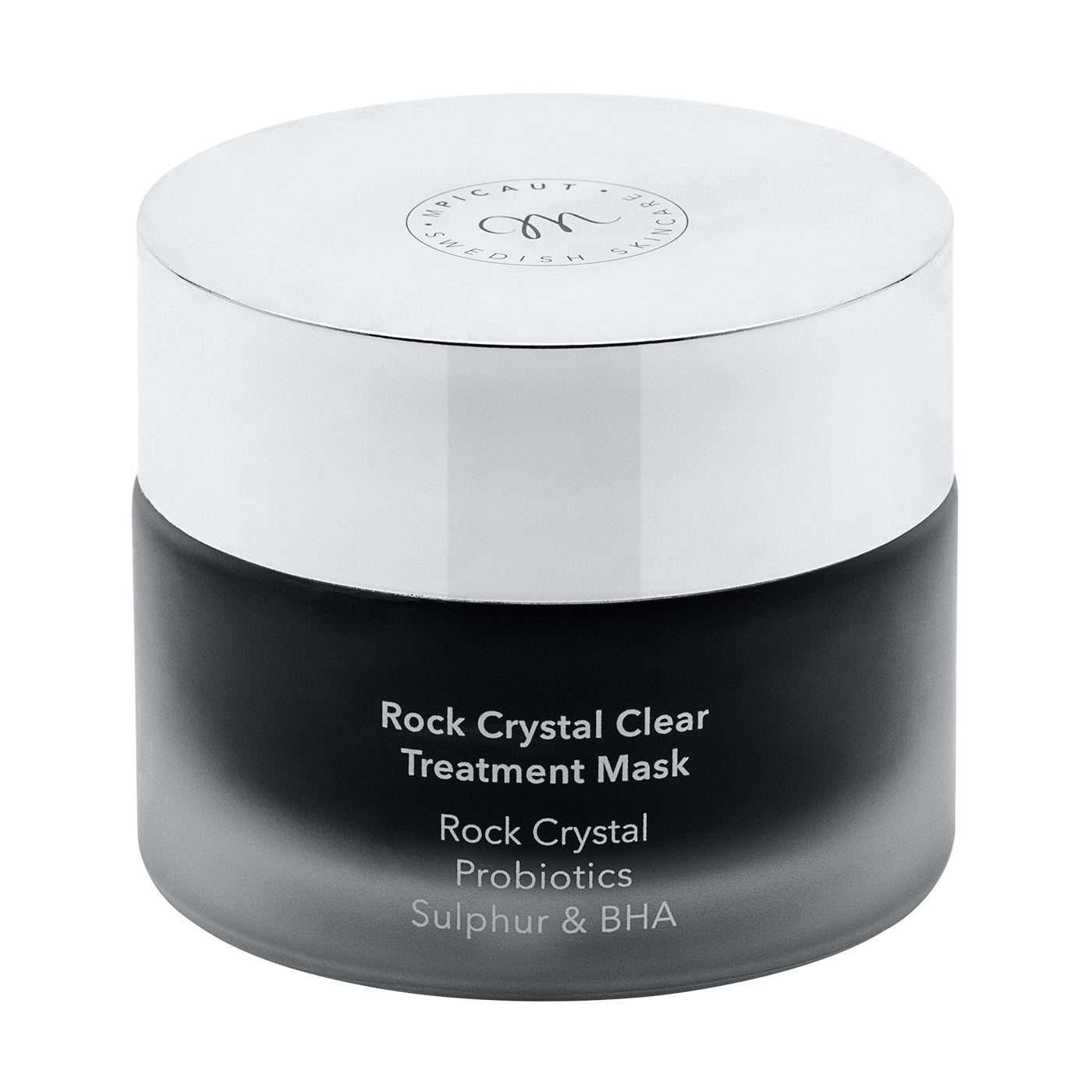 Description
Clarifying, detoxifying, sensitive-skin-friendly mask & spot treatment / 1.7 oz 
M Picaut Rock Crystal Clear Treatment Mask is a beautiful, luxurious treat for the skin that nonetheless means business.
As you might notice from the photo, it contains a fair amount of charcoal, along with sulphur and eucalyptus to deeply cleanse skin that tends to break out. A blend of salicylic and lactobionic acids gently exfoliate, adding extra oomph to the mask's breakout- and congestion-alleviating properties. At the same time, prebiotics feed the skin with helpful bacteria, and a blend of algae, glycerin, and lightweight oils nourish skin with the lightweight moisture it needs.
We also love M Picaut's tendency towards choosing unique ingredients to add dimension to their formulas — in this case, soothing Nordic Cotton Flower extract and mineral-rich quartz powder, said to provide focus, balance, and energy. Which are all, always, good things.
We love this very grown-up approach to treating breakout- and congestion-prone skin, which can also be used as a spot treatment. It's dermatologist-tested for sensitive skin, too.
How to Use
Apply onto clean skin, avoiding the eye area. Leave on for 5–10 minutes, then rinse with lukewarm water. Use 1–2 times a week; can also be used as a spot treatment.
Ingredients
Prebiotics (Inulin) provide fuel for good bacteria, encouraging a more balanced complexion.
Sulphur is a mineral that effectively treats various skin conditions, balancing sebum production by minimizing excess sebum in the pores.
Natural Salicylic Acid (BHA) and Lactobionic Acid (PHA) are gentle yet effective exfoliators.
Activated charcoal is sometimes called a "dirt magnet," thanks to its ability to attract impurities and deeply cleanse the skin.
Nordic Cotton Plant Extract has soothing and protective properties, making it an excellent ingredient for sensitive skin.
Quartz Powder is a clear crystal rich in minerals and trace elements that is said to give focus, balance and energy.
---
All Ingredients
Aqua (Aqua Purificata), Helianthus Annuus Seed Oil (Sunflower Oil)*, Glycerin (Source Coconut Oil)*, Cetearyl Alcohol (Source Coconut Oil)*, Sulfur (Sulphur), Diatomaceous Earth (Kiselgur), Perlite (Mineral from Vulcanic Rock), Olive Oil Decyl Esters (Plant Origin), Charcoal Powder, Glyceryl Stearate (Source Olive Oil), Hydrogenated Vegetable Oil, Polyglyceryl-6 Palmitate/Succinate (Fatty Acids), Lactobionic Acid (PHA Acid), Zinc PCA, Brassica Oleracea Italica Seed Oil (Broccoli Oil)*, Salix Nigra Bark Extract (White Willow Bark Extract)*, Salicylic Acid (BHA), Niacinamide (B3 Vit.), Inulin (From Chicory Root)*, Eriophorum Spissum Flower/Stem Extract (Nordic Cotton Flower)*, Squalene (From Olive Oil)*, Silica (From Algae)*, Agar (From Algae), Quartz Powder, Acacia Senegal Gum (Natural Thickener), Xanthan Gum (Source Corn), Eucalyptus Globulus Leaf Oil*, Fructose (Sugar), Dextrin, Amylopectin (From Plants) , Polydextrose, Parfum (Natural Scent), Lactic Acid (Plant Origin), Sodium Benzoate (Natural Preservative), Potassium Sorbate (Natural Preservative), Phenoxyethanol (Preservation), Ethylhexylglycerin (Preservation), Sorbic Acid
*Ingredients from certified organic farms
Aqua (Aqua Purificata), Helianthus Annuus Seed Oil (Sunflower Oil)*, Glycerin (Source Coconut Oil...
See All