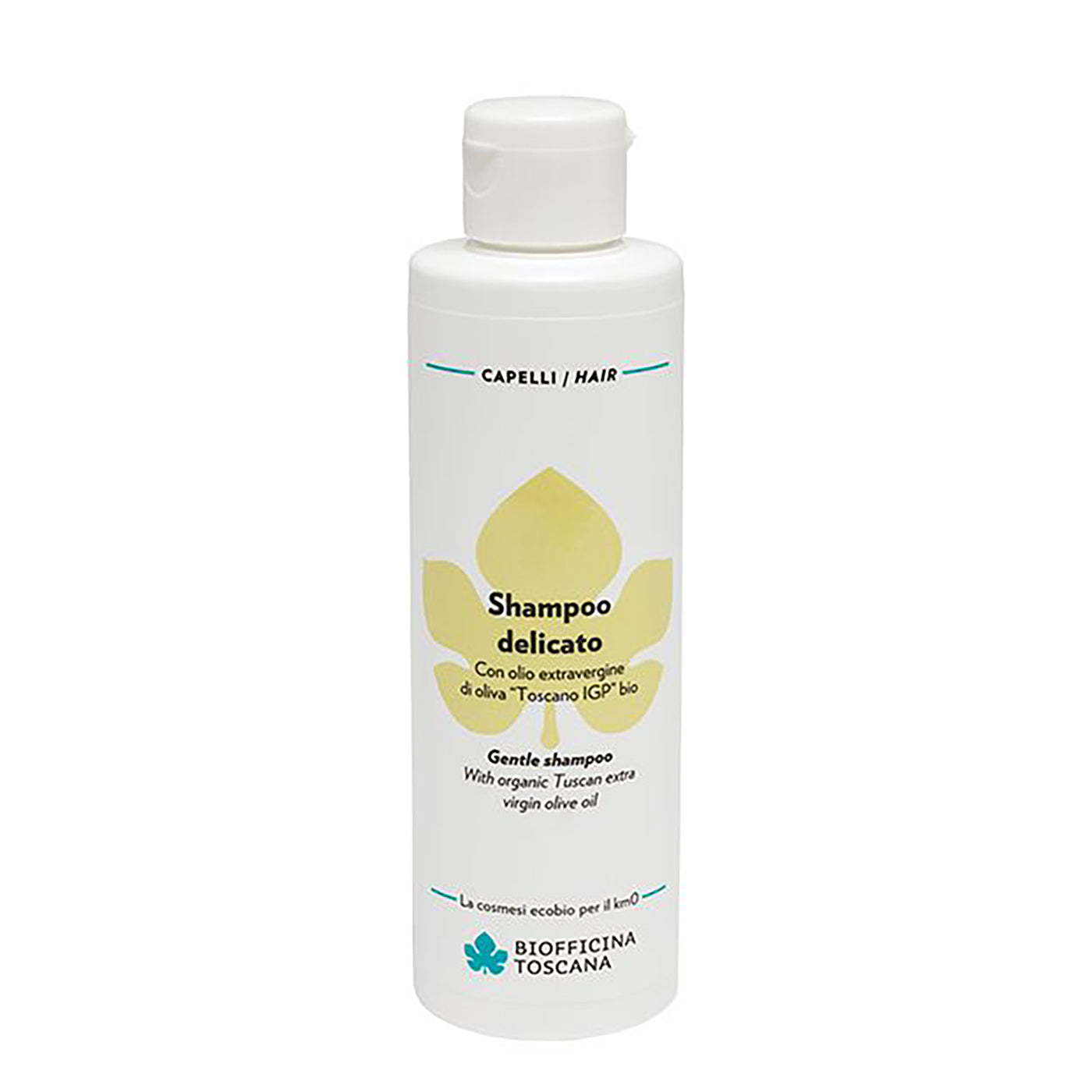 Description
Gentle go-to shampoo for all hair types / 6.76 fl oz 
Biofficina Toscana's Gentle Shampoo was designed to gently cleanse all hair types, including fragile and color-treated, with a special blend of plant-based surfactants and Mediterranean botanical extracts. Just the right amount of organic Tuscan olive oil nourishes without weight; sage, ivy, thyme, nettle, and mallow are sprinkled in to soothe and purify; and a patented ingredient called Luminescine, made from the petals of mullein flowers, boosts shine. And we're not sure what makes this magic happen, but we have heard from a number of customers that it has helped with their hair loss.
What we find most innovative about this shampoo, though, is the fact that it's an eco-friendly concentrate, so you can dilute it with water if preferred. (True story: that's how Monica Bellucci shampoos her hair.) Alternatively, you can personalize it with a Hydrolat of your choice for supercharged scalp benefits. Here's a breakdown of the Hydrolats you can choose from:
- Lavender for scalps of any type, especially sensitive (also works beautifully sprayed on between shampoos for a purifying scalp massage)
- Rosemary to rebalance oily scalps and fight dandruff
- Sage to fight scalp acne, balance oil production, fight perspiration, and boost volume — it's also Biofficina Toscana's top pick for thinning hair
- Cypress to soothe dry, itchy/flaky scalps and restore vitality to dry, damaged hair
To get the perfect dilution level, order Biofficina Toscana's My Shampoo bottle, too. Highly recommended for those of us who consider ourselves Type A.
Note: This shampoo doesn't foam much at all. But you might not care at all, because when you mix it with your chosen liquid in the My Shampoo bottle, it will feel more like a cool Italian cleansing scalp treatment than a shampoo. And perhaps you will feel like an in-the-know Italian siren when you use it.
How to Use
Apply onto damp hair, massage gently, and rinse. Use pure or dilute with water and Biofficina Toscana Hydrolat of your choice. Apply to wet hair, massage, and rinse.
Ingredients
- Organic Tuscan olive oil nourishes and conditions hair while cleansing
- Tuscan extracts of sage, ivy, thyme, nettle and mallow soothe and purify
- Luminescine, obtained from mullein flower petals, boosts shine
---
All Ingredients
Aqua [Water], Sodium coco-sulfate, Coco-betaine, Decyl glucoside, Olea europaea (Olive) fruit oil*, Malva sylvestris (Mallow) flower/leaf extract*, Hedera helix (Ivy) leaf/ stem extract*, Thymus vulgaris (Thyme) flower/leaf extract*, Urtica dioica (Nettle) leaf extract*, Salvia officinalis (Sage) leaf extract*, Citrus aurantium bergamia (Bergamot) peel oil, Citrus aurantium dulcis (Orange) peel oil, Lavandula angustifolia (Lavender) oil, Benzyl alcohol, Cocamidopropyl betaine, Guar hydroxypropyltrimonium chloride, Sodium benzoate, Limonene, Glycerin, Parfum [Fragrance], Linalool.

*from organic agriculture
Aqua [Water], Sodium coco-sulfate, Coco-betaine, Decyl glucoside, Olea europaea (Olive) fruit oil...
See All