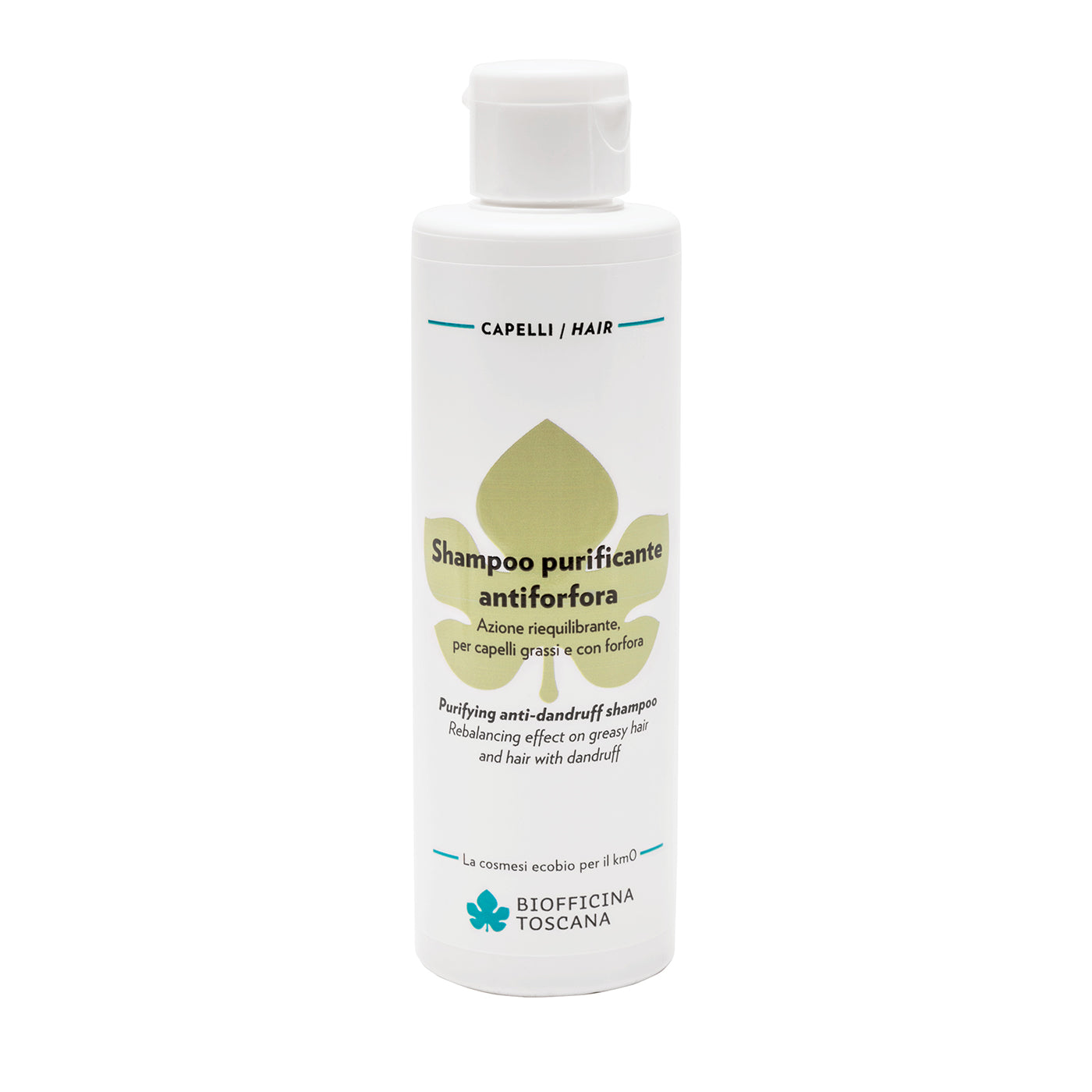 Description
Gentle sebum-regulating, purifying anti-dandruff shampoo / 6.76 oz
Biofficina Toscana's Purifying Anti-dandruff Shampoo has been specifically formulated to have sebum-regulating and purifying effects on the scalp. With its base of plant-based surfactants to gently (but effectively) cleanse scalp and hair, it avoids the overly stripping experience of many purifying shampoos. Instead, a smart blend of botanical extracts (burdock, ivy, juniper, and birch) provides oil-regulating oomph, and Venus Hair Fern extract adds purifying properties that have been linked to prevention of hair loss.
But what takes this formula to the next level is piroctone olamine, an ingredient that not only treats the itchiness associated with dandruff, but also its frequent root cause — a naturally occurring fungus called Malassezia globosa that is present on everyone's scalp, but causes irritation and flaking on scalps that are sensitive to it. (Sort of like the pesky demodex mites that are commonly associated with rosacea on skin.)
Like Biofficina Toscana's Gentle Shampoo Concentrate, it's an eco-friendly concentrate that can be either used as is or diluted with water. Alternatively, you can personalize it with a Hydrolat of your choice for even more supercharged scalp benefits. Here's a breakdown of the Hydrolats you can choose from:
- Lavender for scalps of any type, especially sensitive (also works beautifully sprayed on between shampoos for a purifying scalp massage)
- Rosemary to rebalance oily scalps and fight dandruff
- Sage to fight scalp acne, balance oil production, fight perspiration, and boost volume — it's also Biofficina Toscana's top pick for thinning hair
- Cypress to soothe dry, itchy/flaky scalps and restore vitality to dry, damaged hair
To get the perfect dilution level, order Biofficina Toscana's My Shampoo bottle, too. Highly recommended for those of us who consider ourselves Type A.
How to Use
Apply onto damp hair, massage gently and rinse. It can be used as a stand-alone shampoo, but for best results we recommend diluting it with water + the Biofficina Toscana hydrolats in the dedicated My Shampoo applicator.
Ingredients
- Venus hair fern extract boasts purifying and hair loss preventing properties, while also making hair more radiant.
- Plant-based surfactants cleanse effectively and gently.
- Organic burdock, ivy, juniper, and birch extracts purify the scalp and regulate sebum.
- Piroctone olamine addresses dandruff.
---
All Ingredients
Aqua [Water], Sodium coco-sulfate, Disodium capryloyl glutamate, Coco-betaine, Decyl glucoside, Piroctone olamine, Adiantum capillus veneris leaf extract*, Juniperus communis (Juniper) fruit extract*, Hedera helix (Ivy) leaf/stem extract*, Arctium lappa root extract*, Betula alba leaf extract*, Guar hydroxypropyltrimonium chloride, Benzyl alcohol, Cocamidopropyl betaine, Glycerin, Parfum [Fragrance], Potassium sorbate, Sodium benzoate, Linalool, Limonene.

*organic
Aqua [Water], Sodium coco-sulfate, Disodium capryloyl glutamate, Coco-betaine, Decyl glucoside, P...
See All