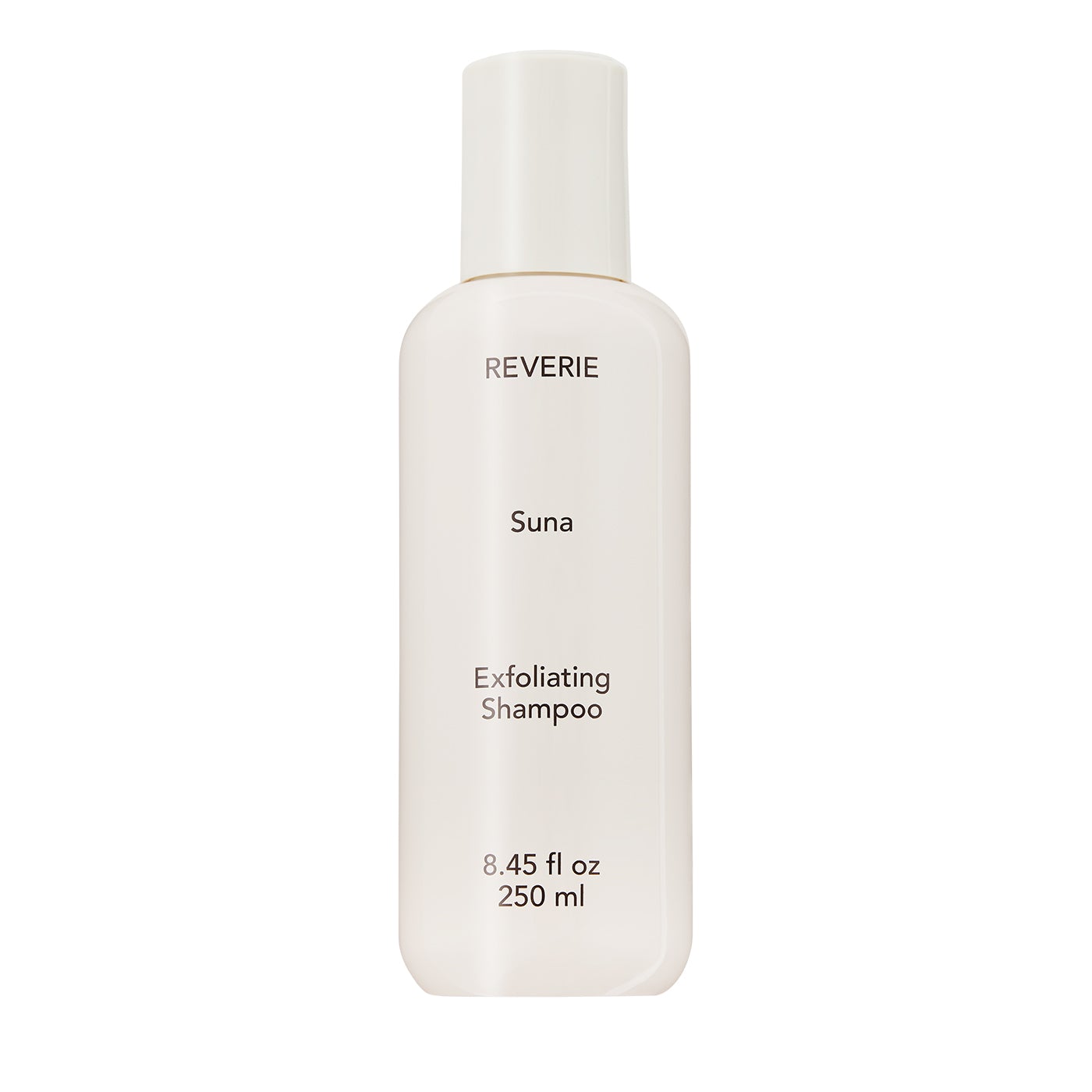 Description
Gentle, salt-free exfoliating shampoo / 8.45 oz
Reverie Suna Exfoliating Shampoo is a gentle, salt-free cleansing scrub for the scalp — something that so many of us need, given that our scalp is an extension of our face.  
There are myriad reasons why an exfoliating shampoo can come in handy as a weekly treatment. Because it's a great way to remove buildup, it can help you extend the time between wash days without sacrificing scalp health; it's also great for those with oily or flaky scalps, or conditions (like seborrheic dermatitis or dandruff) that can lead to buildup, scaling, and flaking. And in all cases, clearing the buildup that can plug your hair follicles will help keep scalps calmer, locks shinier and cleaner between washes — and hair thicker and healthier over time.
This particular cleanser took Reverie three years to perfect, which we know: we tried an early sample, loved it, and waited for what seemed like eons for it to arrive. But Suna was genuinely worth the wait, because this formula is perfect. 
Instead of salt or harsh grains that could cause scratching, Reverie Suna uses rhassoul clay, an ingredient in a number of facial skincare formulas that we love (de Mamiel's Brightening Cleanse & Exfoliate and Kahina's Antioxidant Mask, for example): it helps remove buildup, absorb sebum, and deliver essential minerals to the scalp. The formula also features hibiscus extract, which is naturally rich in AHAs and soothing antioxidants to further help with exfoliation while calming the scalp at the same time, and sodium hyaluronate to help hydrate with zero greasiness.
Byrdie describes it as "a facial for your hair and scalp." Doesn't that sound nice, and also necessary? Its fresh, invigorating scent with notes of spruce, spearmint, and hinoki adds to the feeling that your scalp is getting just the treat it deserves.
How to Use
Start with wet hair in the shower. First, section out your wet hair and gently work Suna into the scalp with fingertips. Then, add a little more water, and work the shampoo deeper into hair and the scalp (it'll lather a little bit at this point) before rinsing very thoroughly—this is important. Follow with your favorite conditioner.
Use this exfoliating treatment once a week for best results.
Ingredients
- Rhassoul clay helps absorb excess oils and remove buildup while delivering essential minerals to the scalp
- Hibiscus extract is naturally rich in AHAs that gently exfoliate and antioxidants that soothe
- Sodium hyaluronate keeps the scalp hydrated with zero greasiness
---
All Ingredients
water/aqua/eau, decyl glucoside, hectorite clay, sodium cocoyl glutamate, perlite, glycerin, caprylyl capryl glucoside, panthenol, sclerotium gum, gluconolactone, hibiscus sabdariffa flower extract*, coco-glucoside, glyceryl oleate, saccharomyces/zinc ferment, saccharomyces/copper ferment, saccharomyces/magnesium ferment, saccharomyces/iron ferment, saccharomyces/silicon ferment, lactobacillus/arundinaria gigantea (bamboo) ferment filtrate, sodium hyaluronate, pca, populus balsamifera, chamaecyparis obtusa (hinoki) wood oil, azadirachta indica (neem) leaf extract*, picea mariana (black spruce) needle oil*, mentha spicata/mentha viridis (spearmint) leaf oil*, foeniculum vulgare var. dulce (fennel) seed oil, sodium phytate, xanthan gum, sodium benzoate, citric acid

* certified organic
water/aqua/eau, decyl glucoside, hectorite clay, sodium cocoyl glutamate, perlite, glycerin, capr...
See All