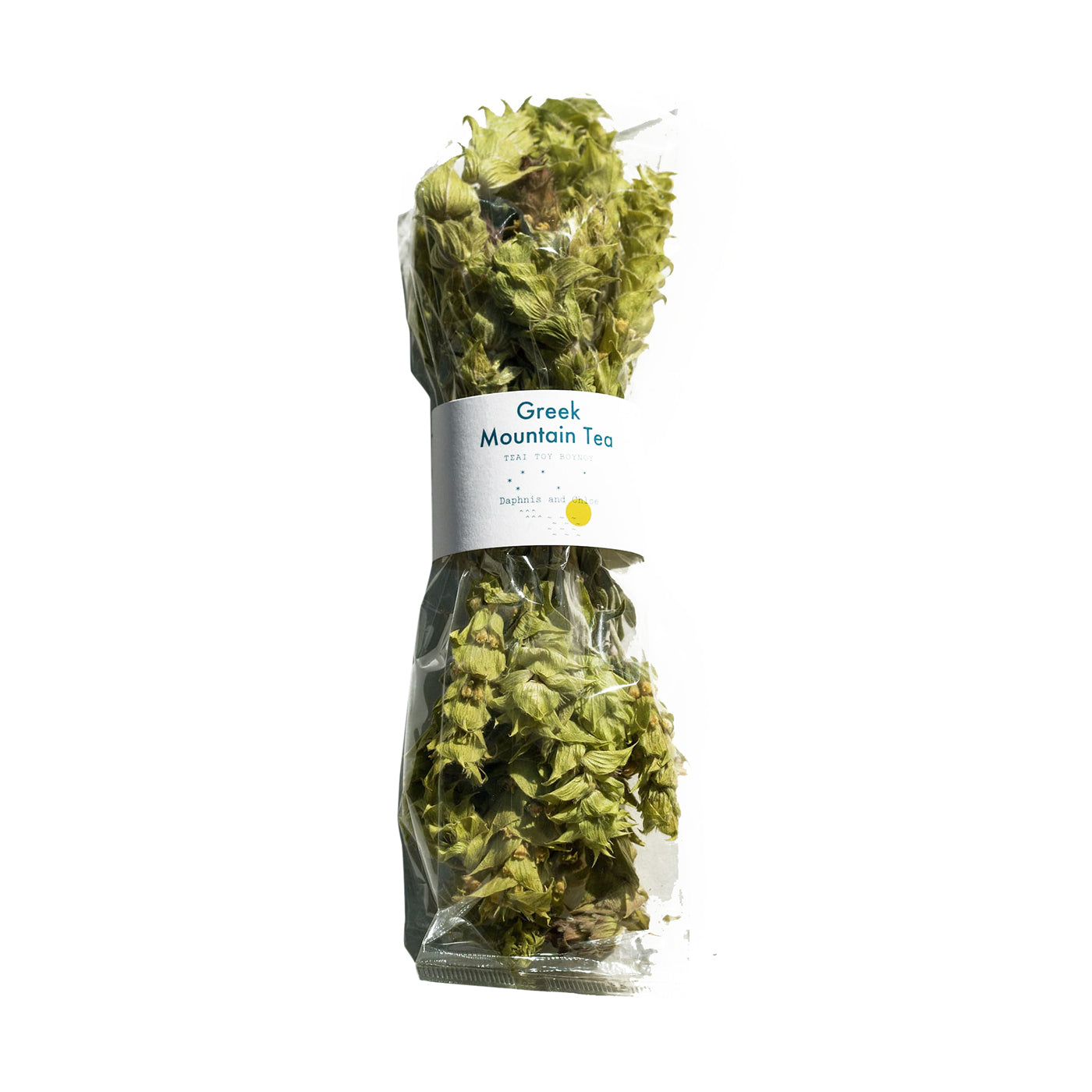 Description
Antioxidant-powerhouse tea with serious mind-body benefits / 1.27 oz 
Daphnis and Chloe Greek Mountain Tea is one of our favorite herbal teas of all time (the other: Ayla + MyHavtorn Happy Tea, of course).
There are so many things to love about this one:
First, it's beautiful. It takes Daphnis and Chloe's most skilled artisans an entire hour to put together just 15 of these handmade bouquets of Mountain Tea, and once you open one, you'll understand why.  Each sprig has been carefully dried and tied in a bundle; to brew a cup, you infuse 2-3 whole sprigs (no need for a tea bag).
And it's not just pretty. Greek Mountain Tea, also known as Sideritis, is an herb that grows on high, rocky slopes; Daphnis and Chloe's variety, from an organic farm in Grevena, has a green and purple hue indicative of its higher concentration of flavonoids, antioxidants, and phenolics than other commercially available types.
We first became interested in Greek Mountain Tea after learning that it is, apparently, one of the key things that keeps famously long-lived Greek shepherds healthy and spry. Even Hippocrates was a fan for its ability to boost immune and respiratory system health, and it's been used in folk medicine ever since for its potent anti-inflammatory, antimicrobial, and digestive benefits.
More recently, it's been shown to offer as many antioxidant benefits as green tea, but without the caffeine; improve cognition, mood, and cerebral blood flow; and have a positive impact on intestinal microflora as well as the levels of glucose and triglycerides in the blood. This tea is legit. 
And, importantly, you need to know how delicious it is. Addictively so. It has a delicate, earthy, mild taste and smell that's similar to chamomile with a touch of mint and citrus.
Downright magical, no? There are so many reasons why we've been drinking Mountain Tea daily at Ayla HQ. 
How to Use
To brew a cup, use all parts of the plant: you'll need 2-3 sprigs per cup. Simmer for 5 minutes at 203 degrees Fahrenheit (just before boiling), covered. Strain and serve warm or at room temperature. Alternatively — just as good! — bring water to a boil, then pour over sprigs and steep, covered, for 5 minutes.
Ingredients
Greek Mountain Tea (Sideritis) from an organic farm in Grevena
---
All Ingredients
Greek Mountain Tea (Sideritis)
Greek Mountain Tea (Sideritis)