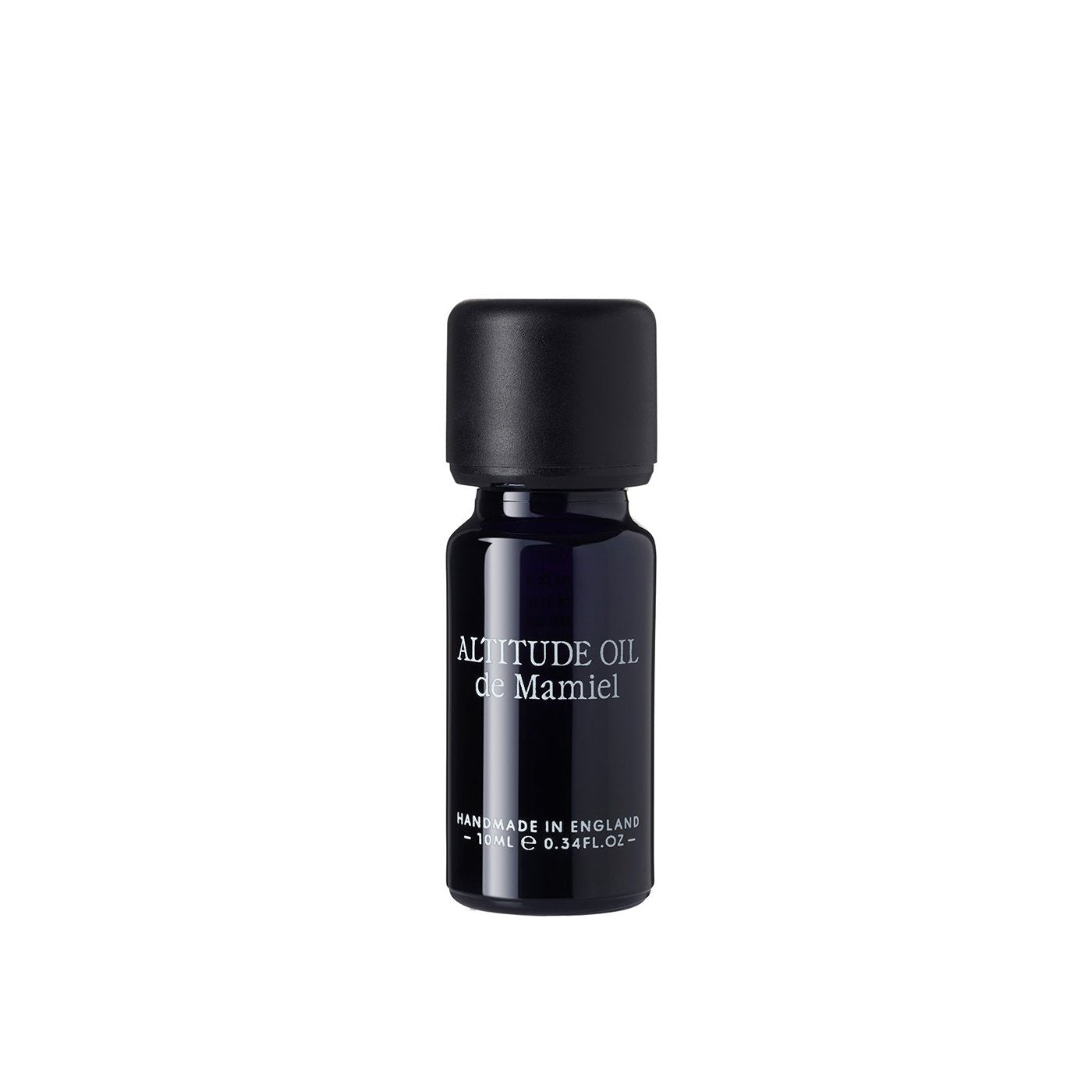 Description
Energizing, soothing, spirit-reviving essential oil blend / 0.34 fl oz
de Mamiel Altitude Oil is this beautiful brand's worldwide best seller and winner of multiple awards, including a coveted spot in the Vogue Beauty Hall of Fame.
Their team told us, "We think of it like a 'tonic for all problems'; if there's one product you need during the pandemic, it's probably this one." Annee herself mentioned, "I blended this oil for my own use and swear by it whenever I travel or am generally feeling a bit run-down. Some deep inhalations every few hours make you feel so much more alive and ready to take on the world."
Our team was intrigued, but a little skeptical — until we took our first deep inhale of this essential-oil blend. Without fail, it gives Dara the shivers: this is no ordinary blend.
Originally developed for frequent flyers, Altitude Oil is just as useful during days when travel is a wistful memory. This refreshing, antibacterial blend of lavender, eucalyptus, fragonia, peppermint, pine, lemon myrtle, and patchouli reveals Annee de Mamiel's gift for bringing her training in both aromatherapy and Traditional Chinese Medicine to her creations. Fragonia, from Annee's native Australia, is often pointed towards as the key element in the blend that helps shift emotional baggage; the blend as a whole somehow helps clear away the cobwebs in the mind, soothe the spirit, and revive energy that seems to have gone on vacation (even when you're still sitting at your desk).
It's the perfect afternoon or anytime pick-me-up — and also the perfect gift for just about anyone. Who wouldn't appreciate a little reset in a bottle?
To learn more about de Mamiel, check out our Brand Spotlight interview with Annee here.
How to Use
Sprinkle a few drops on a tissue, or place a dab under each nostril. Breathe deeply to clear your head, chest, and airways and stimulate your senses.


Ingredients
- Lavender, Eucalyptus, and Peppermint essential oils

---
All Ingredients
Simmondsia chinensis (jojoba) seed oil*, Lavandula angustifolia (lavender) flower oil*, Eucalyptus radiata (eucalyptus) leaf oil*, Agonis fragrans (fragonia) leaf oil, Mentha piperita (peppermint) leaf oil*, Pinus sylvestris (pine) leaf oil*, Backhousia citriodora (lemon myrtle) leaf oil,Pogostemon cablin (patchouli) leaf oil*, Limonene°, Geraniol°, Linalol°, Citronellol°, Eugenol°, Citral°

*Certified organic
˚Natural essential oil constituents
Simmondsia chinensis (jojoba) seed oil*, Lavandula angustifolia (lavender) flower oil*, Eucalyptu...
See All