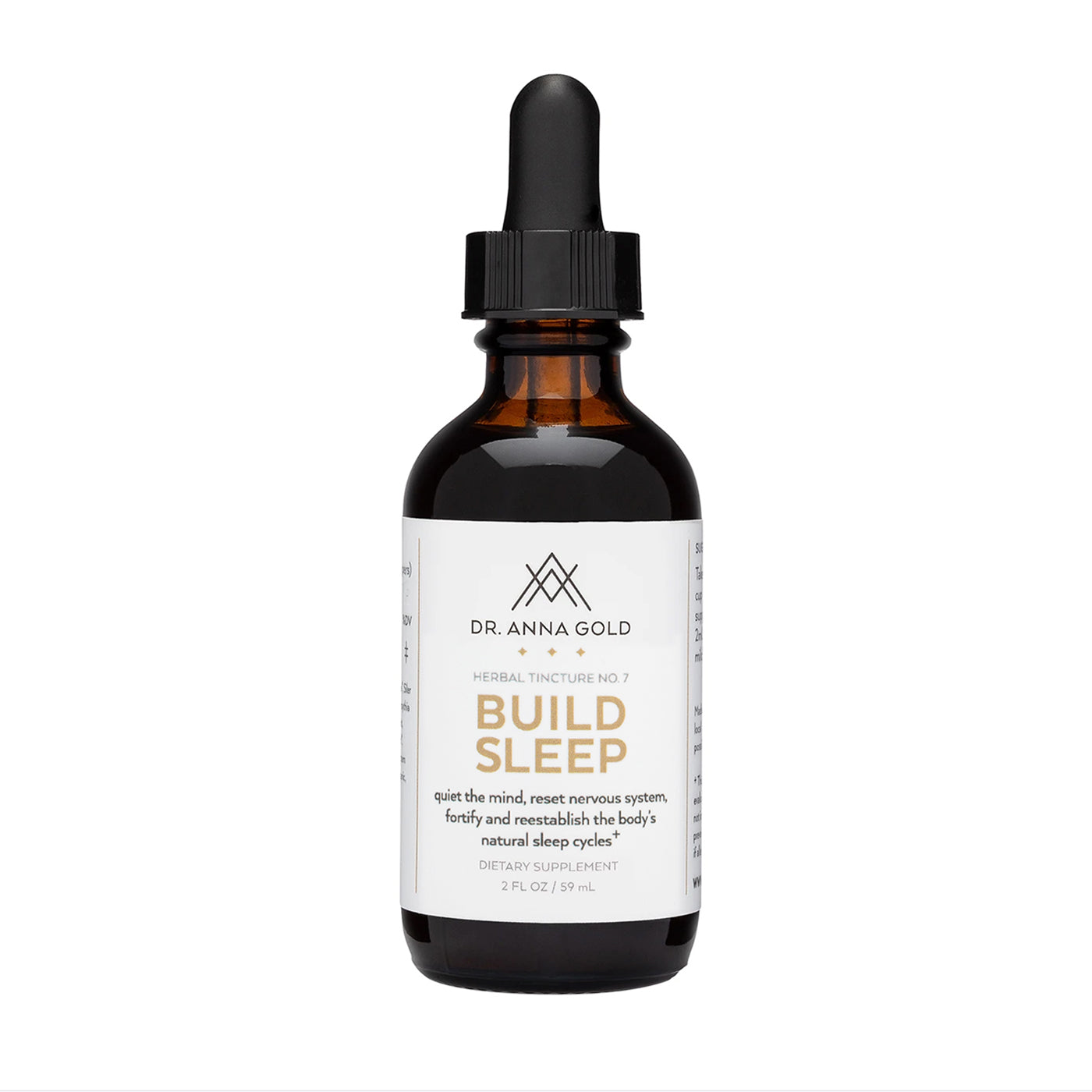 Description
Ingestible elixir to quiet the mind and reestablish natural sleep cycles / 2 fl oz
BUILD SLEEP from Dr. Anna Gold is a unique, plant-based, non-habit-forming treatment for insomnia, designed to help quiet the mind and reestablish the body's natural sleep cycles. With its combination of soporifics (herbs that promote drowsiness) and herbs that address the effects of chronic stress and long term insomnia, BUILD SLEEP is unlike any other sleep aid we've found: it can be taken during shorter periods of time but also provides long term support for those with deep-seated sleep troubles.
This innovative herbal tincture was developed according to principles of Traditional Chinese Medicine, with Ayurvedic and California-native botanicals added for more broad-reaching effects. Made entirely with organic, wildcrafted and pesticide-free ingredients, BUILD SLEEP helps hasten and deepen sleep, which can be particularly helpful during times of increased stress and anxiety; over time, it provides even more profound benefits, helping you fortify healthy sleep patterns and reestablish the body's natural circadian rhythm.
BUILD SLEEP is as useful as an occasional sleep supplement as it is for those with chronic sleep struggles — it can be taken every once in a while as needed, over the course of a few weeks, or indefinitely to support natural sleep rhythms. Not only can this formula relax the mind and help with falling asleep, it can also help keep you asleep, without drowsiness in the morning.
We think this tincture has the potential to help so many people that we asked Dr. Gold to create a mini size just for Ayla. If you're new to TCM or herbal treatments in general, we hope this will make it easier for you to take the plunge — because we are sure you'll love it. And the longer you take it, the more its benefits unfold. It's the most powerful and yet good-for-you sleep treatment we've ever come across.
To learn more about BUILD SLEEP and how it works, please check out our interview with Dr. Anna Gold on our blog. It also includes some answers to frequently asked questions about supplements and medications that can and cannot be taken along with BUILD SLEEP. 
***

Dr. Anna Gold's tinctures are made in small batches using organic, wildcrafted, and pesticide-free herbs. Each batch is microbiologically tested by independent labs and certified free of heavy metals.
If you have severe allergies to any specific foods, please check the ingredient list and consult your doctor if you're uncertain about these varieties.

Note: This product is not intended to diagnose, treat, cure, or prevent any disease. Please consult with your physician or qualified herbalist before using if pregnant or nursing. Keep out of reach of children.

How to Use
Start with 2-3 dropper-fulls, 1 hour before bedtime; spend the next hour winding down, avoiding screens. Depending on your body, you can work up to 3-4 dropper-fulls per night.
Due to variances in body mass and tolerance, you'll need to find your own sweet spot and can break up the dosage if that's helpful. Some find, for example, that taking 2 dropper-fulls after dinner and another 2 dropper-fulls 1 hour before bedtime is the ticket.
Ingredients
Ingredients from Traditional Chinese Medicine —
- Jujube seed: helps with insomnia due to Liver Yin deficiency; provides tonification for Heart Blood
- Poria cocos and Longan fruit: excellent tonics for digestion whose properties also enter the Heart and Spleen channel to calm the spirit and help those who frequently worry
- Anemarrhena rhizome: an herb that enriches and tonifies the yin, clearing deficiency heat (frequently caused by rumination)
- Sichuan lovage root: a Blood and Liver Chi tonic that is a mainstay in menstrual regulating formulas, this helps provide nourishment and can help alleviate headaches related to tension in the shoulders
- Fo-ti stem: an herb that addresses Heart Blood deficiencies and helps calm the nervous system

  Additional plant-based ingredients —
- Ashwagandha: an anti-inflammatory and neuroprotective adaptogen that supports the brain's production of GABA, a neurotransmitter that relieves anxiety and encourages deeper sleep.
- Passionflower: a plant native to the Americas that's known for its ability to help relax the nervous system, helping with agitation and stress. Particularly useful when combined with ashwagandha.
- California Poppy: a flowering plant (and state flower of California) that is frequently used to promote relaxation and alleviate nervous agitation.
- Valerian: a Chinese herb that is used widely as a Western supplement to help induce sleep and quiet the mind.
---
All Ingredients
California Poppy whole plant*, Valerian root*, Ashwagandha root*, Passionflower aerial parts*, Fo-Ti stem, Jujube seeds*, Poria Sclerotium*, Anemarrhena rhizome, Sichuan Lovage Rhizome, Licorice Root , Asian Ginseng root*, Astragalus root*, Atractylodes rhizome, Longan fruit, Dong Quai root*, Polygala root, fresh Ginger rhizome*, Jujube fruit*, Costus root.(*Organic)
Other ingredients: Distilled water, Cane alcohol
California Poppy whole plant*, Valerian root*, Ashwagandha root*, Passionflower aerial parts*, Fo...
See All
"I have had a lifelong struggle with sleep. It has a huge effect on the quality of my life...[with this tincture] I had the most wonderful sleep."
E. O.