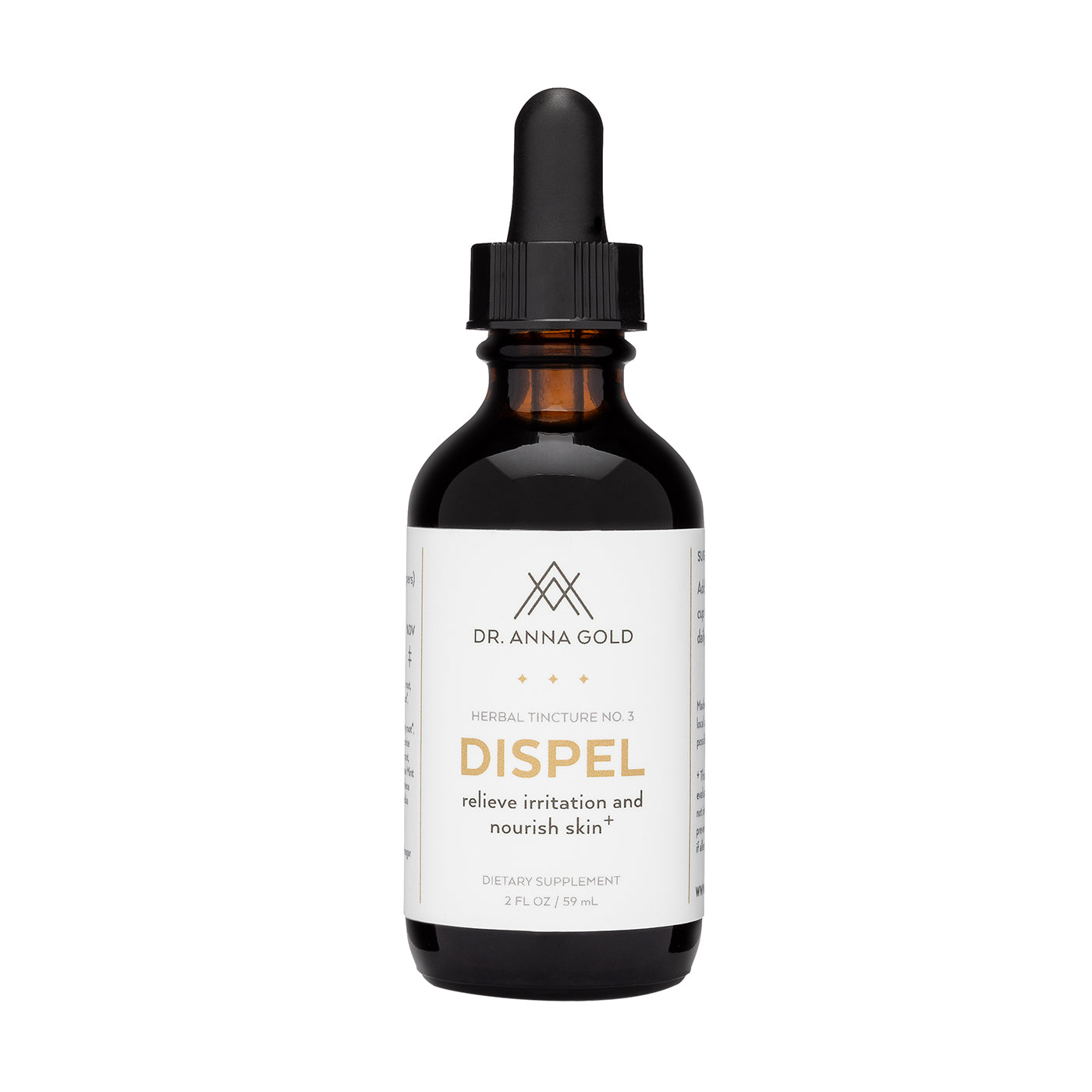 Description
Ingestible elixir that helps soothe skin irritations and support their healing / 2 fl oz
Dr. Anna Gold DISPEL tincture is designed for itchy, inflamed, red, irritated skin: conditions like dermatitis, psoriasis, eczema, and anything with superficial roughness, dryness, or flakiness. It was the first formula that Dr. Gold perfected after having worked with many of Kristina Holey's clients — the very same ones that have found the Marie Veronique + Kristina Holey line of products to be their topical skin saviors.
This ingestible formula's carefully chosen blend of medicinal herbs soothes both at the skin's surface and internally to more holistically support the healing process. DISPEL is what we turn to for those who struggle with intractable perioral dermatitis and eczema in particular — we have seen photos of successful treatment with DISPEL that would take your breath away.
How it works: DISPEL uses a number of herbs (Siler and Shizonepeta) that are known to calm "superficial wind," a concept in TCM that refers to any kind of irritation or rash on the skin's surface. "Wind" arises when the Blood (in TCM, it's known as the life force that nourishes the organs and connective tissue and houses the spirit) is deficient, resulting in superficial heat. Added to these wind-calming herbs are major blood tonics like Rehmannia and Angelica, as well as herbs like Sichuan Lovage that are known to boost circulation. Gypsum and Mu Tong are known in TCM to drain heat that can accumulate internally. Anna added a handful of Ayurvedic and Western herbs — Astragalus, Echinacea, Burdock, and Gotu Kola — for their anti-inflammatory and immune-regulating properties.

Dr. Anna Gold's tinctures are made in small batches using organic, wildcrafted, and pesticide-free herbs. Each batch is microbiologically tested by independent labs and certified free of heavy metals.

If you have severe allergies to any specific foods, please check the ingredient list and consult your doctor if you're uncertain about these varieties.

Note: This product is not intended to diagnose, treat, cure, or prevent any disease. Please consult with your physician or qualified herbalist before using if pregnant or nursing. Keep out of reach of children.

How to Use
Drink 20 to 60 drops (1-3 full droppers) in 1/4 cup warm water 3-5 times daily.
Ingredients
- Angelica and Sichuan Lovage nourish skin and promote microcirculation
- Siler and Schizonepeta relieve itch and calm inflammation
- Puncturevine is used in Chinese medicine as a liver tonic to help regulate immune disorders
- Rehmannia is used as a yin tonic for the blood and kidneys, benefiting the adrenals
- White Peony is used in TCM as a tonic for blood and as a "heat reducing" herb for the liver. It has been used to treat immune-related and inflammatory disorders for more than 1200 years.
- Fleece flower has been used in TCM for more than 3000 years to tone the kidneys and liver and rejuvenate the nerves
- Sophora is widely used in TCM to treat rashes and eczema
- Chinese field mint diminishes inflammation and works on nerves to mitigate itch
- Anemarrhena is used in TCM to purge heat, nurture yin, and relax tension; it is excellent at reducing inflammation in the skin
- Gypsum is used in TCM to clear excess heat, particularly in the stomach and lungs, which guide the health of the skin
---
All Ingredients
Siler root, Dong Quai root*, Rehmannia root, Schizonepeta aerial parts*, Echinacea root*, Burdock root*, Gotu Kola aerial parts*, Sichuan Lovage rhizome, Chinese Peony root*, Tribulus fruit*, Prepared Fo-ti root*, Licorice root*, Burdock seed, Shrubby Sophora root, Cang-zhu Atractylodes rhizome, Chinese Mint aerial parts, Schisandra fruit*, Anemarrhena rhizome, Gypsum, Astragalus root*, Akebia stem.

(*Organic)

Other ingredients: Distilled Water, Ethanol, Apple Cider Vinegar.
Siler root, Dong Quai root*, Rehmannia root, Schizonepeta aerial parts*, Echinacea root*, Burdock...
See All
"I've been suffering from dermatitis/eczema for years. I have tried everything topical and nothing helps. I took this regularly for months until my life long eczema started to be less severe. Now I only take it when I have a flare up. If I have an itchy patch start to come up because I'm stressed or not sleeping enough, I just start taking this tincture three times a day and usually after a week my eczema goes away. I'll never not have this in it medicine cabinet. I highly recommend it."
Holly Robertson