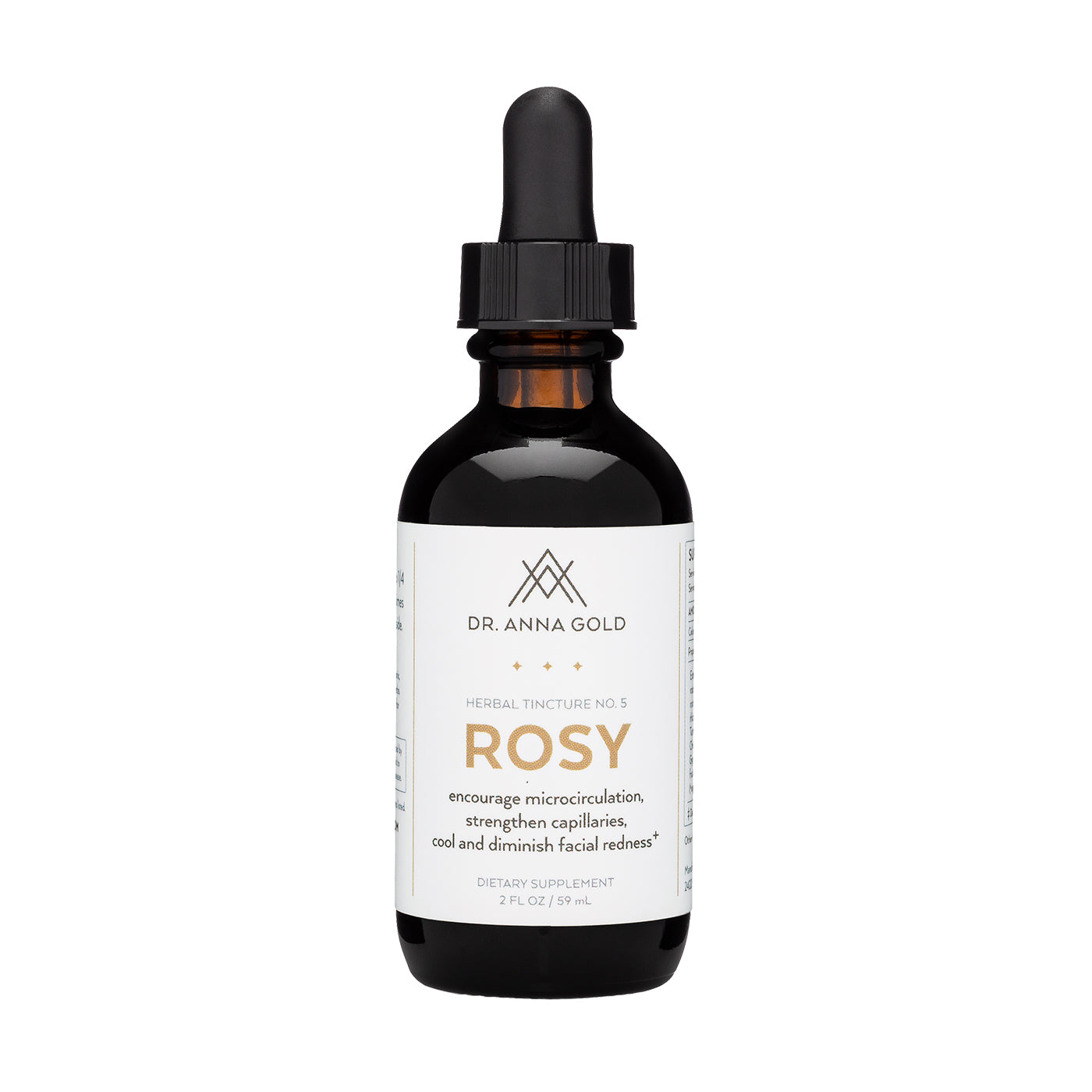 Description
Ingestible elixir to calm rosacea-prone skin / 2 fl oz


Dr. Anna Gold's ROSY is designed to reduce the facial redness that's associated with inflammatory skin conditions like rosacea and facial flushing — conditions that are famously hard to treat. Like the other skin-specific tinctures in her line, ROSY was inspired by Dr. Gold's experience treating common skin disorders with Kristina Holey, where her herbal blends would provide internal support to hasten the healing process in combination with Kristina's facial treatments.
As Dr. Gold told us in her interview with Dara about rosacea, "What makes it hard to treat is that it comes and goes. Rosacea is characterized by facial redness — usually around the cheeks, nose, forehead, and chin — but it gets worse and better. And at times, it's accompanied by swelling, itching, pustules, and pimples." She adds, "It's very common, and I think it's frequently misdiagnosed."
And what's interesting is that, from a TCM perspective, the rosacea diagnosis is quite clear-cut: it's considered to be chi and heat stagnation, and Blood stagnation in the Lung and Stomach channel — which open onto the nose, the sides of the nose, and the cheeks. So ROSY contains a carefully chosen combination of herbs and flowers designed to cool and nourish the blood, increase microcirculation, strengthen capillaries, and help drain the heat from the Lung and Stomach channels.
There's Sichuan lovage, Carthamus flower, Skullcap, and Chinese peony root to encourage microcirculation and strengthen capillaries, along with turmeric to cool and diminish facial redness. Gypsum and Gardenia fruit cool heat in the Lung and Stomach channels, improving redness and flushing in the cheeks and nose; Rehmannia and Dong Quai nourish the Blood, helping it deliver a fresh supply of micronutrients critical for healthy skin. Finally, dandelion leaf helps flush out the liver and supports the overall formula.
We are so excited to have this internal treatment for rosacea on our shelves. So many people have found CLEAR, DISPEL, and ELEVATE to be game changers for their skin, and we're sure this one will be, too.
Note: This product is not intended to diagnose, treat, cure, or prevent any disease. Please consult with your physician or qualified herbalist before using if pregnant or nursing. Keep out of reach of children.
How to Use
Drink 3 full droppers diluted in 1/4 cup warm water, twice daily.
Ingredients
- Carthamus flower helps encourage microcirculation
- Skullcap helps strengthen capillaries
- Turmeric and Dandelion help cool and diminish facial redness
---
All Ingredients
Extractives of unprocessed Rehmannia root (Sheng Di Huang), Dong Quai root (Dang Gui)*, Chinese Skullcap root (Huang Qin), Safflower flower (Hong Hua), Sichuan Lovage rhizome (Chuang Xiong), Anemarrhena rhizome (Zhi Mu), fresh Turmeric rhizome*, Dandelion leaf (Pu Gong Ying)*, Chinese Peony root with bark (Chi Shao)*, Mineral Gypsum (Shi Gao), Tree Peony root bark (Mu Dan Pi)*, Gardenia fruit (Zhi Zi), Platycodon root (Jie Geng)*, and Licorice root (Gan Cao)*. *Organic Other ingredients: Filtered water, Ethyl alcohol

Dr. Anna Gold's tinctures are made in small batches using organic, wildcrafted, and pesticide-free herbs. Each batch is microbiologically tested by independent labs and certified free of heavy metals.

If you have severe allergies to mushrooms or any other specific foods, please check the ingredient list and consult your doctor if you're uncertain about these varieties.

Extractives of unprocessed Rehmannia root (Sheng Di Huang), Dong Quai root (Dang Gui)*, Chinese S...
See All