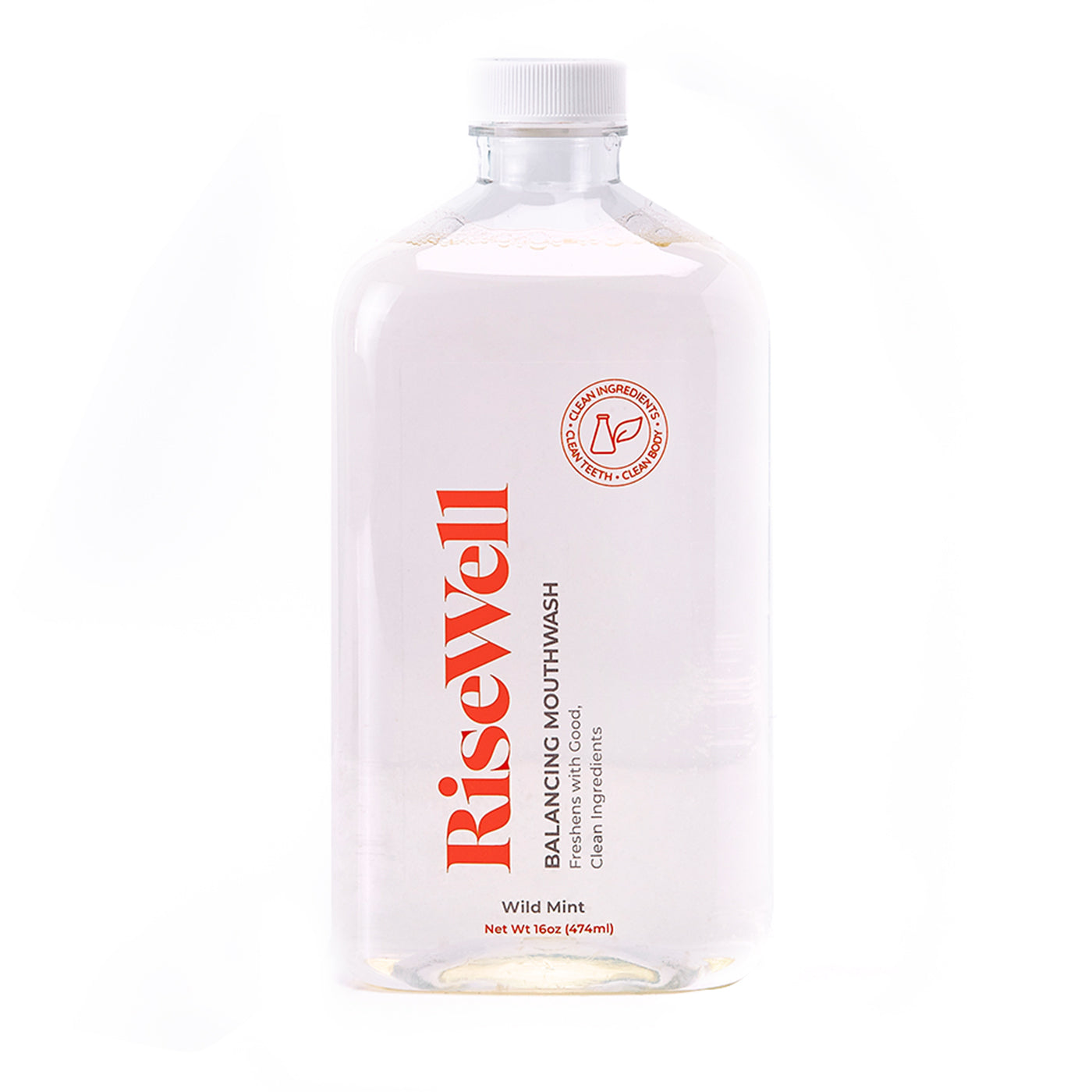 Description
Microbiome-balancing mouthwash with xylitol / 16 oz 
RiseWell Balancing Mouthwash uses a combination of sodium bicarbonate and xylitol (made from non-GMO corn) and sodium bicarbonate to balance your mouth's pH, inhibiting the growth of bad bacteria and biofilm.
What is xylitol? As RiseWell founder Kori Estrada told us, "Xylitol acts like a fake sugar that's floating around in your mouth, and the bacteria think it's real sugar and try to eat it — so it helps control the overgrowth of bad bacteria that can cause the acid that leads to cavities." Cool, no? This not only leaves your mouth fresh, but also incredibly healthy. We particularly love this mouthwash for those who struggle with perioral dermatitis and have tried EVERYTHING. Every little bit helps, and a switch to a balancing mouthwash might be the game-changer you needed.
RiseWell's mouthwash is alcohol-free, SLS-free, sulfate-free, fluoride-free, paraben-free, vegan, and cruelty-free. Naturally flavored with beneficial essential oils, stevia, and erythritol. 
Please note that we cannot accept bulk orders.
How to Use
To maintain a balanced, healthy mouth, rinse and gargle in the morning, at night, and whenever you need to freshen up!
Ingredients
- Xylitol: starves harmful bacteria of their food source, thereby reducing their ability to produce the acids that lead to cavities
- Sodium Bicarbonate: a gentle cleanser and pH balancer
- Tea Tree Oil: antibacterial and antifungal properties
---
All Ingredients
Water, Xylitol, Propanediol, Sodium Bicarbonate, Polysorbate, Stevia Rebaudiana Extract, Erythritol, Mentha Arvensis (Wild Mint) Oil, Mentha Piperita (Peppermint) Oil, Echinacea Purpurea Extract, Cinnamomum Cassia (Cinnamon) Bark Extract, Citrus Aurantium Dulcis (Orange) Peel Oil, Citrus Limon (Lemon) Peel Oil, Melaleuca Alternifolia (Tea Tree) Oil, Sodium Gluconate, Thymus Vulgaris (Thyme) Extract, Menthol, Eucalyptus Globulus Extract, Illicium Verum (Anise) Extract
Water, Xylitol, Propanediol, Sodium Bicarbonate, Polysorbate, Stevia Rebaudiana Extract, Erythrit...
See All