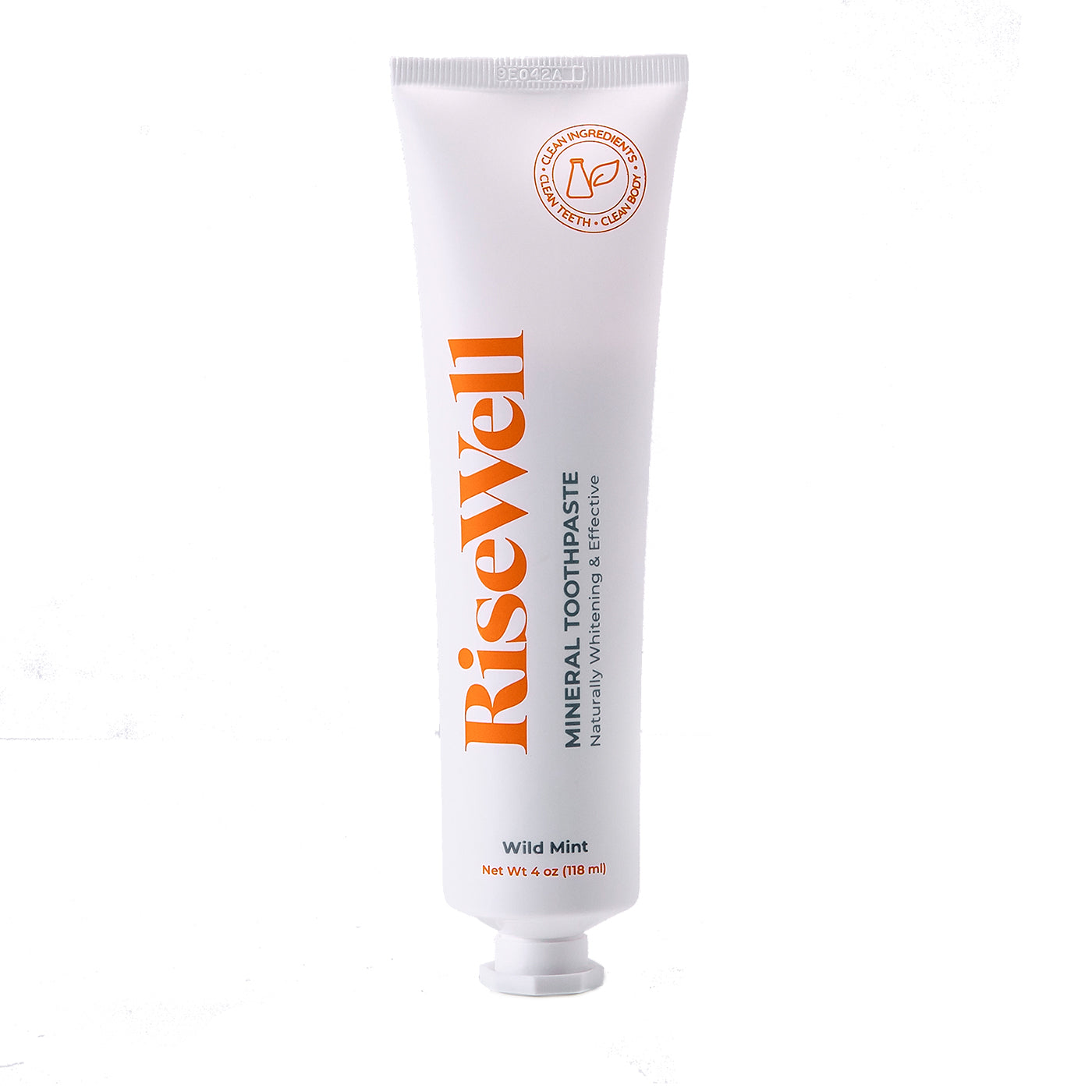 Description
Fluoride-free, wild mint flavored mineral toothpaste / 4 oz 
RiseWell Mineral Toothpaste is one of those products that feels as though it was conjured in a dream — but it's real, and we're delighted by that.
First of all, the RiseWell team has assiduously avoided harsh foaming agents, sulfates, and other ingredients often found in traditional toothpaste. But unlike the other "natural" toothpastes on the market that we've tried (trust us; we've tried a lot), it leaves your mouth feeling decidedly clean and your breath perfectly fresh.
What really got us excited about this formula, though, was something called hydroxyapatite, the mineral that makes up 97% of our teeth and bones. Instead of using fluoride, the cavity fighter that's in many toothpaste formulas but that isn't something you necessarily want in your body, RiseWell Mineral Toothpaste uses hydroxyapatite to safely build and protect the enamel in your teeth, which has a variety of benefits: it fights plaque, it can keep cavities at bay, and it whitens without stripping the enamel on your teeth. The added bonus? It's so healthy that you can even eat it. (But please don't. There are so many other good things to eat that are actual food. This just means that you don't need to rinse and spit as you normally would.)

We have never been this excited about a toothpaste, and our whole team is addicted to RiseWell. We think you'll hear a lot more about hydroxyapatite in the coming years. Until then, know that hydroxyapatite is even endorsed by the likes of Colgate.

Please note that we cannot accept bulk orders.
How to Use
A regular pea size amount is recommended. Since the toothpaste doesn't contain fluoride and has hydroxyapatite in its place, the longer you have the mineral exposed to the enamel the better. You don't have to rinse and spit like other toothpaste.
Ingredients
- Hydroxyapatite: The same mineral that makes up our teeth and bones, HA remineralizes your teeth the way your body does naturally
- Xylitol: Starves harmful bacteria of their food source, thereby reducing their ability to produce the acids that lead to cavities
- Silica & Calcium Carbonate: These natural scrubbers gently clean your teeth without damaging or stripping the enamel
- Tea Tree Oil: Antibacterial and antifungal
---
All Ingredients
Silica, Sorbitol, Glycerin, Xylitol, Hydroxyapatite, Calcium Carbonate, Propanediol, Potassium Cocoate, Stevia Rebaudiana Extract, Mentha Arvensis (Wild Mint) Oil, Mentha Piperita (Peppermint) Oil, Echinacea Purpurea Extract, Cinnamomum Cassia (Cinnamon) Bark Extract, Citrus Aurantium Dulcis (Orange) Peel Oil, Citrus Limon (Lemon) Peel Oil, Melaleuca Alternifolia (Tea Tree) Oil, Cellulose Gum, Sodium Gluconate, Menthol, Thymus Vulgaris (Thyme) Extract, Erythritol, Xanthan Gum, Eucalyptus Globulus Extract, Illicium Verum (Anise) Extract
Silica, Sorbitol, Glycerin, Xylitol, Hydroxyapatite, Calcium Carbonate, Propanediol, Potassium Co...
See All