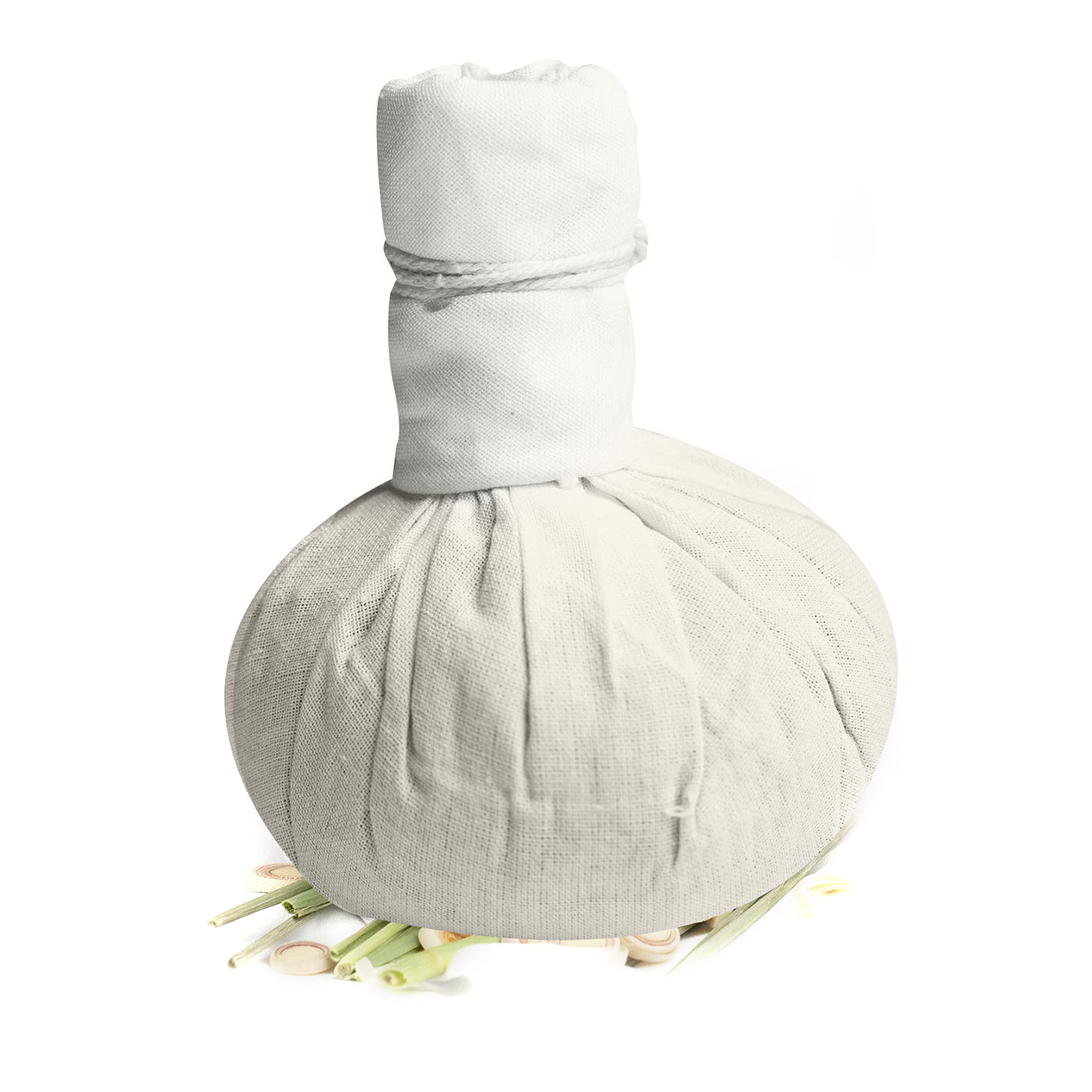 Description
Traditional Thai remedy for sore muscles and joints / 1 poultice
Sudtana's Thai Wan Plai & Ginger Body Poultice is a traditional Thai remedy for sore muscles and joints. If you haven't seen poultices before, we suspect you'll start to see more of them soon. Inspired by 14th-century Thai herbal wisdom, herbal body poultices are designed to encourage the body to redirect its flow of energy, soothing areas of soreness while also nudging the mind to relax and release.
Sudtana's take on the poultice includes 15 organically grown herbs sourced from small Thai farms: a specific variety of ginger from northern Thailand along with turmeric root, lemongrass leaf, makrut lime peel, tamarind leaf, jack (amomum biflorum), sambong, pandan, eucalyptus, moringa, giant crinum, derris scandens, cryptolepis buchanani, and croton roxburghii. Each preservative-free poultice is made immediately after the herbs' harvest to ensure optimal efficacy, and it contains nothing but these sustainably grown herbs wrapped up in natural cotton cloth, tied with a cotton string.
Once the poultice is heated (please follow our instructions under "How to use"!), the herbs combined with the rolling self-massage motion help relax and soothe body and mind. The Sudtana team suggests using the body poultice as a special home treatment for sore muscles and joints, post-workout relaxation, and even menstrual cramps. Follow with Sudtana's Uplifting Body Oil for a complete experience. 
Stored properly (see "How to use"), the poultice can be reused up to 5 times within 2 weeks.

How to Use
Follow these steps anytime you wish to relax or when pains and aches occur.
First, soak the entire ball in water in one of two ways: either a) place the ball in a steaming machine for at least 15-20 minutes, or b) place the ball in a bowl of water and microwave at medium heat for 1 minute. Please note that pouring already boiled water on the ball will cause the vitamins and nutrients to dissipate; it has to gradually heat up.
Then, remove the ball with gloves or a towel to protect your hands, placing it somewhere to allow the ball to cool a bit (you'll need to ensure it is not too hot for your skin).
When you're ready, massage the ball in circular motion onto the areas you want to de-stress and relieve for 5-10 minutes or until the heat is gone.
Soak the ball in water and reheat it to repeat the treatment.
When you're done, let the ball cool completely, then place it in an airtight bag in the freezer. It can be reused up to 5 times within 2 weeks of its first use. (Since the product contains no preservatives, please don't test these limits.)
For external use only. Avoid eye contact, and do not ingest.
Ingredients
- Tamarind leaves help calm redness.
- Turmeric provides powerful soothing relief.
- Lemongrass and makrut lime lend a soothing natural scent.
---
All Ingredients
Zingiber Cassumunar Root Extract, Curcuma Longa (Turmeric) Root, Curcuma Sp., Cymbopogon Schoenanthus (Lemongrass) Leaf, Amomum biflorum Jack, Citrus Hystrix (Kaffir Lime Peel), Tamarindus Indica Leaf, Blumea Balsamifera Leaf, Croton Roxburghii (Roxb.), Crinum Asiaticum Extract, Pandan Amaryllifolilus Leaf, Eucalyptus globulus Leaf, Moringa Oleifera Peel, Derris Scandens (Roxb.), Cryptolepis Buchanani
Herbs are ethically sourced from small farms in Kalasin, Thailand, where they are grown organically.
Zingiber Cassumunar Root Extract, Curcuma Longa (Turmeric) Root, Curcuma Sp., Cymbopogon Schoenan...
See All