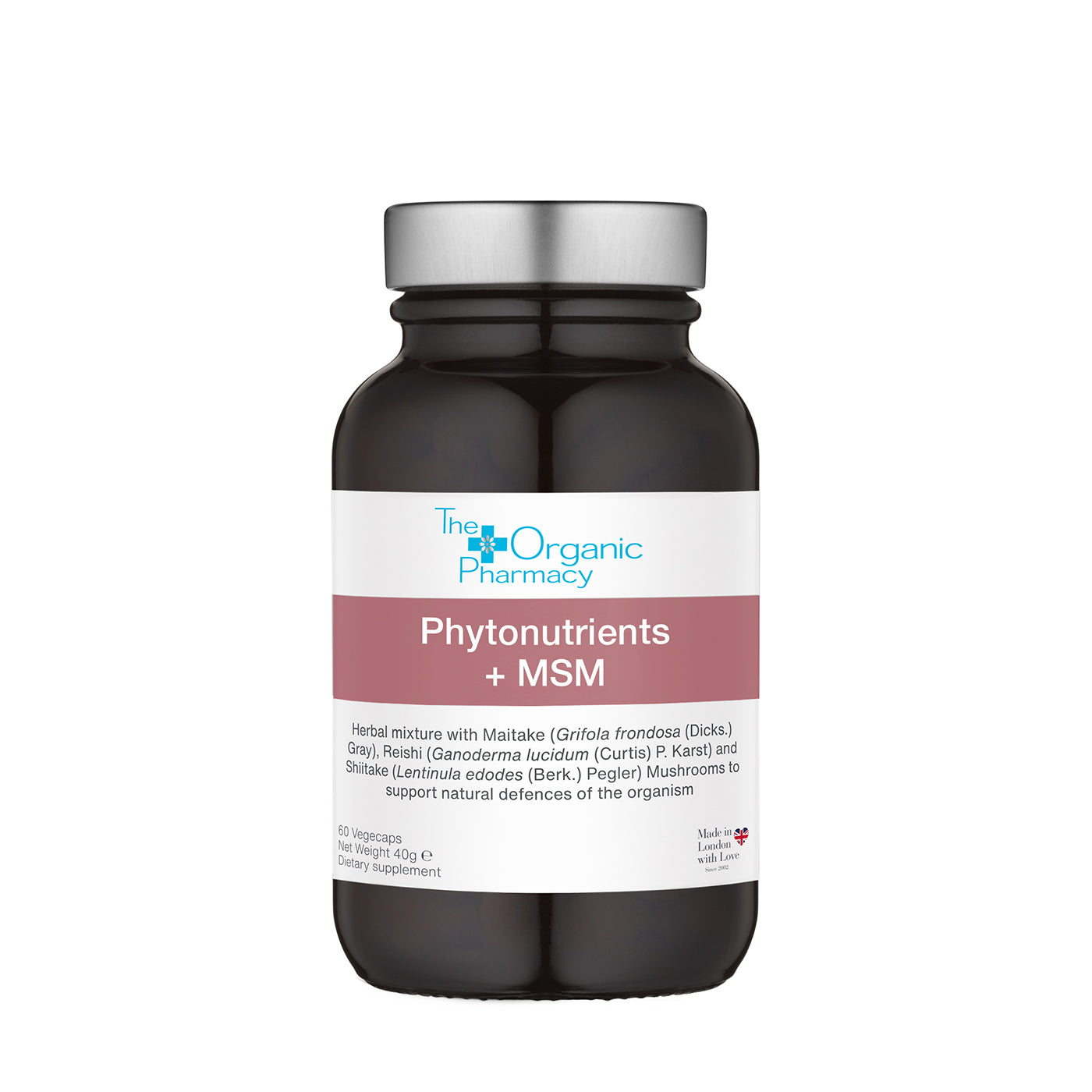 Description
Supplement that supports digestion, immune health, skin & connective tissues / 60 vegecaps
The Organic Pharmacy Phytonutrients + MSM is our new favorite supplement from this beloved British brand: it's just what most of us need when we feel like we could generally use additional support for hectic, stressful times. It's almost like an insurance policy against the flagging energy, depleted immune health, troubled digestion, allergies, and lackluster skin / hair / nails that accompany those periods in life when everything feels a little overwhelming.
If that sounds oddly general, it's because Phytonutrients + MSM is an innovative, genius blend of supergreens, herbs and fruit extracts, immune-stimulating mushrooms, digestive enzymes, adaptogens, and MSM — all from natural sources — that's designed to support all bodily functions:
To support digestion, there's bromelain (a natural protein-digesting enzyme from pineapple) to calm the digestive system, lipase to help digest lipids, ginger root to alleviate cramps, and flaxseed and Fo Ti root to help regulate and soothe the intestinal tract.
Those digestion supporters allow the formula's superfoods to be better absorbed: invigorating spirulina, detoxifying chlorella, sulforaphane-rich broccoli, flavonoid-rich spinach, and carotene-rich carrot. They're joined by MSM, a natural compound produced in our body that decreases as we age (unfortunately); it provides highly bioavailable support for the production of collagen as well as the structural proteins of the skin and connective tissues. Silica-rich horsetail also supports skin, hair, and nails as well as optimal kidney function.
Then, there's a power foursome of medicinal mushrooms for immune health: adaptogenic maitake, circulation-boosting shiitake, oxygen-boosting cordyceps (a favorite for post-workout muscle recovery), and antioxidant-rich reishi. Adaptogenic ashwagandha root adds additional stress-relieving support.
And then, of course, there are antioxidants like grape skin extract, Vitamin C-rich bilberry fruit extract, and nutrient-rich cranberry.
It's got it all. And what we love is that it's probably got all kinds of things that you aren't already taking in your supplements and need more of in your diet. If we had to point towards one single, favorite, "we all need this" supplement, it would probably be this one.
Manufactured in London, meticulously sourced, and created by one of our most long-standing brand partners — helmed by a pharmacist and homeopath who's been at the forefront of healthy beauty since 2002.
How to Use
Take 2 capsules in the morning with breakfast or as directed.
Ingredients
- MSM provides highly bioavailable support for the structural proteins of the skin and connective tissues
- Chlorella is known as a natural detoxifier with antioxidant properties
- Ashwagandha has adaptogenic properties shown to help the body and mind cope with stress
---
All Ingredients
MSM (Methylsulfonylmethane, Silicone dioxide); Capsule shell: Hydroxypropyl methylcellulose; Chlorella (Chlorella vulgaris Beijerinck, contains naturally occurring Sulphites); Cordyceps Extract (Cordyceps sinensis (Berk.) Sacc., Maltodextrin); Maitake Mushroom (Grifola frondosa (Dicks.) Gray); Reishi Mushroom (Ganoderma lucidum (Curtis) P. Karst.); Shiitake Mushroom (Lentinula edodes (Berk.) Pegler); Spirulina (Arthrospira platensis); Bromelain Extract (Compound: Maltodextrin); Cranberry Extract (Vaccinium oxycoccos L. Ericaceae, Maltodextrin); Bilberry Fruit Extract (Vaccinum Myrtillus L.); Ashwagandha Root (Withania somnifera (L.) Dunal ); Broccoli (Brassica oleracea L.); Fo Ti Root (Polygonium Root); Ginger Root (Zingiber officinale Rosc.); Grape Skin Extract (Vitis vinifera L., Maltodextrin); Linseed (Linum usitatissimum L.); Horsetail (Equisetum arvense L.); Spinach (Spinacia oleracea L.); Lipase (Compound: Maltodextrin).
MSM (Methylsulfonylmethane, Silicone dioxide); Capsule shell: Hydroxypropyl methylcellulose; Chlo...
See All