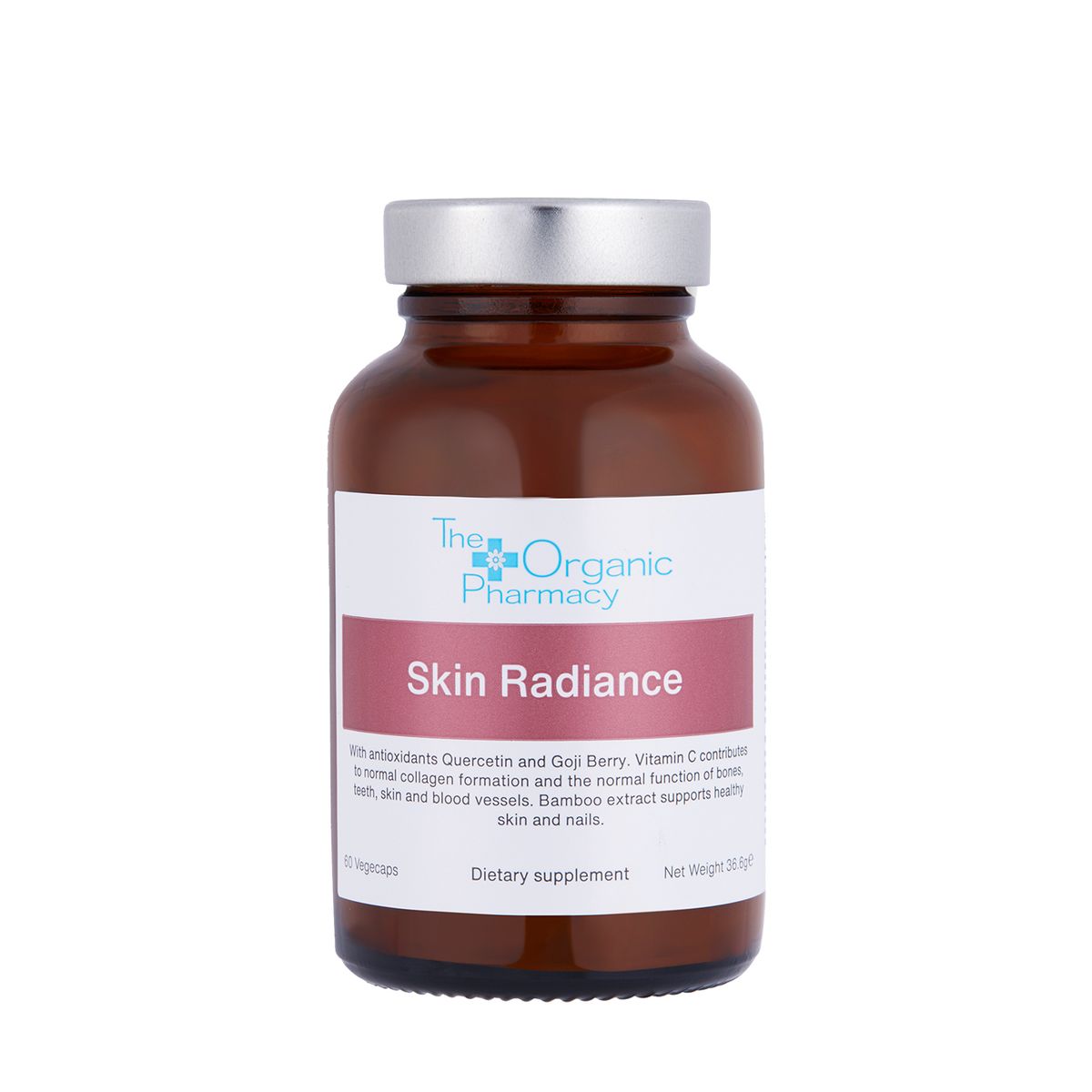 Description
Supplement that supports firmer, more radiant skin / 60 vegecaps
The Organic Pharmacy's Skin Radiance supplement helps support healthy skin from the inside out with a number of ingredients we adore for their proven benefits.
The highlight of this vegan formula is a plant-based form of our beloved hyaluronic acid, included in a variety of molecular weights to help stimulate the synthesis of collagen and elastin from the inside out. When ingested, hyaluronic acid can help keep skin better hydrated and pleasantly plump, with softened lines; it can also help cushion joints, lubricate dry eyes, and protect the gums. (Our customers who have used hyaluronic acid pills in the past have found that they have a magical way of working exactly where they're needed, whether you struggle with dehydration, fine lines, eczema, or dry lips.)
What we find so impressive about this formula is that it's included along with other nutrients specifically chosen to support the skin and joints: glucosamine, zinc, MSM, silica (from bamboo), and vitamin C. And added to that is a dream team of plant extracts (EFA-rich rosehip, flavonoid-rich gotu kola, circulation-boosting bilberry, carotenoid-rich goji, and antioxidant-rich acai) to support skin from the inside out.
This is one of the few beauty supplements we swear by for a youthful glow, and it's suitable for use from the moment you begin to see signs of aging in your skin. Take 1-2 capsules daily for as long as you wish (possibly for the foreseeable future, once you discover the benefits of ingestible hyaluronic acid). If you're pregnant or nursing, please consult your doctor first.
How to Use
Take 2 capsules in the morning with breakfast or as directed.
Ingredients
- Bamboo Extract (Minimum 70% Organic Silica): Silica plays an important part in the multiplication of fibroblasts. These are responsible for the formation of collagen fibres, which in turn are responsible for the suppleness and elasticity of the body.
- Organic Acai: Highly nutritious berry with vitamins, minerals, and antioxidants.
- Zinc Citrate: An important mineral needed for skin repair and healing.
- Hyaluronic acid: Hydrates and plumps the skin.
- Organic Gotu Kola: Contains flavonoids which help wound healing and circulation and reduce inflammation.
---
All Ingredients
Rose hip (Rosa canina L., fructus); Capsule Shell: Vegetable Cellulose (Hydroxypropylmethylcellulose); Acai Berry (Euterpe oleracea Mart., fructus); Bamboo dry extract (Bambusa vulgaris, Schrad. surculi) ((75% Silica) compound: Maltodextrin)); Bilberry (Vaccinium myrtillus L., fructus); Glucosamine Sulphate 2KCl (59% Glucosamine Base); Goji Berry dry extract (Lycium barbarum L., fructus) (compound: Maltodextrin); Gotu Kola (Centella asiatica (L.) Urb., aerial part); Methylsulfonylmethane; (anticaking: Silicone dioxide), Hyaluronic Acid; Vitamin C (L-Ascorbic acid); Quercetin, Vitamin E Natural (D-Alpha Tocopherol) Succinate; Zinc (Zinc Citrate)

*Ingredients from organic farming
Rose hip (Rosa canina L., fructus); Capsule Shell: Vegetable Cellulose (Hydroxypropylmethylcellu...
See All