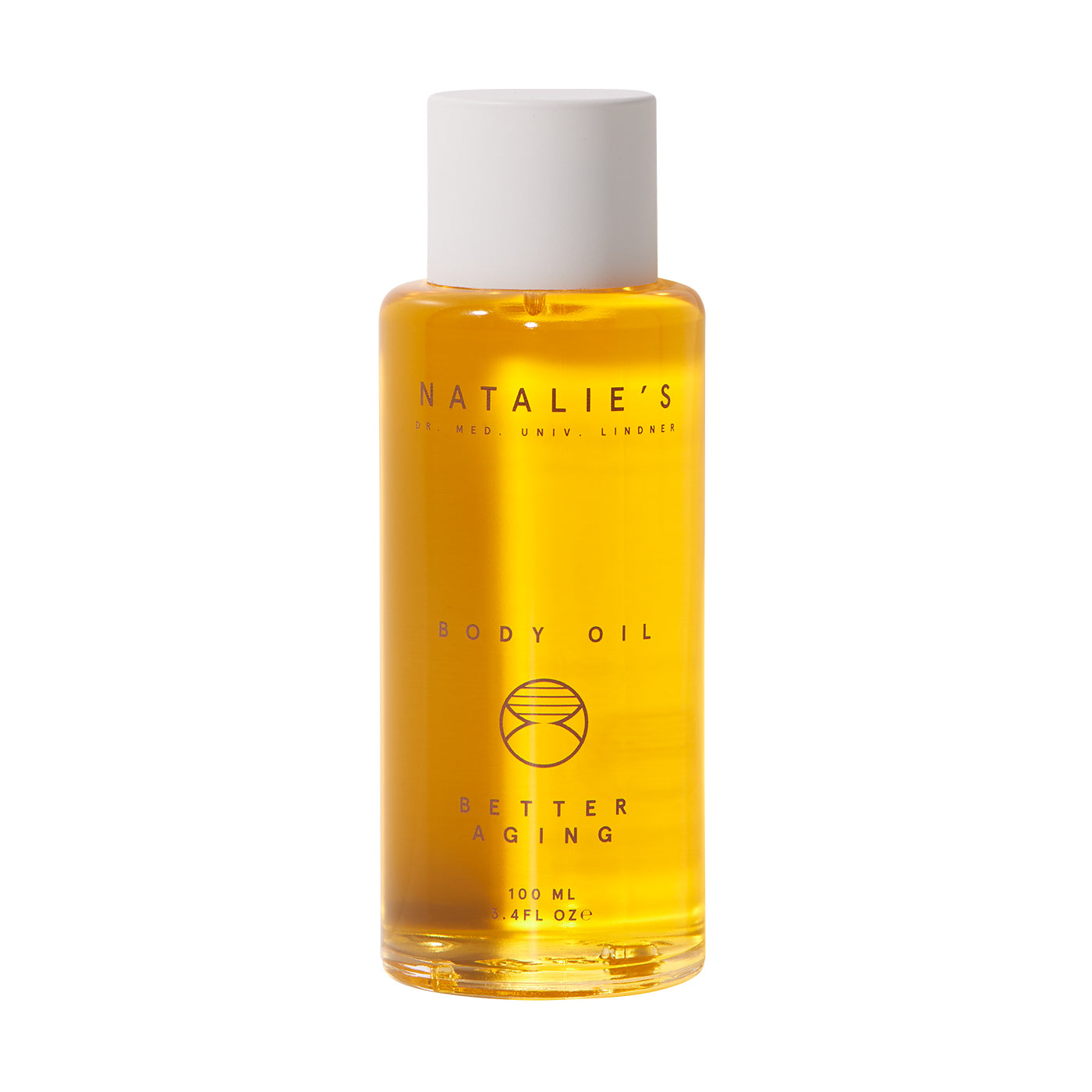 Description
Fast-absorbing body oil with Guggul and Bakuchiol for a plumping effect / 3.4 fl oz
Natalie's Better Aging Body Oil is unique. First, take a look at the ingredient list: if it seems like that of a facial treatment oil, that's because it basically is. Like all of her products, Natalie designed Better Aging for the body, but it's at a quality level that you'd look for in a facial product (plus, it's non-comedogenic and hypoallergenic). As she told us, "If someone says you can't use a body care product on your face, it's not good enough, in my opinion!"
Better Aging Oil features a suite of cold-pressed nut and seed oils — borage, evening primrose, crambe, jojoba, and raspberry — in a base of organic sunflower seed oil and squalane, designed to provide skin with the proper balance of essential fatty acids and a texture that absorbs quickly. On top of that, it contains bakuchiol (the popular retinol alternative that's beloved for its effect on hyperpigmentation, laxity, and fine lines) and guggul resin, a tree extract noted for its ability to reduce redness and swelling as well as its sun-protective qualities. And yes, thank you for asking: please continue to wear your sunscreen.
Natalie told us, "The Better Aging oil is excellent for those who can't use retinol, and it's also wonderful after you've gone out in the sun. It contains guggul resin as well as bakuchiol, which gives it an insane plumping effect — there are really good studies to support this."
Insane plumping effect? Sold. We love mixing a few drops of it with Natalie's Hydration Body Gel for extra hydration. (Bonus: the bottle lasts longer that way.) And if you're of the "I want a streamlined routine for face and body, with zero compromise" type, go ahead and use that lovely mixture all over your body and your face.
Better Aging Body Oil is fragranced with Natalie's hypoallergenic fragrance, which you must read about in our Brand Spotlight. (If you're curious about how it smells in a body oil, you can choose a sample of her Calm Body Oil in our sample picker when you check out — it has a similar smell — or you can request a sample of this one through our Custom Sample Service.)
How to Use
Apply 1-2 times/day to damp skin after shower or bath. We love mixing a few drops with Natalie's Hydration Body Gel to provide skin with long-lasting but fast-absorbing moisture.
Ingredients
- Guggul and Backuchiol, a natural retinol alternative, help stimulate the production of collagen, reduce the depth of wrinkles and strengthen aging skin cells.
- A high concentration of Vitamin E provides strong anti-inflammatory benefits, protects the skin barrier, and helps defend against daily environmental stressors.
- Squalane, a natural component of the human skin sebum, provides intense, long-lasting moisture for a noticeably refreshed and glowing skin complexion.
---
All Ingredients
Helianthus Annuus (Sunflower) Hybrid Oil *, Simmondsia Chinensis (Jojoba) Seed Oil *, Squalane, Rosa Canina Seed Extract *, Borago Officinalis Seed Oil *, Parfum (Fragrance)**, Crambe Abyssinica Seed Oil *, Oenothera Biennis (Evening Primrose) Oil *, Bakuchiol, Tocopheryl Acetate, Tocopherol, Commiphora Mukul Resin Extract, Beta-Carotene, Xanthophylls, Rosmarinus Officinalis (Rosemary) Leaf Extract *, Rubus Idaeus Seed Oil *, Helianthus Annuus (Sunflower) Seed Oil *, Glycine Soja (Soybean) Oil *, Caprylic/Capric Triglyceride, Glyceryl Caprylate

*ingredients from certified organic agriculture
**tested non-allergenic parfum
Helianthus Annuus (Sunflower) Hybrid Oil *, Simmondsia Chinensis (Jojoba) Seed Oil *, Squalane, R...
See All