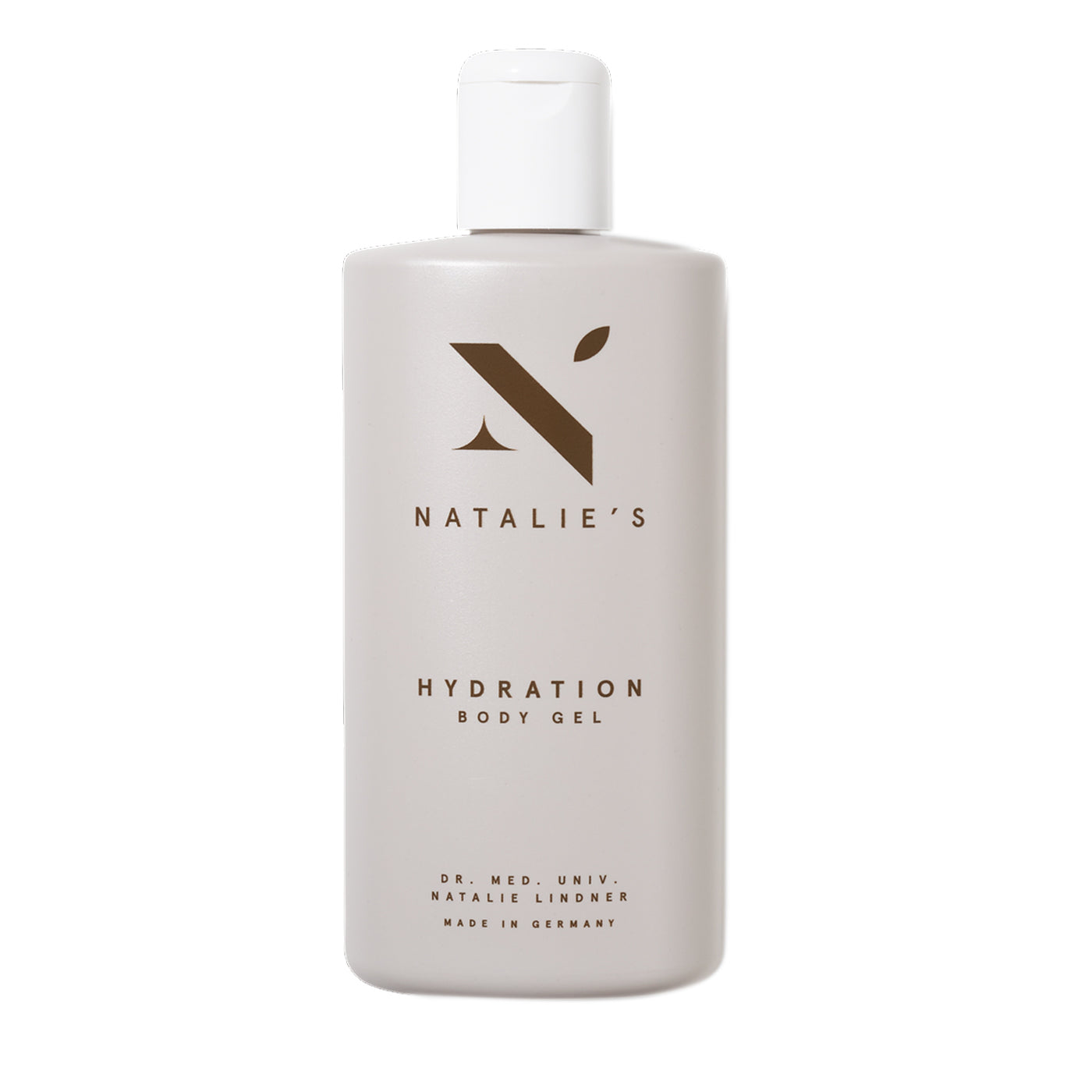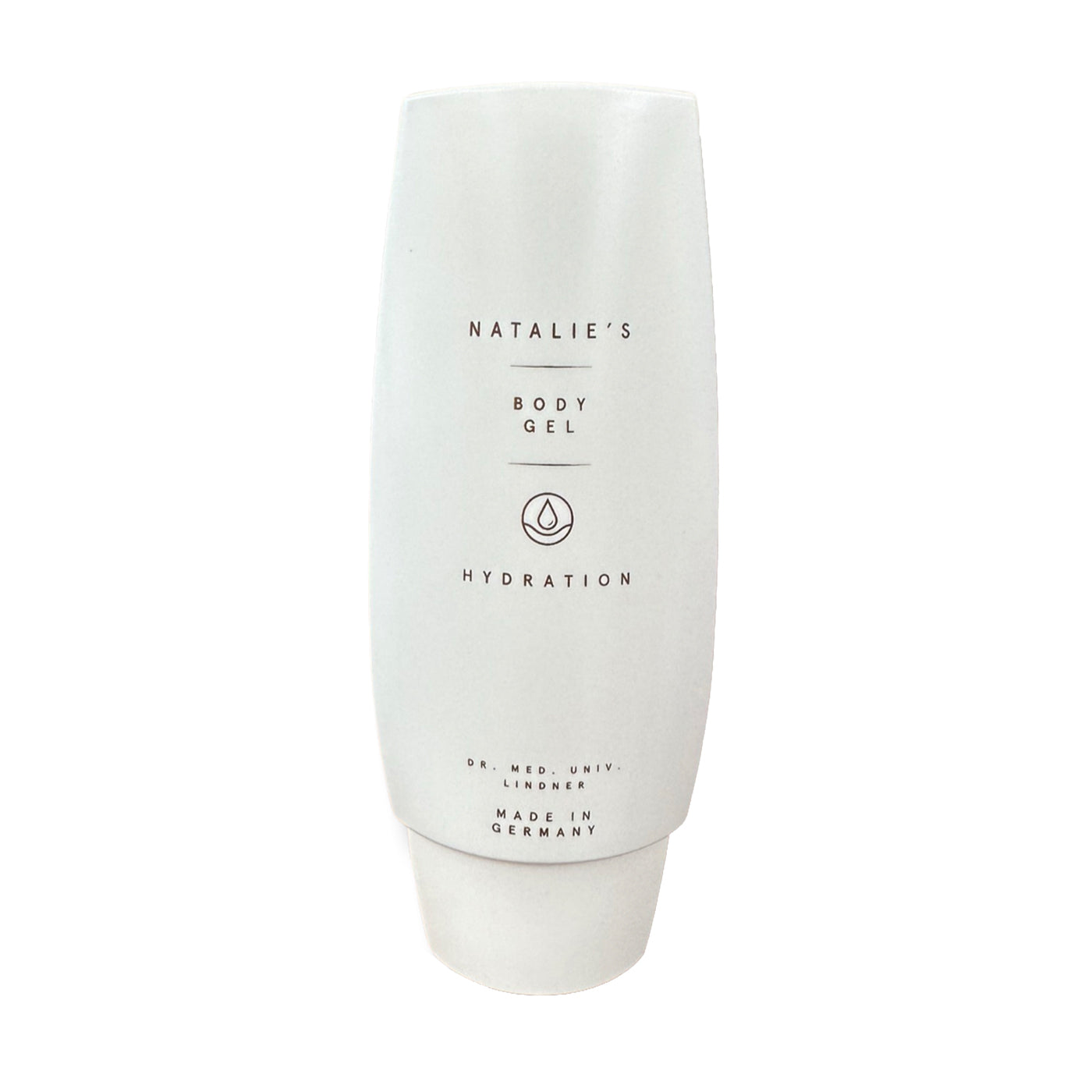 Description
Power-packed hydrating, soothing treatment for body (and face) that feels weightless / 10 fl oz
Natalie's Hydration Body Gel is a unique, hypoallergenic, non-comedogenic, absorbs-in-a-second gel that can convert even the most resolute body care avoiders to wild fans.
As founder Natalie Lindner told us, "A lot of us can't be bothered to put heavy products on our bodies after we take a shower: you have to wait for them to absorb, or you have to be careful with your clothing. But the Gel works for everyone, even if you're wearing a silk shirt, and even for children (a lot of parents use it on their children's insect bites). It's wonderful after a day out in the sun, too — a lot of after-sun treatments are basically just aloe vera, but I wanted to take this one to the next level."
And so she did. The multipurpose nature of this ultra-light, power-packed product is what really won us over: it's loaded with proven soothing botanicals, like calendula and aloe vera, making it a boon for red, sensitive skin (or bites and rashy spots), but it also contains multi-molecular-weight hyaluronic acid, panthenol, red algae, edelweiss, and niacinamide to replenish moisture and strengthen skin's barrier against both transepidermal water loss and environmental aggressors. Our team, and Natalie herself, also love mixing it with body oil for more moisture: it helps body oil absorb more quickly and nourishes skin with the blend of water and oil it craves. (You can mix it with your favorite body oil, or try it with Natalie's Calm or Better Aging oil.)
Another thing we love: take a look at the ingredient list, and you'll see that Natalie's products may be designed for the body, but they're formulated as though they're designed for the face.
So, in addition to quite possibly changing your life as a body treatment, it can also be used to great effect on the face — as a moisture mask (excellent post-sun), an undereye-puff-reducer (put it in the fridge for extra relief), a post-waxing soother, or simply your go-to product for face and body when you want to streamline your routine (it's a suitcase essential if you're packing for a beach vacation). And as Natalie revealed to us, "Every man I know uses this as their single product for face and body. It simplifies everything, which is so helpful because it's a catastrophe to have too many products." Yes! Catastrophe.
More to love: its light whisper of a scent (unisex and allergen-free). Learn more about this secret ingredient, and Natalie's approach to body care in general, in our Brand Spotlight.
How to Use
Apply to body (and face, if desired) 1-2 times per day after showering or bathing. If you want more moisture, mix it with a few drops of your favorite body oil. (That's what we love to do!)
Ingredients
- Organic Aloe Vera and Calendula nourish and calm irritated skin: these are powerful natural actives that can be used in the treatment of acne, irritation, burns, rosacea, and eczema.
- Hyaluronic Acid (multi-molecular-weight) and Panthenol hydrated skin and replenish the body's moisture stores for long-lasting hydration and comfort
- Niacinamide, Red Algae, and Organic Edelweiss are rich in antioxidants and help strengthen skin's barrier
---
All Ingredients
Aloe Barbadensis Leaf Juice*, Aqua (Water), Propanediol, Pentylene Glycol, Glycerin, Niacinamide, Panthenol, Ectoin, Sodium Hyaluronate, Calendula Officinalis Flower Extract*, Leontopodium Alpinum Flower/Leaf Extract*, Arnica Montana Flower Extract, Chondrus Crispus Powder, Xanthan Gum, Potassium Sorbate, Sodium Benzoate, Citric Acid, Parfum (Fragrance)**

*ingredients from certified organic agriculture
**tested non-allergenic parfum
Aloe Barbadensis Leaf Juice*, Aqua (Water), Propanediol, Pentylene Glycol, Glycerin, Niacinamide,...
See All