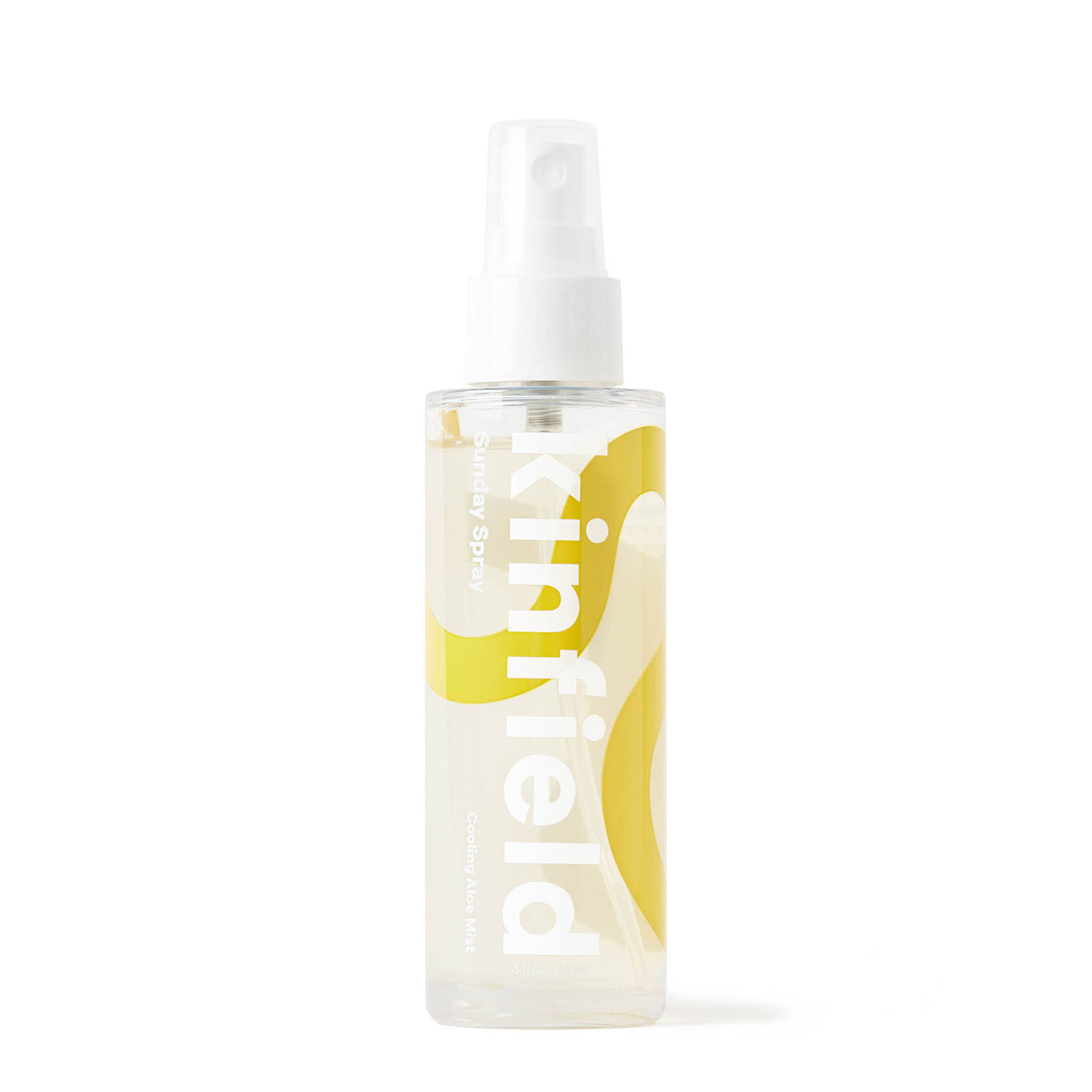 Description
Cooling aloe mist with cucumber, spearmint, & eucalyptus  / 3 oz
Kinfield Sunday Spray is a hydrating, cooling, soothing aloe mist that makes you feel as though you sprayed your face with the crisp, refreshing cucumber ice water at your favorite spa (without the side-eye from the spa attendants that would be involved in such an endeavor).
While Sunday Spray was originally intended for "the day after the beach day" when your sunscreen didn't quite keep up — not that you'd have to worry about that with Kinfield's Daily Dew SPF 35 — it's not just for sunburns. Fortified with soothing prickly pear and hydrating cucumber along with refreshing spearmint and eucalyptus, it's just the thing after a workout; it's lovely during a hot bath; it's the perfect refresher on a hot day, especially when you keep it in the fridge.
And we couldn't think of a better product (aside from sunscreen) to pop into the tote that you pack for a long day at the beach, at the gym, at the tennis club, or on a long road trip. It's instant, cooling, hydrating refreshment that never leaves stickiness behind — just calmer, cooler skin.
How to Use
Mist liberally over face and body for instant cooling relief and hydration. Chill before use for an especially refreshing moment. Ideal for the day after the beach day, post-workout, or anytime you need an uplifting, refreshing relief. Re-apply as often as you'd like.

Do not apply to broken skin.
Ingredients
- Aloe Vera calms and soothes even the most sunburned skin
- Spearmint provides a soft cooling effect while its antioxidant properties leave your skin refreshed and revitalized
- Prickly Pear is packed with moisturizing Vitamin E and restorative oils
- Cucumber prevents water loss from the skin thanks to the presence of ascorbic and caffeic acid
---
All Ingredients
Aloe Barbadensis (Aloe Vera) Leaf Juice, Water (Aqua), Sodium PCA, Potassium Sorbate, Sodium Benzoate, Mentha Spicata (Spearmint) Oil, Eucalyptus Globulus Leaf Oil, Cinnamomum Camphora (Camphor) Bark Oil, Sorbitan Oleate Decylglucoside Crosspolymer, Sodium Chloride, Glycerin, Opuntia Ficus-Indica (Prickly Pear) Fruit Extract, Caprylic/Capric Triglyceride, Cucumis Sativus (Cucumber) Fruit Extract
Aloe Barbadensis (Aloe Vera) Leaf Juice, Water (Aqua), Sodium PCA, Potassium Sorbate, Sodium Benz...
See All