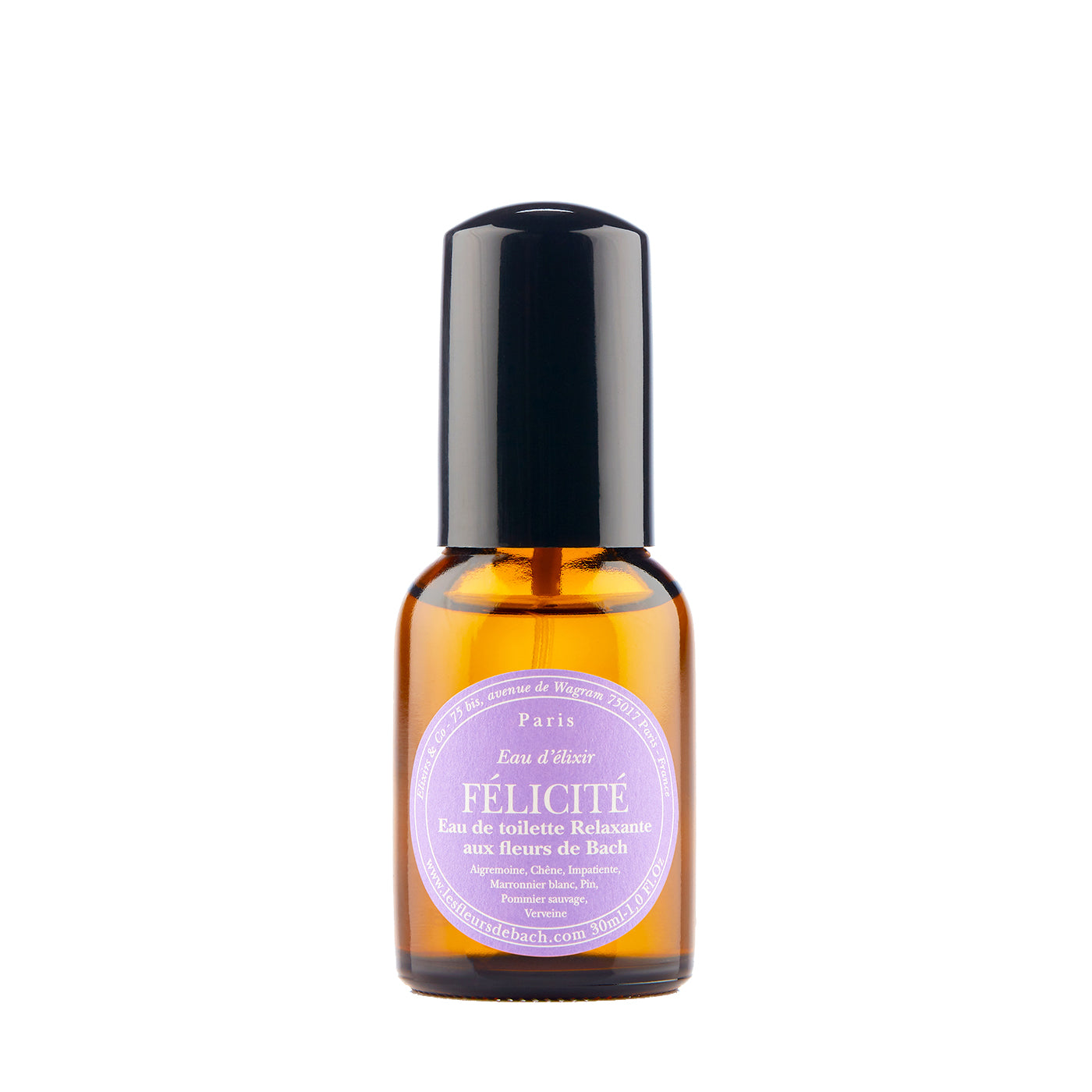 Description
Anti-stress body fragrance that brings a sense of calm and serenity  / 1 oz
Les Fleurs de Bach is a small company, based in Paris, that is devoted to the preparation of the most effective Bach flower essences in the world. (You can read about their exacting methods on our blog, and check out our Instagram Stories to see their founder, Gérard, looking for wildflowers in remote corners of the French Alps with Dara.)
Like us, they believe in the power of Bach flowers to encourage our emotions towards a sense of positivity and optimism; also like us, they believe in meeting people where they are. So, even if you don't take Bach flower elixirs, Les Fleurs de Bach has found ways to work them into our daily routines — and their delightful, accessible fragrances might be among our favorite ways to do so. Few can compete with France where fragrance is concerned, and we think these Parisians have found the perfect balance between wellness and elegance with their scents.
Félicité, the fragrance that matches the relaxing scent of their Anti-Stress body care line, is intended to encourage calm and serenity. The beautiful, "non-perfume-y" scent opens with citrusy bergamot and orange, then develops into a soothing base of lavender and sage. It's the kind of scent that you just want to keep smelling, so we're thrilled that they've put it into eau de toilette form. (It's the same scent you'll find in their Anti-Stress Treating Fragrance, but more concentrated — and designed specifically for application on the body.)
The bonus: included in the fragrance are Bach flower essences of Agrimony, Oak, Impatiens, White Chestnut, Pine, Crab Apple, and Vervain. This blend is one of our hands-down favorites for stress, and it's also found in the best-selling Stress Elixir. To learn more about what each essence is designed to encourage, check out "Key Ingredients."
If you'd like to smell the fragrance first, visit us at our SF studio or request a blotter sample in your notes at checkout.
How to Use
Spray over body, focusing on pulse points.
Ingredients
Organic Bach flower essences for the following specific situations:
- Agrimony for those who hide discomfort, pain, difficult feelings, or suffering behind a cheerful face. Here, it's included to help you find the right words to express your feelings.
- Oak for the stoic, who often just keep going out of duty until they wear themselves out. Here, it's included to aid in the process of letting go.
- Impatiens for those who move quickly and get frustrated by those who don't. Here, it's included to help calm tightly-wound nerves.
- White Chestnut for spinning thoughts that you can't switch off. Here, it's included to help bring the ticker-tape to a stop.
- Pine for feelings of guilt, even when it's not really your fault. Here, it's included to bolster self-esteem.
- Crab Apple for perfectionists and those who feel shame around their appearance. Here, it's included to encourage you to stop the exhausting effort for perfection.
- Vervain for the enthusiasts who want to "convert" others to their point of view and find it hard to unwind and relax. Here, it's included to encourage a sense of calm and peacefulness, particularly when you're overworked.
---
All Ingredients
Alcohol Denat**, Aqua (Water), Parfum (fragrance), Verbena officinalis (Vervain) flower extract*, Quercus robur (Oak) flower extract*, Impatiens Glandulifera flower extract*, Agrimonia Eupatoria flower extract*, Aesculus Hippocastranum flower extract*, Pinus Sylvestris flower extract*, Malus Sylvestris flower extract*, citral, coumarin, geraniol, limonene, linalool.

*Organic
**Made from organic ingredients (Ecocert)
Alcohol Denat**, Aqua (Water), Parfum (fragrance), Verbena officinalis (Vervain) flower extract*,...
See All