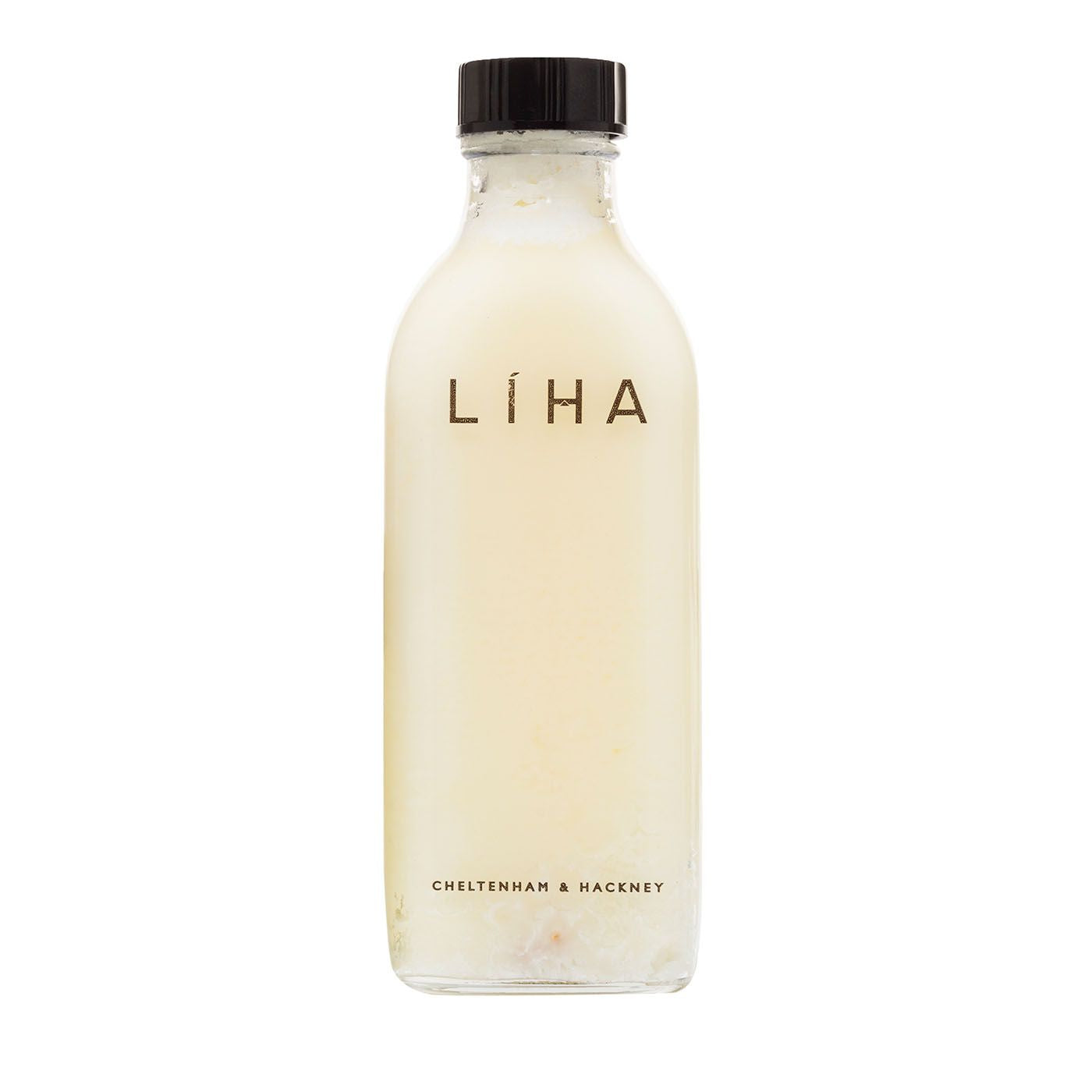 Description
Fragranced, multipurpose moisturizing oil for tuberose fans / 3.4 oz & 1 oz

LIHA Idan Oil is so many things. One of LIHA's best sellers, it's a sublimely scented, deeply nourishing body moisturizer; a leave-in conditioner and perfume for dry hair; a decadent bath treatment; and even — due to its high concentration of tuberose — a solid perfume.
Idan Oil is made with the enfleurage technique, where a tuberose flower is immersed into cold-pressed coconut oil, with a drop of phthalate-free fragrance added in to stabilize the formula and ensure a lasting scent. Like any high quality coconut oil, it solidifies in cooler temperatures and liquefies in warmer temperatures. This change doesn't affect the product's potency or fragrance, so you can liquefy it to your heart's content by placing it under very warm running water anytime you need to.
A little goes a long way with this formula, which is truly for fans of the sweet, heady scent of tuberose. (Since this is such a scent-forward product, please feel free to order a sample through our Custom Sample Service – we're always happy to make them and find that it's always the best way to give fragranced products a try.)
Idan Oil gets its name from the Yoruba word for "magic," and it's not only one of the first products created by LIHA, but also the enduring favorite of its co-founder, Liha. When feeling particularly indulgent, she'll slather it on head to toe at bedtime, rinsing it off in the morning for silky, fragranced skin. It's also a favorite hair treatment: curly or kinky hair types can use it as a moisturizing leave-in conditioner, and fine hair types can use it as a pre-shampoo treatment in the shower (before shampooing, apply and leave in for up to 15 minutes before washing and conditioning as usual). All hair types can try it as a split-end treatment, whether left on or used as an overnight treatment.
How to Use
This natural product will solidify in cooler temperatures. With the top still on, place under warm/hot running water or in your shower until it returns to liquid.

For the body, only a small amount of oil is needed. Apply as desired.

For hair, see our tips in the description above!
Ingredients
- Coconut Oil: high-grade, natural, and cold-pressed. In hotter climates the oil will stay liquid but in cooler temperature, it will solidify.
- Tuberose: this divine-smelling flower gives the Idan Oil its distinctive scent and it has been said to have naturally warming (and aphrodisiac!) qualities.
---
All Ingredients
Cocos Nucifera (Coconut) Oil, Flower Parfum (Fragrance), Polianthes Tuberosa (Tuberose) Flower, *Benzyl Benzoate, *Linalool, *Cinnamal, *Benzyl Alcohol. *Naturally occurring in the fragrance

Idan oil is 98.6% natural. A small amount of fragrance is needed to stabilise the formulation and ensure lasting scent.
Cocos Nucifera (Coconut) Oil, Flower Parfum (Fragrance), Polianthes Tuberosa (Tuberose) Flower, *...
See All