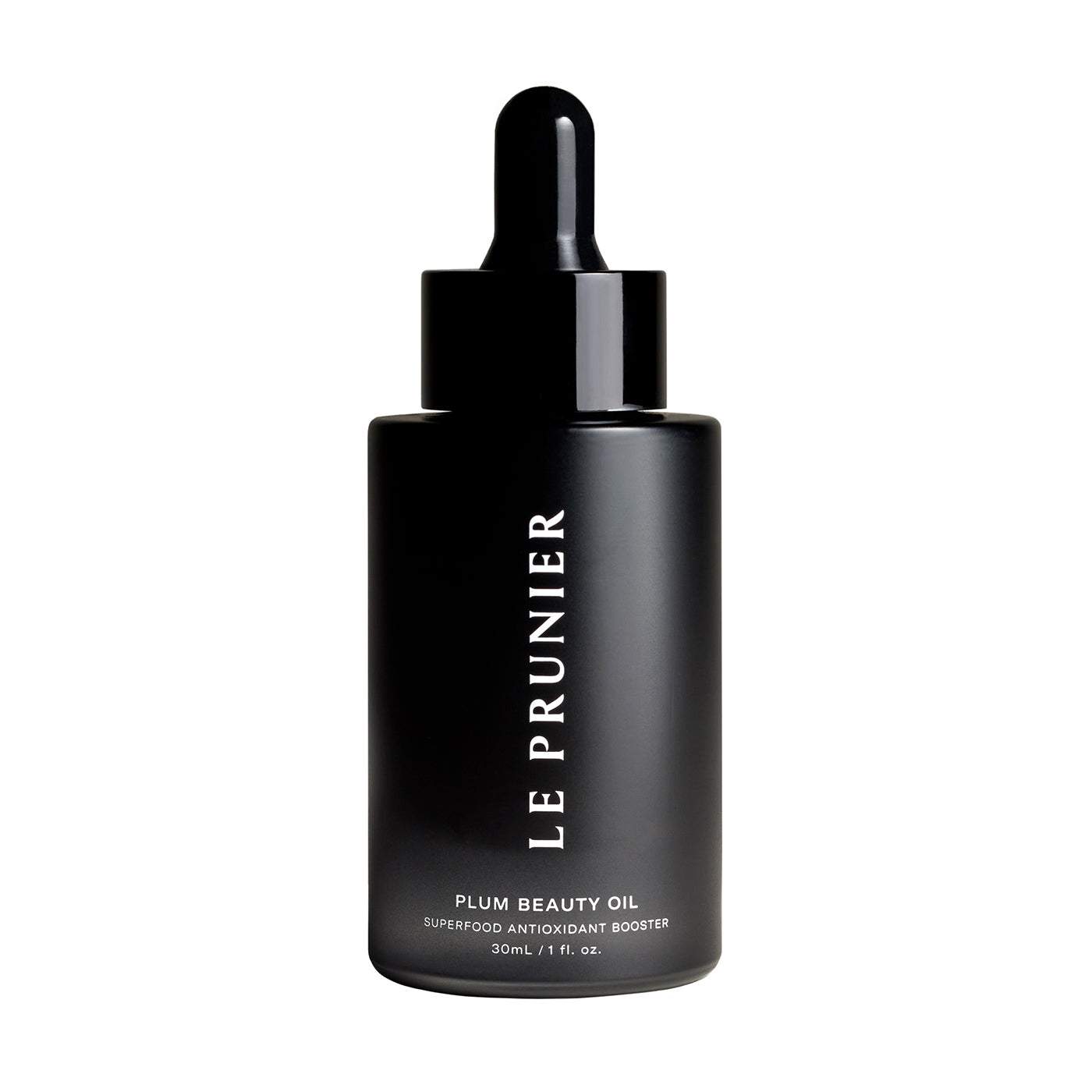 Description
Ultra-light oil that evens skin tone and naturally boosts your SPF / 1 oz full size
Le Prunier Plum Beauty Oil is one of those standouts that showcases the power of natural raw ingredients when they're made beautifully from start to finish. It contains one ingredient ­— one! — yet it boasts myriad benefits, shielding skin from free radicals, calming sensitive complexions, boosting the power of SPF (you read that right), and even reducing hyperpigmentation as effectively as prescription treatments (yes, you read that right, too). And its story is equally remarkable.

The Taylor family has been farming plums on their land in Sutter County, CA since 1916; since then, Taylor Brothers has become the largest producer of organic plums in the world. Given their commitment to sustainable farming, the Taylors turned to the natural byproduct of this production — the plum pits — and began to cold-press the silky, nutrient rich, marzipan-scented oil found in them. To figure out what that oil could do, the next generation of Taylors — sisters Jacqueline, Allison, and Elaine — partnered with two of the most well regarded research facilities in the country to conduct extensive clinical testing on their organic plum oil.
What they learned was that their patent-pending blend of plum varietals contains an abundance of essential fatty acids, healing vitamins, and protective antioxidants (it's 8 times more powerful at fighting free radicals than argan oil and 6 times more powerful than marula); it's non-comedogenic and appropriate for all skin types, even acne-prone and ultra-sensitive; it boosts the efficacy of your sunscreen by a measurable amount; and it is clinically proven to brighten skin tone and reduce hyperpigmentation as effectively as a prescription treatment.
Need we say more? We love using this mixed with a hyaluronic acid serum as a bespoke, brightening moisturizer; blended with our SPF to make it a little less white; rubbed into nails; applied to the ends of hair; and, when feeling particularly extravagant, as a beautiful, naturally scented body oil.
How to Use
Morning & night, apply a few drops to cleansed skin while still damp, or mix a few drops with your favorite hyaluronic acid serum. Other favorite ways to use it: - Mix a few drops with your favorite face cream, sunscreen, foundation, or body lotion to enhance its benefits. - For hair, use every day after shampooing or conditioning. Apply oil to ends of damp hair to protect against blow dry heat damage. Once hair is dry, apply directly to the ends of your hair to soften & smooth.
Ingredients
100% plum oil
---
All Ingredients
Prunus Domestica Seed Oil.
No essential oils, parabens, synthetics, fragrance, sunscreen chemicals, alcohols, acids, animal derived ingredients, or preservatives. USDA & CCOF Certified Organic. Gluten free, Halal, PETA certified vegan & cruelty free. Non-comedogenic, Clinically, Dermatologically & Allergy tested & certified. EU Cosmetic Regulations 1223/2009 Certified. Hypoallergenic certified, National Eczema Association Seal Of Acceptance.
(Honestly. Are there any certifications left?! This stuff is the real deal.)
Prunus Domestica Seed Oil.
No essential oils, parabens, synthetics, fragrance, sunscreen chem...
See All
"Amazing for hyperpigmentation and super calming for my sensitive and rosacea prone skin."
Julie I.