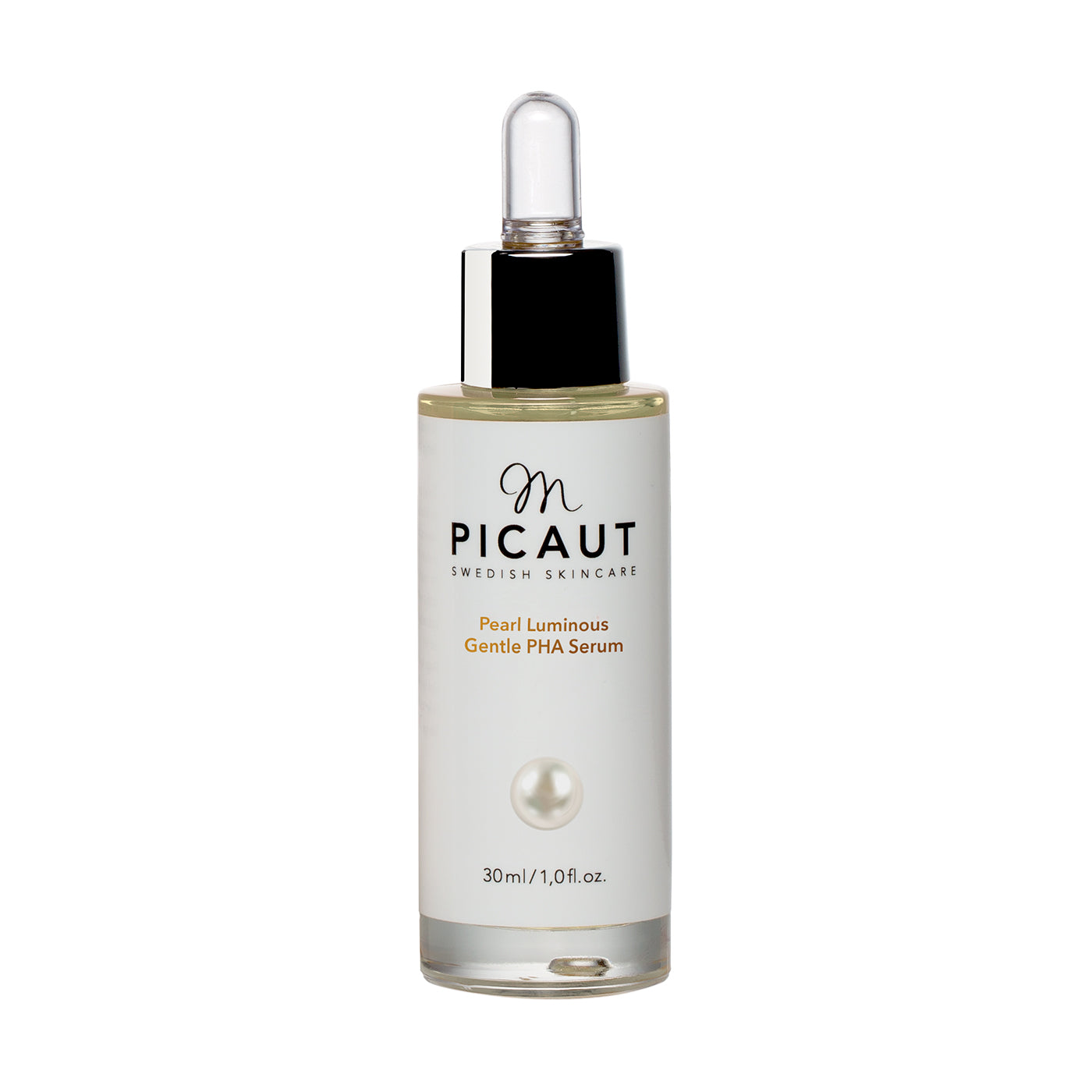 Description
Mild exfoliating serum for a bright, fresh, clear complexion  / 1 fl oz
M Picaut Pearl Luminous Gentle PHA Serum is, quite simply, a dream. It's just what we'd been looking for: a gentle combination of acids and hydrating ingredients that make all skin types look noticeably fresher and brighter. It's the type of product you put on at night and wake up to with complete delight.
PHAs (polyhydroxy acids) are similar to AHAs in that they help lift dead skin cells from the skin's surface, but since their molecular structure is larger, they don't penetrate as deeply into the skin and, as a result, they can be far less sensitizing. They also boast serious humectant properties and can even help skin take a stand against glycation, a process that weakens collagen and elastin.
In M Picaut's Pearl Luminous formula, PHA (lactobionic acid) is blended with small amounts of AHAs (mandelic, glycolic, and lactic acids) and licorice root for a brighter, fresher-looking complexion with greater clarity and a more even tone, while hyaluronic acid in multiple molecular weights plumps skin and improves its elasticity. Soothing betaglucan and Vitamin C-rich gooseberry protect skin from irritation and oxidative stress, and mineral-rich pearl extract adds to the formula's calming, protective properties. It's a beautiful, complete package in a serum that's perfect under your favorite face oil or night cream (or, for oilier skin types, on its own). 
While it's milder than other exfoliating serums on our shelves, it's still active — so please avoid getting it into your eyes, and wear your SPF during the day. You were going to wear it anyway, though. Right?

How to Use
Apply a few drops on cleansed skin, morning and evening, before your moisturizer.

Please use sunscreen daily, as AHA products can increase sun sensitivity.
Ingredients
- Pearl antioxidant rich extract has brightening, firming, and hydrating properties.
- Lactobionic Acid (PHA) is a gentle exfoliator that helps skin to retain moisture.
- Mandelic Acid (AHA) has anti inflammatory and purifying properties.
- Glycolic Acid (AHA) is a deep acting exfoliator for improved skin luminosity and fewer fine lines.
- Lacto Acid (AHA) improves natural moisture levels and reduces the look of fine lines and wrinkles.
- Licorice Root brightens, soothes, and smooths skin, while easing inflammation.
- Indian Gooseberry is a powerful antioxidant with high levels of Vitamin C that firms and improves skin tone and clarity.
- Hyaluronic acid increases the skin's ability to bind moisture and stimulates collagen and elastin for a more firm skin tone.

Aqua Purificata (Water), Glycerin*, Pentylene Glycol (From Sugarcane)*, Gluconolactone (PHA, Source Corn), Sodium Lactate (Source Sugar), Lactobionic Acid (PHA), Mandelic Acid (From Bitter Almonds), Hydroxyethylcellulose (Plant Derived), Glycyrrhiza Glabra Root Extract (Liquorice Extract)*, Sodium Hyaluronate (Veg. Hyaluronic Acid), Lactic Acid (AHA), Glycolic Acid (AHA), Phyllanthus Emblica Fruit Extract (Gooseberry Extract)*, Biosaccharide Gum-1 (Plant Derived)*, Sodium Carboxymethyl Betaglucan (From Yeast), Hydrolyzed Pearl (Pearl Extract), Glyceryl Caprylate (From Veg Oils), Phenoxyethanol (Preservation), Ethylhexylglycerin (Preservation), Sodium Benzoate (Natural Preservative), Potassium Sorbate (Natural Preservative), Sodium Anisate (Natural Preservative), Sodium Levulinate (Natural Preservative), Citric Acid (pH balance)

*Ingredients from organic certified farms
---
All Ingredients