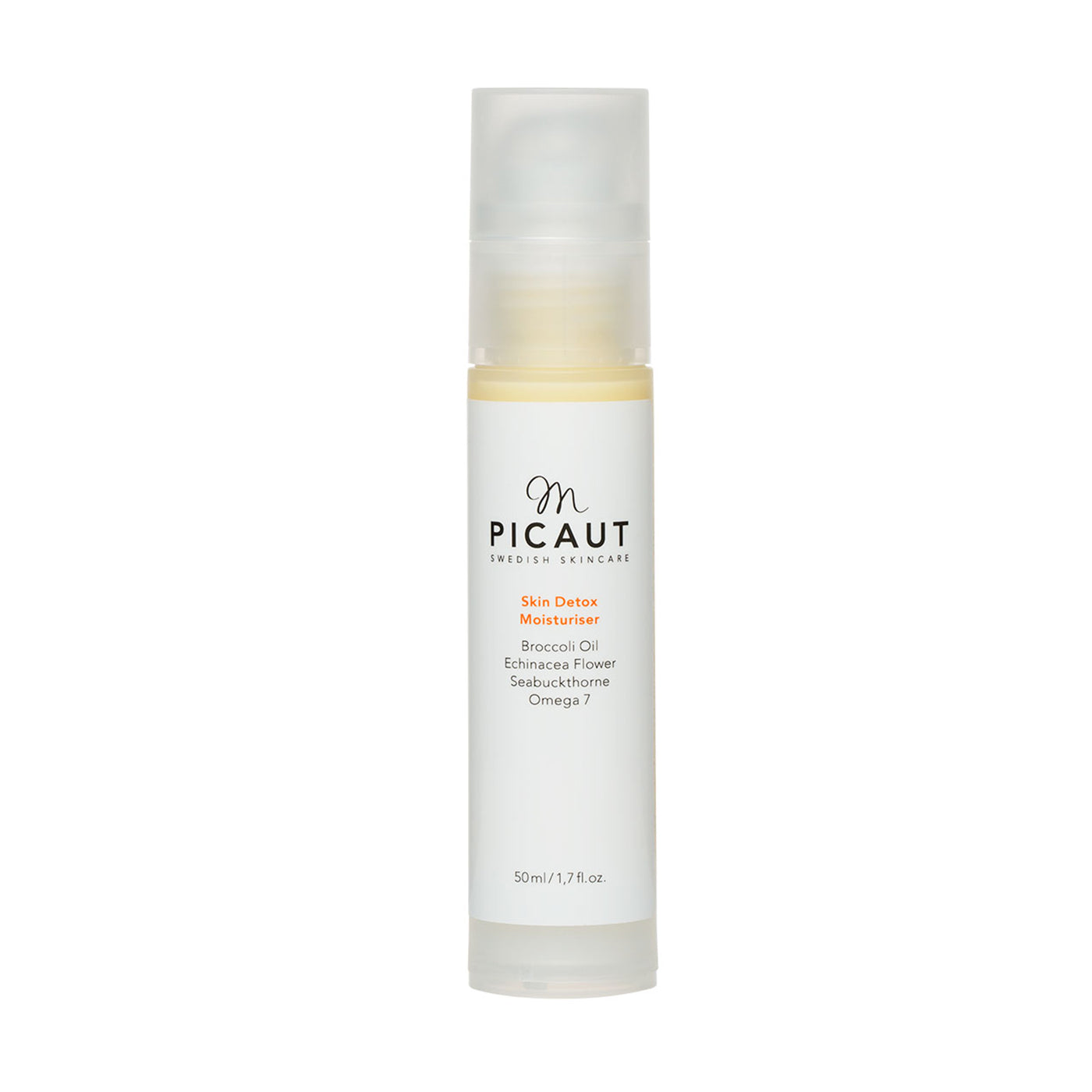 Description
Beautifully light, smooth-textured lotion that calms, balances oily patches, and helps with breakouts / 1.7 oz 
M Picaut Skin Detox Moisturiser is a light, velvety, allergen-free lotion that seems tailor-made for combination-oily skin that's prone to both breakouts and sensitivity. A combination of Echinacea purpurea, sea buckthorn, and oat extract help reduce inflammation and redness, while sebum-reducing, vegetable-derived farnesyl acetate (naturally found in the skin) helps balance oily spots and prevents future breakouts. And, thanks to broccoli oil — one of our new favorite ingredients — it leaves a perfectly smooth finish on skin, making it an ideal moisturizer to wear under makeup or BB creams. 
Skin Detox won a 2015 InStyle Best Beauty Buy award in Poland — where it's also sold in a number of spas — for its ability to restore skin's clarity, calm redness, and prevent breakouts.
How to Use
Smooth onto clean skin, morning and/or night.
Ingredients
- Farnesyl Acetate (vegetable derived) is a natural component of the skin that helps it regulate sebum production. Also promotes skin elasticity.
- Echinacea purpurea flower contains glucosides that actively prevent and minimize redness and sensitivity while also detoxifying skin.
- Panthenyl Triacetate is a B vitamin that reduces and calms inflammation.
---
All Ingredients
Aqua (Water), Helianthus Annuus Seed Oil (Sunflower Oil) *, Cetearyl Alcohol (Source Coconut Oil), Glycerin (Source Coconut Oil) *, Glyceryl Stearate (Source Olive Oil) *, Brassica Oleracea Italica Seed Oil (Broccoli Oil) *, Ricinus Communis Seed Oil (Castor Seed Oil) *, Polyglyceryl-6 Palmitate / succinate (Source Vegetable) *, Farnesyl Acetate (Source Vegetable) *, Panthenyl triacetate (B- vitamin) *, Phenoxyethanol (Source Aromatic Ether), Tocopheryl Acetate (E-vitamin) * Xanthan Gum (Source Corn), Avena Sativa (Oat) Kernel Extract *, Hippophae Rhamnoides Fruit Extract (Seabuckthorn) *, Parfum (Hypoallergenic, phthalate-free fragrance), Ethylhexylglycerin (Preservative), Rosmarinus officinalis Leaf Extract (Rosemary Antioxidant) *, Potassium Sorbate (Mild Preservative), Rosmarinyl Glucoside (Source Rosemary), Caffeyl Glucoside (Source Ipomoea Purpurea Flower), Gallyl Glucoside (Calming Agent), Sorbic Acid (Mild Preservative)
Aqua (Water), Helianthus Annuus Seed Oil (Sunflower Oil) *, Cetearyl Alcohol (Source Coconut Oil)...
See All
"This moisturizer is *everything.*"
Makeup artist Melissa McMillan