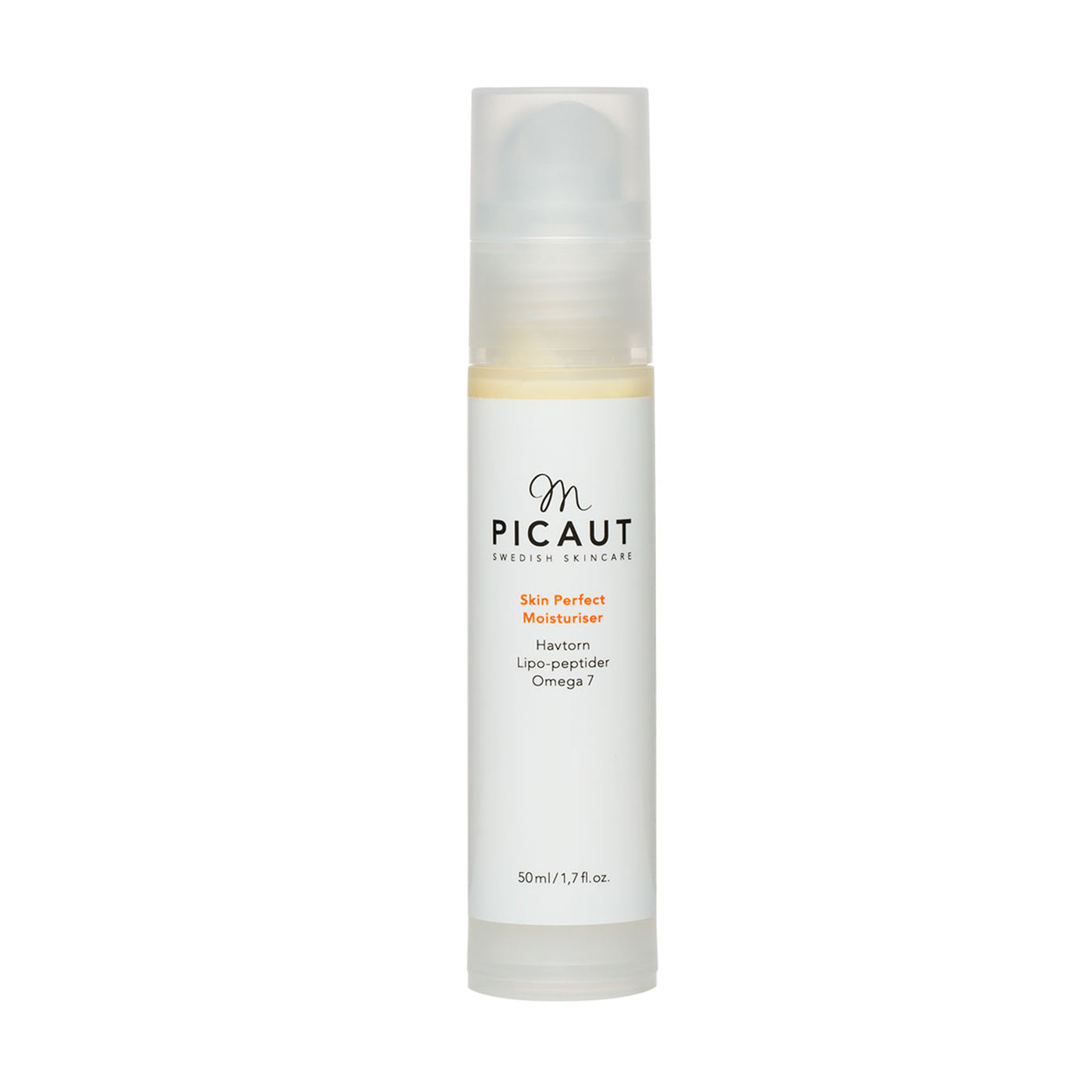 Description
Beautifully buttery anti-aging cream for balanced to dry skin types / 1.7 oz
This beautifully textured anti-aging cream, blended with high concentrations of peptides, absorbs easily into skin for deep nourishment and real results. Skin Perfect Moisturizer features a trio of replenishing oils (apricot kernel, olive, and sea buckthorn) along with a heap of anti-aging peptides to support skin's collagen levels, and it has been proven to diminish fine lines and wrinkles by an astounding 45% after two months. This addictive, buttery cream, packaged in an eco-friendly airless pump, has a mild, phthalate-free fragrance. It's particularly effective on balanced to dry skin and can be used day or night.
How to Use
Smooth onto clean skin, day and/or night. For extra anti-aging, hydrating help, blend it with a drop or two of M Picaut's Precious Oil, or apply a few drops of Precious Oil to clean skin first, followed by Skin Perfect.
Ingredients
Olive Oil: This antioxidant-rich oil helps smooth skin and strengthen its natural barrier. Used in this formula as a natural emulsifier/ thickening agent.
Sea buckthorn Seed Oil: Used in traditional Chinese medicine since the 9th Century due to its rejuvenating and revitalizing properties. Rich in beta-carotene and the omegas 3, 6, 7 & 9.
Peptides: Chains of naturally occuring amino acids that stimulate collagen production in the skin.
---
All Ingredients
Aqua (Water), Glyceryl Oleate (Source Olive Oil)*, Glycerylsterate (Source Olive Oil)*, Helianthus Annuus Hybrid Oil (Sun Flower Oil)*, Olivoyl Hydrolyzed Wheat Protein (Source Olive Oil, Wheat)*, Glycerin (Source Coconut Oil)*, Cetearyl Alcohol (Source Coconut Oil), Prunus Armeniaca Kernel Oil (Apricot Kernel Oil)*, Theobroma Cacao Seed Butter (Cacao Butter)*, Acetylated Glycol Stearate, Palmitoyl Oligopeptide, Palmitoyl Tetrapeptide-7, Sorbitan Laurate, Tristearin (Source Palm Oil), Phenoxyethanol (Source Aromatic Ether), Potassium Sorbate (Mild Preservative), Hippophae Rhamnoides Fruit Extract (Source Sea Buckthorn)*, Parfum (Non Allergic Fragrance), Caprylic/Capric Triglyceridel(Source Coconut Oil), Rosmarinus Officinalis Leaf Extract (Source Rosemary)*, Potassium Hydroxide (Preservative), Xanthan Gum (Source Corn), Citric Acid. *Certified organic.
Aqua (Water), Glyceryl Oleate (Source Olive Oil)*, Glycerylsterate (Source Olive Oil)*, Helianthu...
See All
"This is a rich, very moisturizing cream that's good for daytime, under makeup, or mixed with M Picaut's Precious Oil for night. I like the smooth texture, and I found it to be very concentrated — a full pump isn't needed, it's easy to overdo. After using it every night for two weeks, I noticed firmer skin around my jawline and neck and cheeks."
Lynette