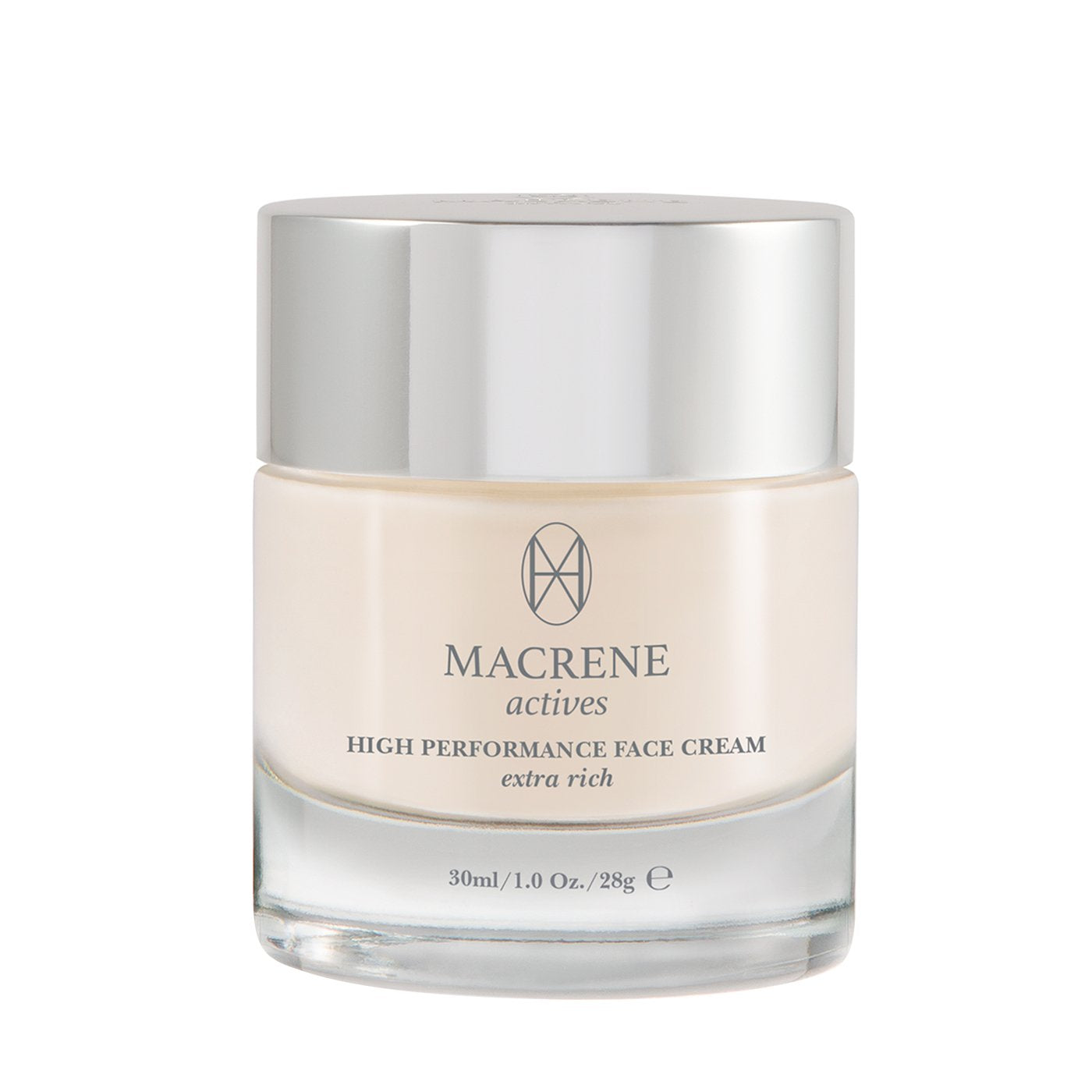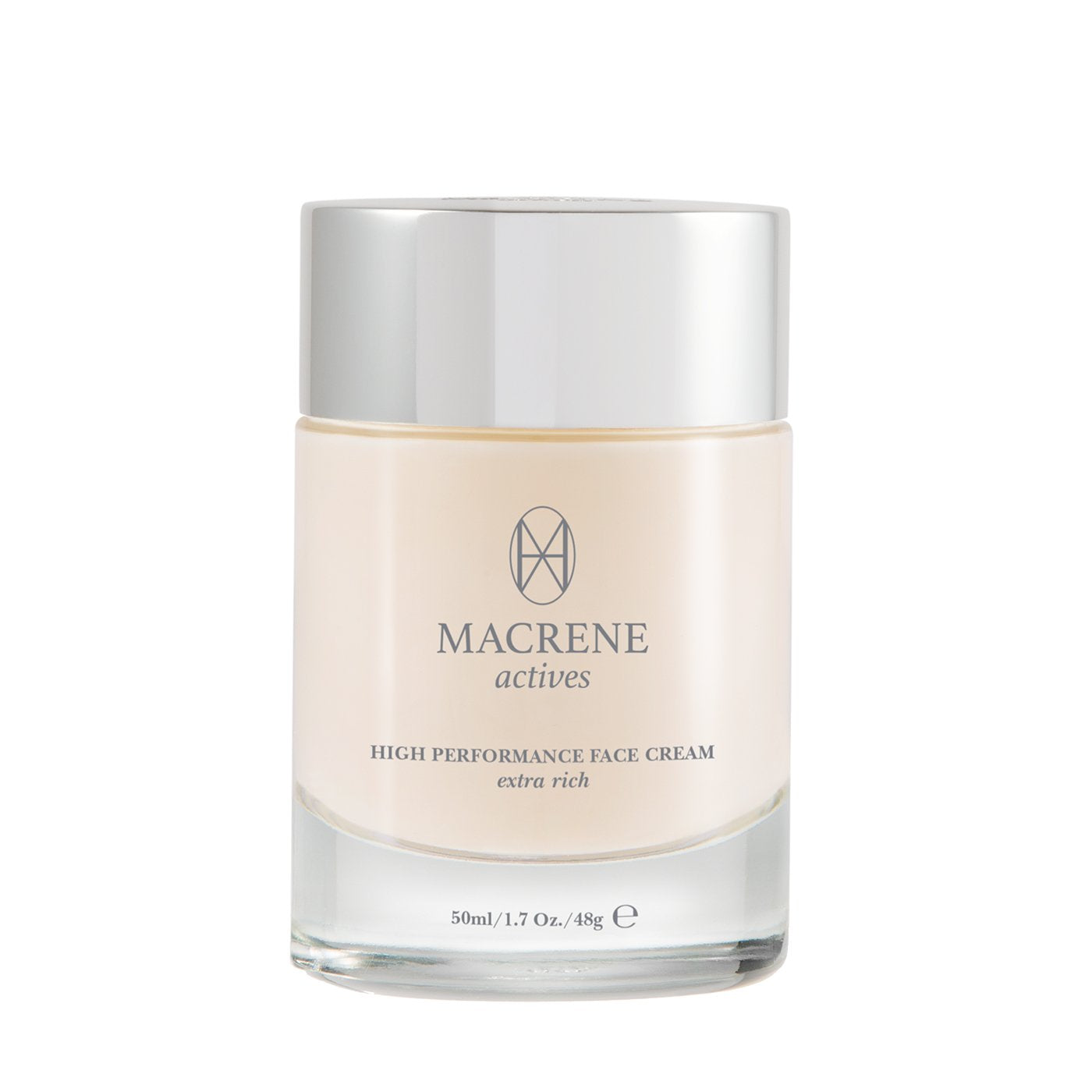 Description
Extra-rich, uber-effective anti-aging cream / 1 oz or 1.7 oz 
Macrene Actives High Performance Face Cream Extra Rich is an improved and updated, silicone-free and gluten-free version of the culty all-in-one 37 Extreme Actives Extra Rich Cream.
When we first heard about this wonder product — which replaces your moisturizers, serums, and eye creams with one supercharged formula — it sounded too good to be true. "It repairs wrinkles, brown spots, redness, and sun damage while providing skin with powerful antioxidants, collagen boosters, barrier fortifiers, and moisturizers? Right..." But this toxin-free miracle cream, touted by models and dermatologists alike, actually walks the walk. It combines the safest and most potent anti-aging ingredients at high enough levels to produce truly visible results without causing any irritation or breakouts. And its unique, patented delivery system means those 50+ active ingredients get exactly where they need to go. Even better? Once opened, it stays fresh and potent longer than any other antioxidant-rich product. Quite simply, it's perfect.
This Extra Rich formula is designed for Balanced to Dry skin, and although it's very hydrating, it doesn't feel too thick or heavy. This new and improved Macrene Actives formula is even better than the original: similarly powerful, but with a plusher, silicone-free base that we adore.
USDA Certified Organic Ingredients | Plant-Based | Vegan | Gluten-Free | Paraben-Free | Phthalate-Free | Sulfate-Free | Fragrance-Free | Acrylate-Free | Glycol-Free | Mineral Oil-Free | Petrolatum-Free | Animal Byproduct-Free | Mica-Free | Talc-Free | Silicone-Free | Packaged in Glass | Made in USA
How to Use
Apply a hazelnut-sized dollop to clean skin, including the eye area. Any additional products (sunscreen, etc.) should be layered on top.
Ingredients
- Copper Peptide, Resveratrol, Amino Acids: significantly reduce wrinkles and crows' feet
- Glucosamine, Ergothioneine, Mushroom extract, and Arginine: reduce hyperpigmentation
- Resveratrol, Vitamins C & E, Edelweiss extract, Glucosamine: provide antioxidant protection from sun and pollution exposure
- Bisabolol, Coffee, Yerba Mate Tea, Feverfew Extracts: reduce redness
- Plankton, Blue algae, and Micrococcus: repair sun damage
---
All Ingredients
Water, Hydrogenated Ethylhexyl Olivate1,3, Hydrogenated Olive Oil Unsaponifiables1,3, Glycerin1, Stearic Acid1,3, Tetrahexyldecyl Ascorbate, Helianthus annuus (Sunflower) Seed Oil Unsaponifiables1, Acetyl Glucosamine, Theobroma cacao (Cocoa) Seed Butter1,2,3, Jojoba Esters1,3, Hydrogentated Coco-Glycerides1,3, Cetyl Alcohol1, Sorbitan Stearate, Copper Lysinate, Resveratrol1, Sodium Hyaluronate, Sodium Hyaluronate Crosspolymer, Sodium Acetylated Hyaluronate, Hydrolyzed Sodium Hyaluronate, Scenedesmus rubescens (Microalgae) Extract1, Plankton Extract1, Arabidopsis thaliana Extract1, Micrococcus Extract, Leontopodium alpinum (Edelweiss) Flower/Leaf Extract1,3, Ergothioneine, Coffea arabica (Coffee) seed Extract1,2,3, Ilex Paraguariensis (Yerba Mate Tea) Leaf Extract1,2,3, Chrysanthemum parthenium (Feverfew) Extract1,2,3, Palmaria palmata (Red Algae) Extract1, Tremella fuciformis sporocarp (Silver Ear Mushroom) Extract1,3, Caffeine, Bisabolol1, Sodium Lactate, Arginine1, Aspartic Acid1, Glycine, Alanine, Serine, Valine1, Proline1, Threonine1, Isoleucine1, Histidine1, Phenylalanine1, PCA1, Sodium PCA1, Squalane1,2,3, Cholesterol1, Phosphatidylcholine1,3, Lecithin1,3, Methylglucoside Phosphate, Caprylhydroxamic Acid1, Glyceryl Caprylate1, Alcohol1, Citric Acid, Sodium Stearyl Glutamate, Sodium Methyl Stearoyl Taurate, Phenoxyethanol, Hydroxypropylmethylcellulose Stearoxy Ether, Sodium Phytate1, Ethylhexylglycerin1, Tocopheryl Acetate

1Plant-Derived
2USDA-Certified Organic
3Eco-Cert
Water, Hydrogenated Ethylhexyl Olivate1,3, Hydrogenated Olive Oil Unsaponifiables1,3, Glycerin1, ...
See All