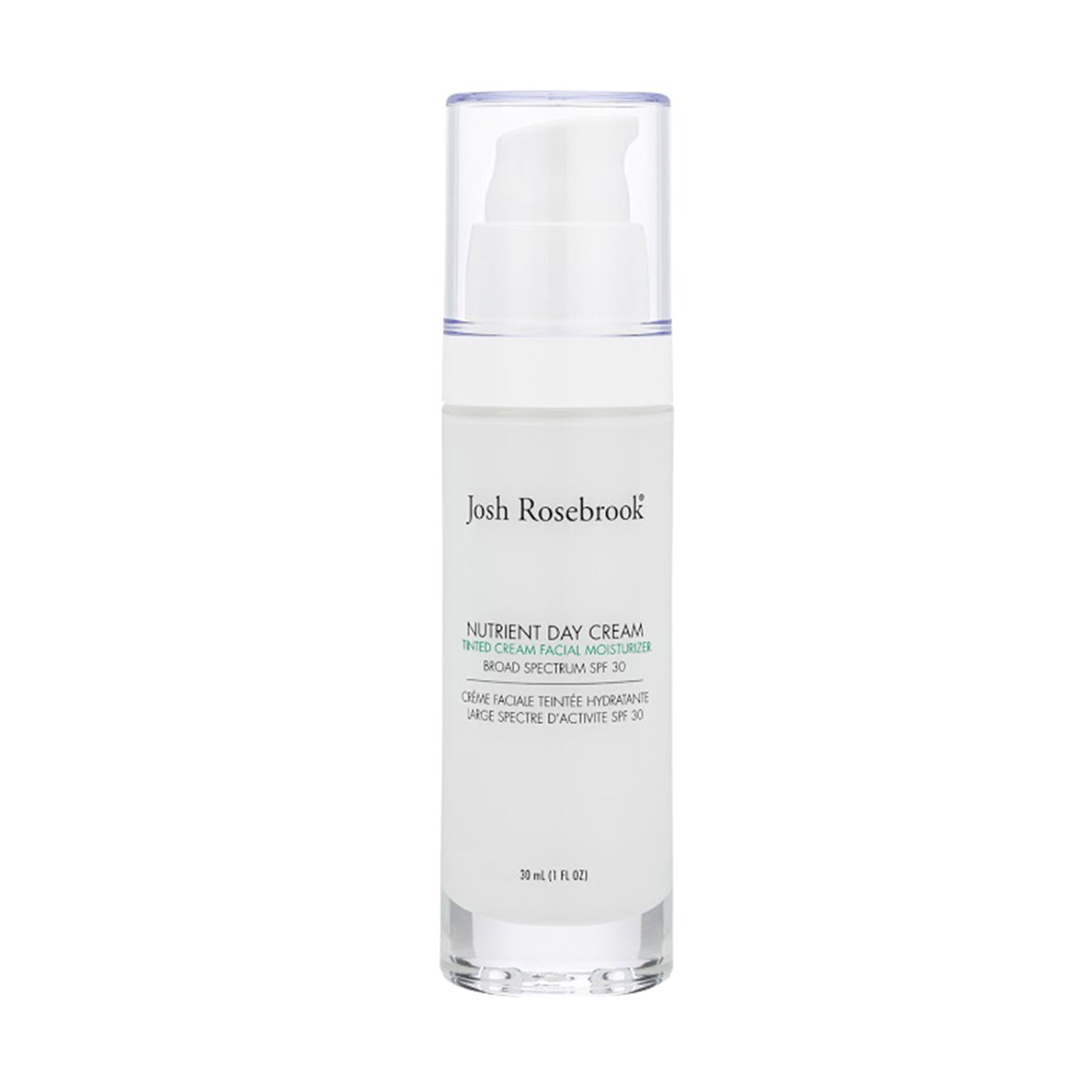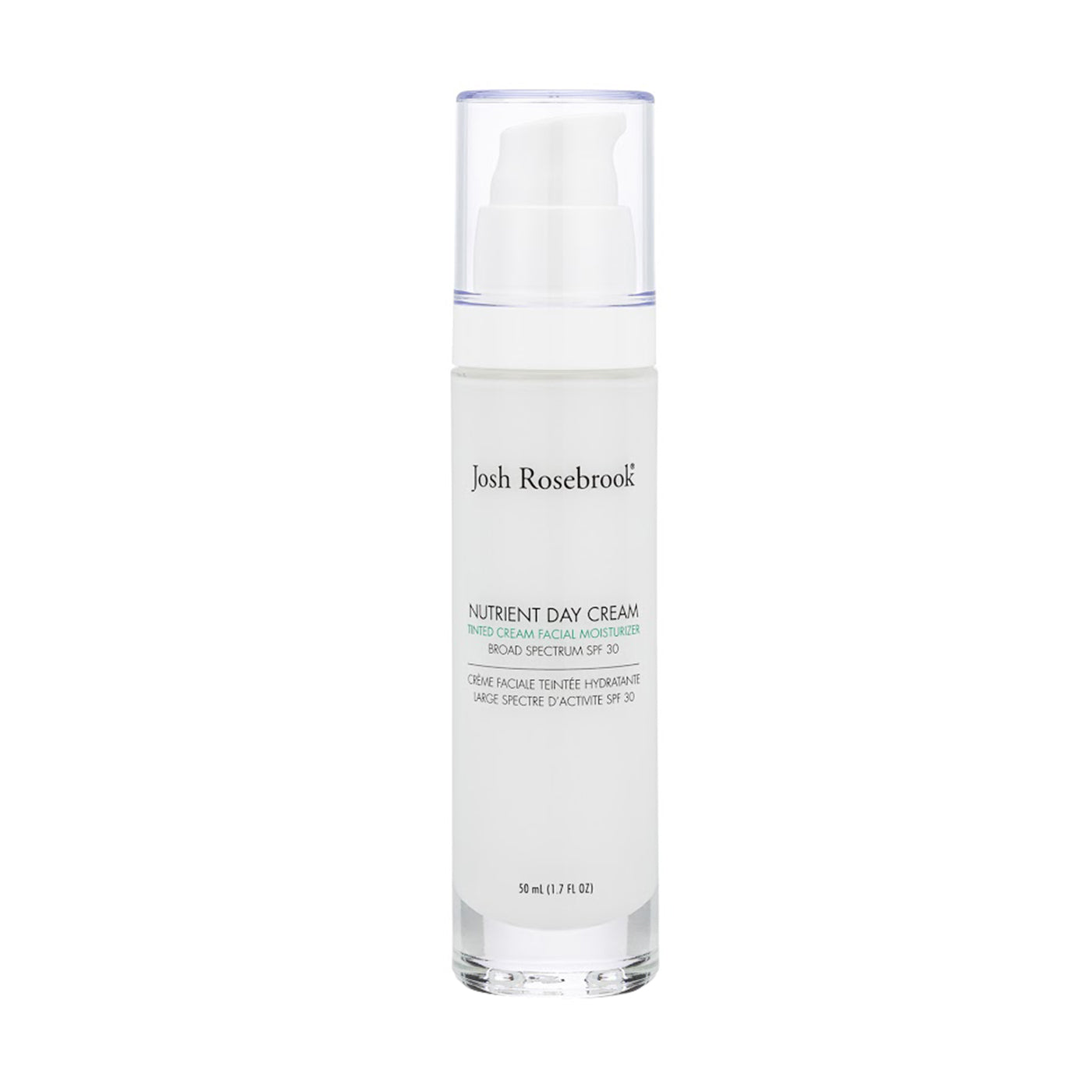 Description
Moisturizing broad-spectrum sunscreen with organic plant oils and a light, skin-evening tint / 1 oz & 1.7 oz sizes 
Josh Rosebrook's Tinted Nutrient Day Cream SPF 30 is one of those products that you see on the shelf and immediately want to pick up, because it holds the promise of making your life so much easier. And this one, unlike many others, doesn't disappoint.
Like Josh's amazing Nutrient Day Cream SPF 30, this tinted version is silky, uber-pure, and effortlessly glides over skin with no white cast and the perfect not-too-dewy, not-too-matte finish.
Also like the Nutrient Day Cream, it doubles as a moisturizer for balanced-to-combination skin and wears beautifully under makeup or on bare skin, every single day, protecting not only with the best type of broad-spectrum sunscreen (non-nano zinc oxide), but also a blend of antioxidants, anti-inflammatories, and essential fatty acids.
BUT the difference between the Nutrient Day Cream and this Tinted version is that this one has a whisper of a tint with a pale yellow undertone. It doesn't offer coverage like a foundation — not even close — but it makes your skin look very subtly like a more even, brighter, sun-kissed version of itself. And who wouldn't want that?
Plays very nicely with makeup (it's a great primer), and it's packaged in glass with an airless pump. Lovely.
Want to try it out first? Request a sample using our Custom Sample Service.
How to Use
Pat 2-3 pumps on face and neck, avoiding the eye area (keep it at least ½" away from the eyes). If your skin tends to be dry, we suggest applying it over another moisturizing product (it works beautifully over oils). Follow with makeup, if desired — it's a fabulous makeup primer.
Ingredients
- Non-nano and uncoated zinc oxide provides excellent broad-spectrum sun protection.
- Hemp oil moisturizes and balances oil production.
- Borage oil slows moisture loss, soothes, reduces redness, reduces fine line, repairs cells.
- Mica helps even skin tone.
---
All Ingredients
*Aloe Vera Leaf Juice, *Shea Butter, Zinc Oxide, *Olive Fruit Oil, Butyloctyl Salicylate, †Broccoli Seed Oil, *Avocado Oil, Polyester-8, Rhus Succedanea Fruit Wax, *Grape Seed Oil, Vp/Hexadecene Copolymer, *Hemp Seed Oil, *Jojoba Seed Oil, *Evening Primrose Oil, *Bladderwrack Seaweed, *Bilberry, *Burdock Root Extract, *Calendula Extract, *Chamomile Extract, *Chickweed Extract, *Dandelion Extract, *Ginkgo Leaf Extract, *Green Tea Flower Extract, *Marshmallow Root Extract, *Nettle Extract, *Rose Flower Extract, *Sage Extract, *Sea Buckthorn Oil, *Borage Seed Oil, *Sesame Seed Oil, *Guar Gum, *Gum Arabic Gum, Potassium Sorbate, *Vitamin E, Mica/Iron Oxides.

*CERTIFIED ORGANIC
†ORGANIC
*Aloe Vera Leaf Juice, *Shea Butter, Zinc Oxide, *Olive Fruit Oil, Butyloctyl Salicylate, †Brocco...
See All