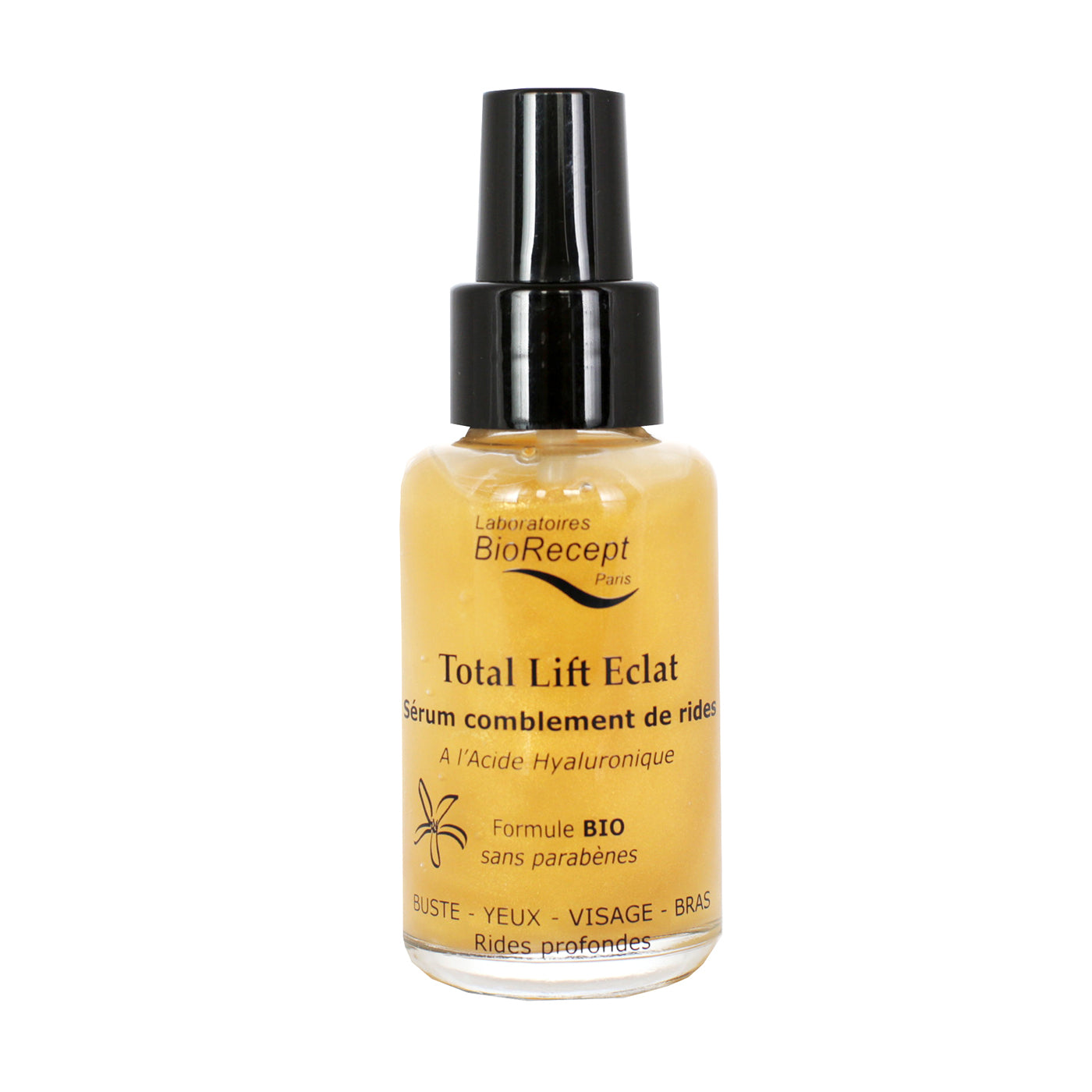 Description
Radiance-boosting, wrinkle-smoothing, puffiness-reducing moisture serum / 1.7 oz
BioRecept Total Lift Eclat is a powerful one-stop-shop rejuvenating serum that promises the look of a healthy lifestyle and a good night's sleep — and, given our experience as well as its astoundingly good consumer test results, it really delivers. Total Lift Eclat provides long-term anti-aging benefits (wrinkle smoothing, pore size reduction, and increased firmness) along with an immediate boost of radiance, hydration, and decreased puffiness around the eyes. The hypoallergenic, non-comedogenic, non-greasy formula features two types of hyaluronic acid: long-chain for immediate plumping, and short-chain for a long-term boost in collagen and elastin for improved firmness and fewer lines. Mamaku extract and natural amino acids also provide a lifting, anti-wrinkle effect.

This serum is designed to be used on the face (including eye area), neck, and chest. Prepare to be wowed: in month-long consumer tests with 20 women, 100% reported younger-looking skin, smaller-looking pores, significant anti-aging effects, and a healthy look.
Hot tip: The creator of BioRecept told us that NéoBio and Total Lift Eclat are her magic combination for women who are preparing for a wedding but are struggling with breakouts, because together, the combination is skin-perfecting magic. Total Lift Eclat pairs nicely with Hydra'Fluide, too.

*Total Lift Eclat now comes with a dropper top.
How to Use
Morning and/or night, apply with circular movements over face and neck and around eyes. Let the serum dry completely, then follow with moisturizer, sunscreen, or makeup. (Exception: If using in combination with NeoBio or Hydra'Fluide, apply NeoBio or Hydra'Fluide first, then Total Lift Eclat.)
Ingredients
- Two forms of hyaluronic acid provide short- and long-term hydrating, plumping, and firming benefits
- Mamaku extract, from a rare type of fern, is rich on polysaccharides that provide an immediate lifting effect on the skin
- Horse chestnut and whitebeam bud extracts boost skin's radiance and fight undereye circles and bags
- Cornflower water is known for its decongesting action on skin, particularly around the eyes
---
All Ingredients
Aqua (Water), Aloe Barbadensis Leaf Juice*, Caprylic/Capric Triglyceride, Glycerin, Cetearylacohol Alcohol*, Helianthusannuus Seed Oil (Sunflower Seed Oil)*, Dihydroxyacetone, Butyrospermum Parkii (Shea Butter)*, Simmondsia Chinensis Seed Oil (Jojoba Seed Oil)*, Cetearyl Glucoside, Prunus Amygdalusdulcis Oil (Sweet Almond Oil)*, Xanthan Gum, Tocopherol, Sodium Hyaluronate, Solanum Lycopersicum Extract (Tomato Extract), Silica Dehydroacetic Acid, Benzylalcohol, Parfum Fragrance, CI 77492 (Iron Oxides), CI 77491 (Iron Oxides), CI 77019 (Mica), CI 77891 (Titanium Dioxide).

*This product is certified organic by ECOCERT.
Aqua (Water), Aloe Barbadensis Leaf Juice*, Caprylic/Capric Triglyceride, Glycerin, Cetearylacoho...
See All
"The BioRecept Total Lift Eclat serum works wonders on me. I may have described the effect to someone as 'It's like magical unicorns were nuzzling pixie dust into my face overnight!'"
Rae