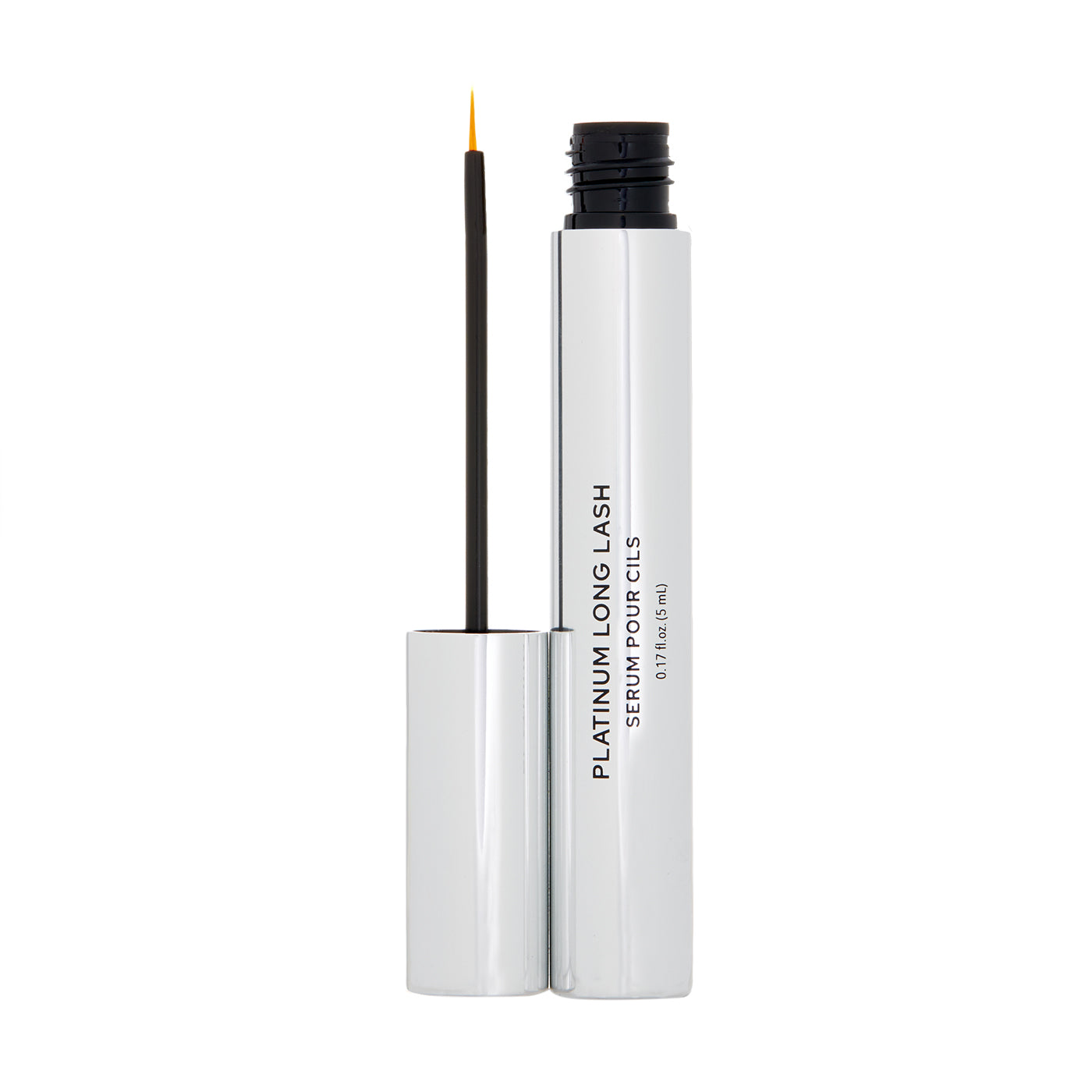 Description
A cult-favorite eyelash enhancement serum, clinically shown to improve the length, density, and growth of lashes / .17 oz
Dr. Lara Devgan's Platinum Long Lash is the product that first piqued our interest in this superstar Park Avenue plastic surgeon's line of products. Her proprietary eyelash growth serum has been clinically proven improve the length, density, and growth of lashes and brows without the use of prostaglandins — so it's safe even for use during pregnancy and nursing, and it avoids many of the common downsides of other lash growth products (such as darkening of the iris or surrounding eye tissue).
Platinum Long Lash contains an oil-free blend of provitamin B5, clover flower extract, and an innovative phyto-peptide complex to extend the life cycle of the eyelashes and promote their growth. As Dr. Devgan explained to us, "Think of this as a fertilizer to enhance the growth of your eyelashes. Lashes have a 4-5 month growth cycle, and they grow until they die; this product supports their growth so that each one lives longer and supports the environmental milieu of lashes for increased density, length, and strength."
That all sounds great, but the clinical studies on this product sound even better: after 14 days, patients averaged a 25% increase in lash length. After 30 days, they averaged more than 70% improvement in lash density. After 60 days, they averaged a 45% increase in new lash growth.
Given that the full lash growth cycle takes 5 months, you'll likely notice the most significant results after 4 months (each tube typically lasts 2 months). Results vary from person to person, so tracking progress with photos can be helpful for the impatient among us, but you may find that it's not necessary — our tester noticed a clear difference on her own within a few weeks. And with proven results like these, you can rest assured that those changes aren't a figment of your imagination.
Can be worn under makeup; suitable for all skin types. (Our tester self-describes as "sensitive-eyed" and loved this serum. For specific medical questions about your unique situation, we always suggest speaking with your doctor.) 
How to Use
Apply a small amount of Platinum Long Lash to the base of clean, dry eyelashes and/or eyebrows once or twice a day. Do not apply directly into the eye; if this should occur, rinse thoroughly with water. Consistent daily use is needed to see and maintain desired results. If you have sensitive eyes or contact lenses, Dr. Devgan suggests allowing the serum to dry after application for 10 seconds with the eyes closed.
Ingredients
- Vitamin B5 helps to strengthen and nourish hair
- Phyto-peptides strengthen hair and encourage new growth
- Clover flower extract encourages hair follicle health
---
All Ingredients
Water, Acetyl Tetrapeptide-3, Butylene Glycol, Trifolium Pratense/ Clover Flower Extract, Hydroxyethylcellulose, Myristoyl Pentapeptide-17, Glycerin, Ethylhexylglycerin, Panthenol, Disodium EDTA, Sodium Citrate, Sodium Hydroxide, Dextran, Citric Acid, Phenoxyethanol
Water, Acetyl Tetrapeptide-3, Butylene Glycol, Trifolium Pratense/ Clover Flower Extract, Hydroxy...
See All