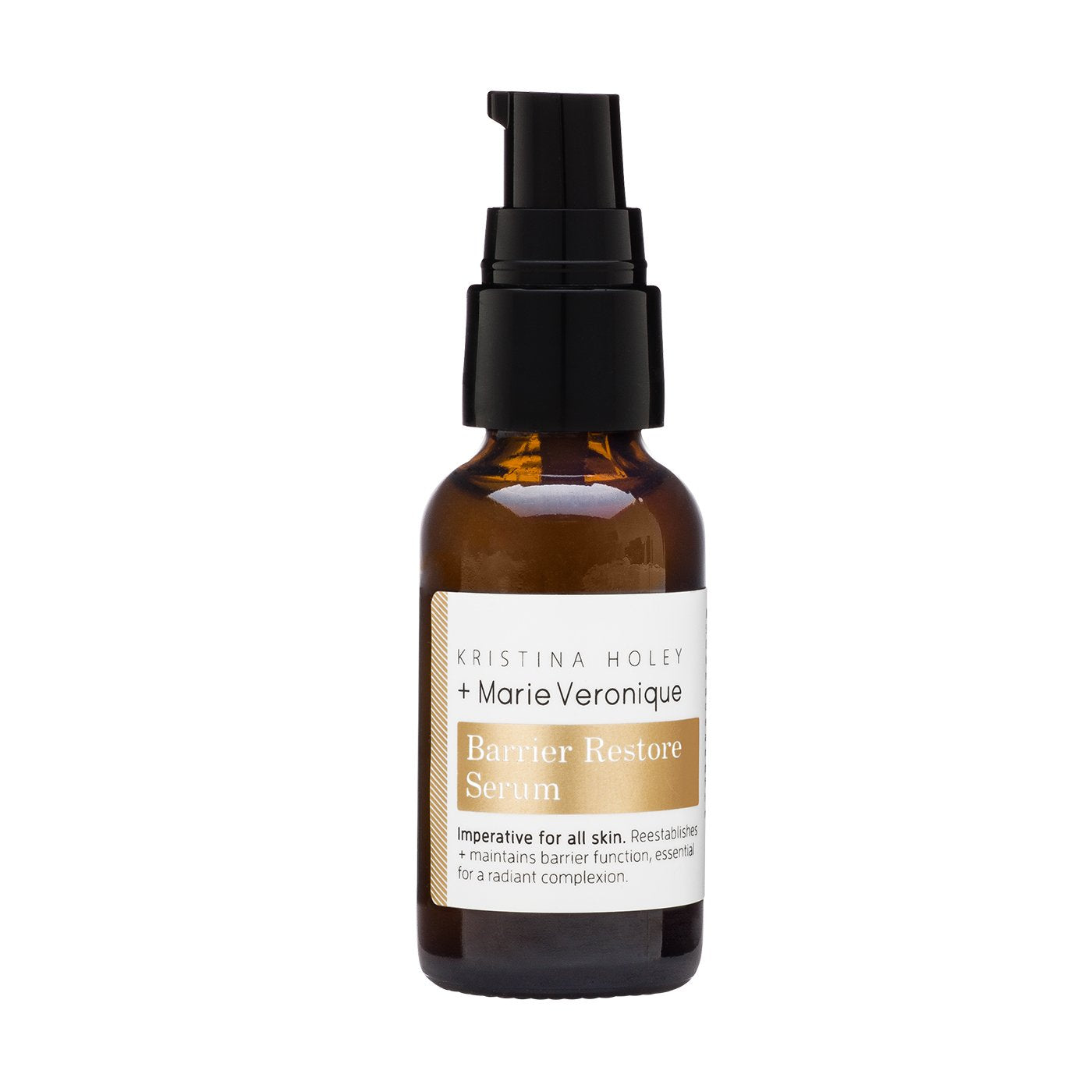 Description
Essential skin-protecting serum that corrects inflammation, calms sensitivity, and helps moisture levels achieve perfect balance / 1 oz 
Kristina Holey + Marie Veronique Barrier Restore Serum is difficult to describe. Let's just start by saying that you need this kind of weird, entirely wonderful item in your skincare product stash, especially if you experience irritation, dryness, or redness.
Celebrated facialist Kristina Holey and renowned formulator Marie Veronique originally developed Barrier Restore for Kristina's clients who had a weakened skin barrier (many of them struggled with perioral dermatitis or rashy, immune-compromised skin). But when they began to see how effective it also was at restoring health to skin that was dealing with a wide variety of external aggressors, from over-processing to air travel, they determined that it was "imperative for all skin." And we have to say we agree: this brilliant blend of ingredients leaves any skin feeling more comfortable and less prone to dryness, even in the dead of winter or the driest airplane cabin.
Like all the Kristina Holey + Marie Veronique serums, Barrier Restore is designed to work by strengthening the skin and making it more resilient; this particular serum is the all-around MVP of the team. It's Marie Veronique's favorite, and it's Dara's favorite of the KH+MV products, too, due to its ability to take down inflammation and its unique mix of moisture-balancing ingredients: unlike other barrier repair products that rely on heavy butters, waxes, and mineral oils, this one is feather-light, thanks to a blend of ceramides, humectants, and nutrients like magnesium. It's fabulous for any type of skin that needs healing, and it's a huge hit with clients who are pregnant, nursing, or dealing with autoimmune conditions.
Dry, itchy, in-need-of-TLC skin, see you again…never.
Barrier Restore Serum layers well with other products: apply it over any other serum to treat compromised, dry, or dehydrated skin. It's a fabulous product to layer with retinol to minimize irritation. It also works beautifully underneath oils. And if your skin can't tolerate oils, this might end up being your favorite moisturizer.
Fragrance-free and essential oil-free.
How to Use
Apply 1-2 pumps to skin. Layer Barrier Restore over any other serum to treat compromised, dry, or dehydrated skin. It also works beautifully underneath oils.
Ingredients
- Ceramides: Lipid molecules within cell membranes, they help cells form a protective layer that plumps skin and retains moisture.
- Sodium Hyaluronate occurs naturally in skin, maintaining its moisture and elasticity. This large molecule can't fully penetrate the skin's outer layers to fill wrinkles, yet it's a wonderful humectant, holding up to 1000x its own weight in water.
- L-Arginine: Also known as L-glutamine, this amino acid is proven to play an important role in the growth of fibroblast cells.
- Sodium PCA, a humectant found in human skin, has high water absorbing properties, and the ability to absorb moisture from the air.
- Phosphatidyl Serine: Some studies show topical application slows wrinkling by inhibiting enzymes that break down collagen.
- Magnesium Chloride may help alleviate dryness/inflammation in magnesium deficient skin by increasing elasticity and moisture.
---
All Ingredients
Camellia Sinensis (Green Tea) Leaf Infusion, Propanediol, Simmondsia Chinensis (Jojoba) Seed Oil, Lactobacillus/Cocos Nucifera (Coconut) Fruit Extract, Urea, Zinc Oxide, Leuconostoc/Radish Root Ferment Filtrate, Phospholipids (Soy Lecithin), Magnesium Chloride (and other trace minerals), Glycerin, Brassica Oleracea Italica (Broccoli) Seed Oil, Sodium PCA, Xanthan Gum, Water, Laminaria Digitata (Algae) Extract, Camellia Sinensis (Green Tea) Extract, Polygonum Aviculare (Knotweed Bioflavonoids) Extract, Saccharide Isomerate, Lactic Acid Extract, Gluconolactone, Daucus Carota Sativa (Carrot) Root Extract, Aspartic Acid, Sucrose, Plankton Extract, Decyl Glucoside, Resveratrol, Phosphatidyl Serine, Acetyl Glucosamine, Jojoba Esters, Ceramide NP (N-Acylated Phytosphingosine), Superoxide Dismutase (SOD), Arginine, Sodium Chloride, Sodium Hyaluronate, Citric Acid

Microbiome-friendly

Fragrance + Essential Oil Free
Camellia Sinensis (Green Tea) Leaf Infusion, Propanediol, Simmondsia Chinensis (Jojoba) Seed Oil,...
See All