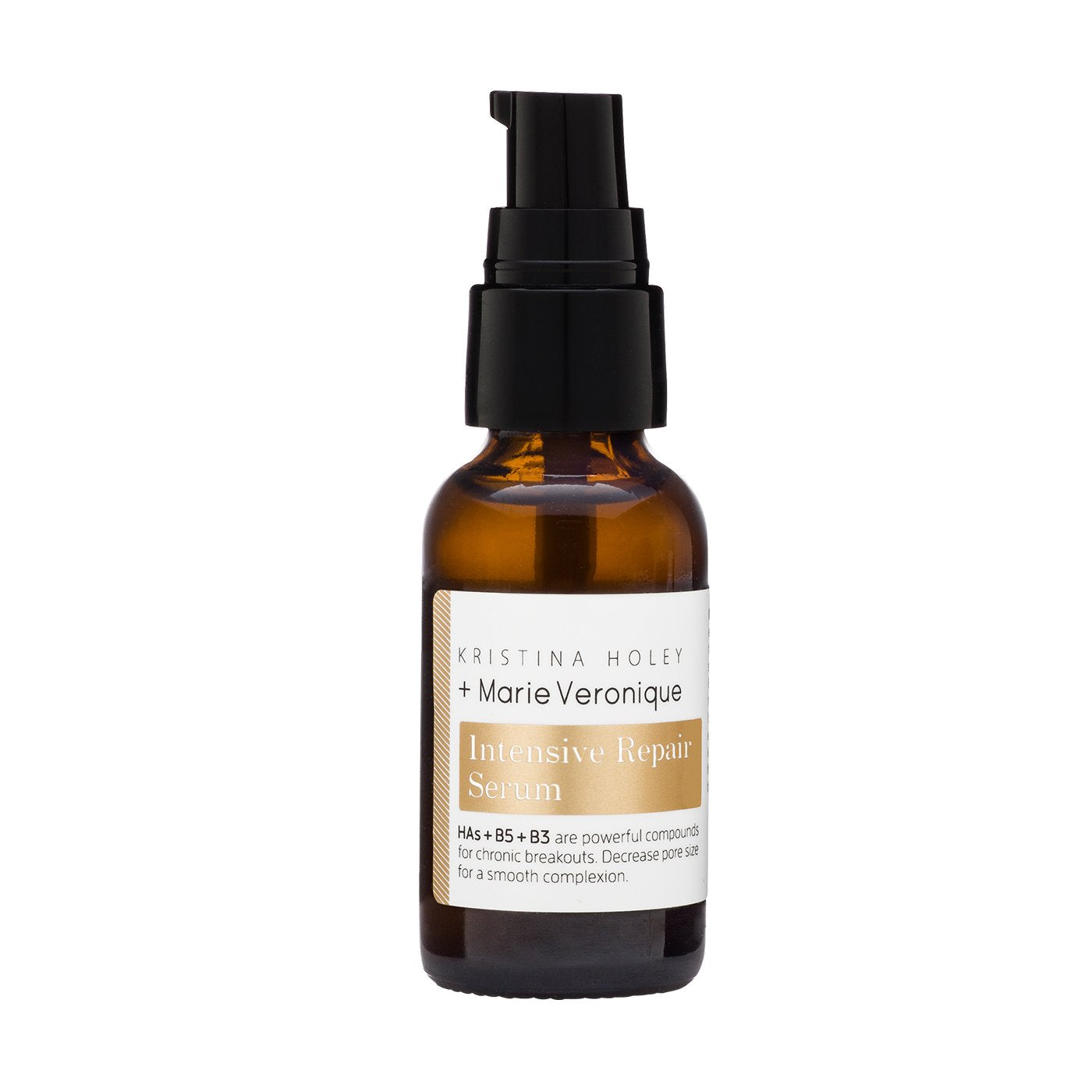 Description
Decongesting, oil-balancing, pore-refining gel serum with 2.5% AHA, 2.5% BHA, Vitamin B5, and green tea / 1 oz
Kristina Holey + Marie Veronique Intensive Repair Serum is a water-light, oil-free gel serum that features sebum-balancing Vitamin B5 and a blend of refining lactic acid and decongesting salicylic acid. Importantly, those power ingredients are in a soothing, hydrating base of green tea, hyaluronic acid, and a host of other goodies, so it efficiently fights breakouts, reduces pore size, and smoothes skin's texture without stripping or irritating (really and truly).
Celebrated facialist Kristina Holey and renowned formulator Marie Veronique originally developed this particular product as a daily boost for skin that experiences either chronic acne or periodic breakouts, but found that it also works beautifully 1-2x/week as a skin-brightening exfoliant for the non-acne-prone. We can vouch for that: it's the type of product that pleasantly surprises you when you first look in the mirror after waking up.
Like all the Kristina Holey + Marie Veronique serums, Intensive Repair Serum is designed to work by strengthening the skin and making it more resilient, not attacking it; if you were to look at the serums as a team of superheroes, this one specifically would be the pore-decongesting, blackhead-eradicating, oil-regulating workhorse. If you constantly struggle with your t-zone, you need to try this.
Intensive Repair Serum layers well with other products in the Marie Veronique line. Some suggestions from Kristina and Marie:
- To treat acne, layer it under Marie Veronique Treatment Oil
- To treat acne and aging, layer it under Gentle Retinol Serum
Fragrance-free and essential oil-free.
How to Use
Apply 1-2 pumps to clean skin. Follow with additional serum or oil. (We love using an oil on top of this serum at night.)
Ingredients
VITAMIN B5 regulates sebum overproduction by boosting Co-enzyme A activity.
LACTIC ACID is an alpha-hydroxy acid that speeds cell turnover rates and supports ceramide production.
SALICYLIC ACID is a beta hydroxy acid that dissolves compacted debris in cells to decongest pores.
ACETIC ACID from apple cider vinegar maintains healthy pH levels to discourage pathogenic overgrowth.
MARRUBIUM EXTRACT is an anti-inflammatory that soothes irritated skin
---
All Ingredients
Sodium Hyaluronate, Camellia Sinensis (Green Tea) Leaf Infusion, Lactic Acid Extract, Salix Nigra (Willow) Bark Extract, Leuconostoc/Radish Root Ferment Filtrate, Niacinamide (Vitamin B3), Probiotics, Gluconolactone, Pantothenic Acid (Vitamin B5), Glycerin, Camellia Sinensis (Green Tea) Extract, Panthenol (Provitamin B5), Beta-Glucan, Polygonum Aviculare (Knotweed Bioflavonoids) Extract, Marrubium Vulgare (White Horehound) Extract, Galactooligosaccharides, Acetic Acid (Apple Cider Vinegar), Water, Daucus Carota Sativa (Carrot) Root Extract
Sodium Hyaluronate, Camellia Sinensis (Green Tea) Leaf Infusion, Lactic Acid Extract, Salix Nigra...
See All