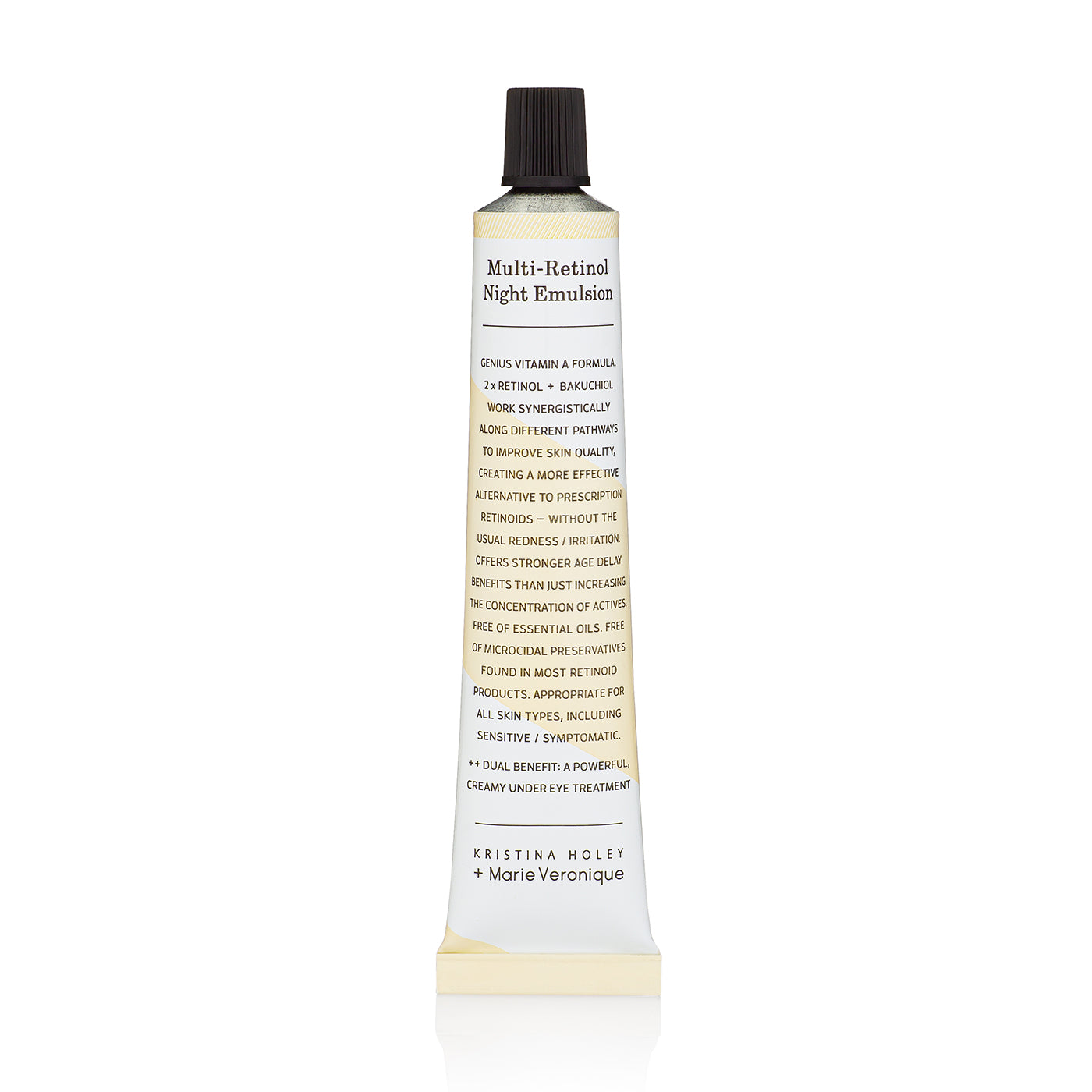 Description
Marie Veronique's microbiome-friendly alternative to prescription retinoids / 1 oz full size
Marie Veronique's Multi-Retinol Night Emulsion is exactly what we had hoped this excellent, Berkeley-based independent skincare company would create: a supercharged, comprehensive retinol formula that offers a step up from their best-selling Gentle Retinol Night Serum. (As their team describes it, Multi-Retinol Night Emulsion is the first truly clean, microbiome-friendly replacement for prescription retinoids.)
Retinoids, such as retinol, have been the gold standard in skincare for most age-related skin conditions for decades; they've long been proven to correct photoaging, increase elasticity, even skin tone, clear pores and breakouts, and smooth fine lines and wrinkles. This formula is designed to optimize retinol's efficacy without the irritation typically associated with it. Using a synergistic combination of retinol (the same kind in Gentle Retinol Night Serum, encapsulated in-house without preservatives), hydrating retinyl sunflowerseedate, and retinol-optimizing bakuchiol, this luxe, creamy night treatment provides a strategic way to address and heal the declining function that is characteristic of aging skin.
Our key learnings about the Multi-Retinol Night Emulsion, which we spent a few months testing before adding it to our shelves —
Who will love it: Seasoned retinoid users seeking a product that's comparable to a prescription retinoid with less irritation and unwanted ingredients.
Gentle Retinol Night Serum is still our go-to for if you're under 35 and looking to address hyperpigmentation and aging. But if you've been using that product and you're looking for something with a little more oomph, Multi-Retinol Night Emulsion is the one for you. It particularly shines with those who are 35+ and experiencing aging, dry, or dehydrated skin conditions, but it's also excellent for those with inflammatory skin conditions (e.g., dermatitis, eczema, acne, rosacea).
What it feels like: A light- to medium-weight cream. Multi-Retinol Night Emulsion has a richer, creamier texture than the Gentle Retinol Night Serum, which may allow you to use it as a one-step treatment and moisturizer in one — but you can also apply an oil underneath, or a thick moisturizing cream on top, if you need more moisture.
It can also be used around the eyes, having undergone ocular testing. (We don't recommend using it on the eyelid, but elsewhere around the eyes, it's fabulous.)
How to apply it: Counterintuitively, Multi-Retinol Night Emulsion should be applied over any other serums or oils. Applying it over oils may actually enhance its penetration.
However, if you use it with a rich cream, like Ursa Major Golden Hour or TWELVE Nutritive Repair Emulsion, apply Multi-Retinol Night Emulsion under the rich cream.
When Dara first heard from the Marie Veronique team that they were working on this product, she literally cheered with her hands in the air. It warrants all of that excitement — we are thrilled to have this retinol on our shelves. To find out why Marie herself loves it so much, check out her musings on our blog.
How to Use
Smooth dime-sized amount onto face/neck/chest as the last product in your evening regimen (after serums and oils). Use at night only. May be used every night; dry and/or sensitive skin types can start by using it 1-2x/week and increasing frequency over time.
Sunburn Alert: Daily sunscreen/sun protection advised. If irritation occurs, discontinue use and consult physician. Keep in a cool, dry space, out of direct light. Use within 6 months of opening.
*Retinol should be avoided if pregnant, nursing, or trying to conceive.

Once you've used it all up, both the metal tube (which has a BPA-free lining) and cap are recyclable.
Ingredients
- ENCAPSULATED RETINOL signals fibroblasts to replace old, unhealthy cells with new, properly functioning ones. Inhibits inflammation.
- BAKUCHIOL supports the integrity and the structure of the skin + has antioxidant and anti-inflammatory properties. Optimizes retinol function.
- RETINYL SUNFLOWERSEEDATE hydrates and maintains moisture balance. Reduces irritation.
---
All Ingredients
Camellia Sinensis (Green Tea) Leaf Extract, Propanediol, Coco Caprylate/Caprate, Hydroxypropyl Starch Phosphate, C14-22 Alcohols, Squalane, C12-20 Alkyl Glucoside, Lecithin, Sodium Palmitoyl Proline, Nymphaea Alba Flower Extract, Caprylhydroxamic Acid, Glyceryl Caprylate, Glycerin, Helianthus Annuus (Sunflower) Seed Oil, Tocopherol, Ethyl Ferulate, Humulus Lupulus (Hops) Cone Extract, Bakuchiol, Glycine Soja (Soybean) Oil, Retinol, Retinyl Sunflowerseedate, Xanthan Gum, Rosemary Oleoresin (Rosmarinus Officinalis) Leaf Extract
Fragrance and essential oil free. All ingredients are considered suitable for vegans and gluten free; the formula meets the definition of "soy free" claims.
Camellia Sinensis (Green Tea) Leaf Extract, Propanediol, Coco Caprylate/Caprate, Hydroxypropyl St...
See All