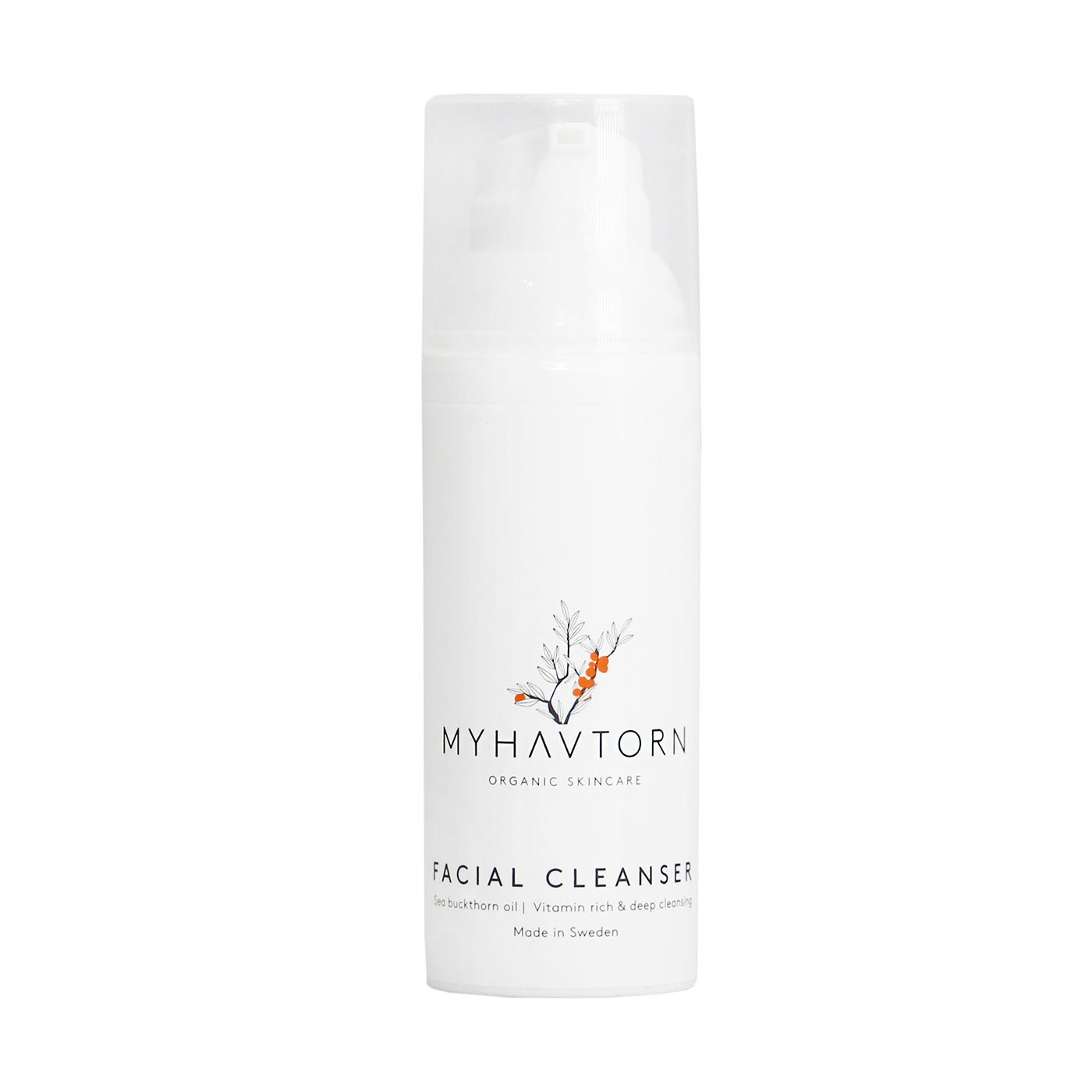 Description
Hydrating oil cleanser with sea buckthorn for sensitive skin / 1.7 oz 
Few things guarantee that your face will glow like this cleanser. The formula, rich in deep-cleansing castor oil, also deeply hydrates skin with a blend of anti-inflammatory, antioxidant-rich, essential fatty acid-rich oils (sesame, rapeseed, sea buckthorn, coconut) and shea butter. You'll find that you need to use far less of your moisturizer afterwards because your skin will already be so well-nourished and glowing. It's excellent at removing makeup, too.
Given its rich texture, Balanced to Dry skin types might find this cleanser most comfortable, but Robin, one of the MyHavtorn creators, has found that it's positively dreamy on oily and blemished skin as well. Works particularly well with a muslin cloth or the MyHavtorn Cleansing Pads, which come in packs of three — remove the cleanser with a moist Cleansing Pad, and if you wish, run a dry Cleansing Pad over your face after cleansing to remove any residue.
How to Use
Rinse face with lukewarm water. Apply pea-sized amount to hand; massage over face, then wipe off with a muslin cloth or cotton pad soaked in warm water.
Ingredients
- Sea Buckthorn Oil is a vitamin- and essential fatty acid-rich oil pressed from hand-picked Sea Buckthorn plants in Sweden. Used for centuries to treat sunburns and eczema.
- Castor Oil is known for its powerful cleansing properties.
- Avocado Oil is a vitamin E-rich oil that is readily absorbed by the skin.
---
All Ingredients
Sesame (Sesamum Indicum) Oil, Castor (Ricinus Communis Seed) Oil, Shea Butter (Butyrospermum Parkii Oil), Rapeseed Oil (Brassica Napus Seed) Oil, Coconut Oil (Cocos Nucifera) Oil, Sea Buckthorn (Hippophae Ramnoides) Oil, Juniper (Juniperus Communis Fruit) Oil, Bergamot (Citrus Aurantium Bergamia Fruit) Oil, Rosemary Antioxidant (Rosmarinus Officinalis Oil), Limonene*, Linalool*.
Natural and organic origin.
*Found naturally in the essential oils.
Sesame (Sesamum Indicum) Oil, Castor (Ricinus Communis Seed) Oil, Shea Butter (Butyrospermum Park...
See All