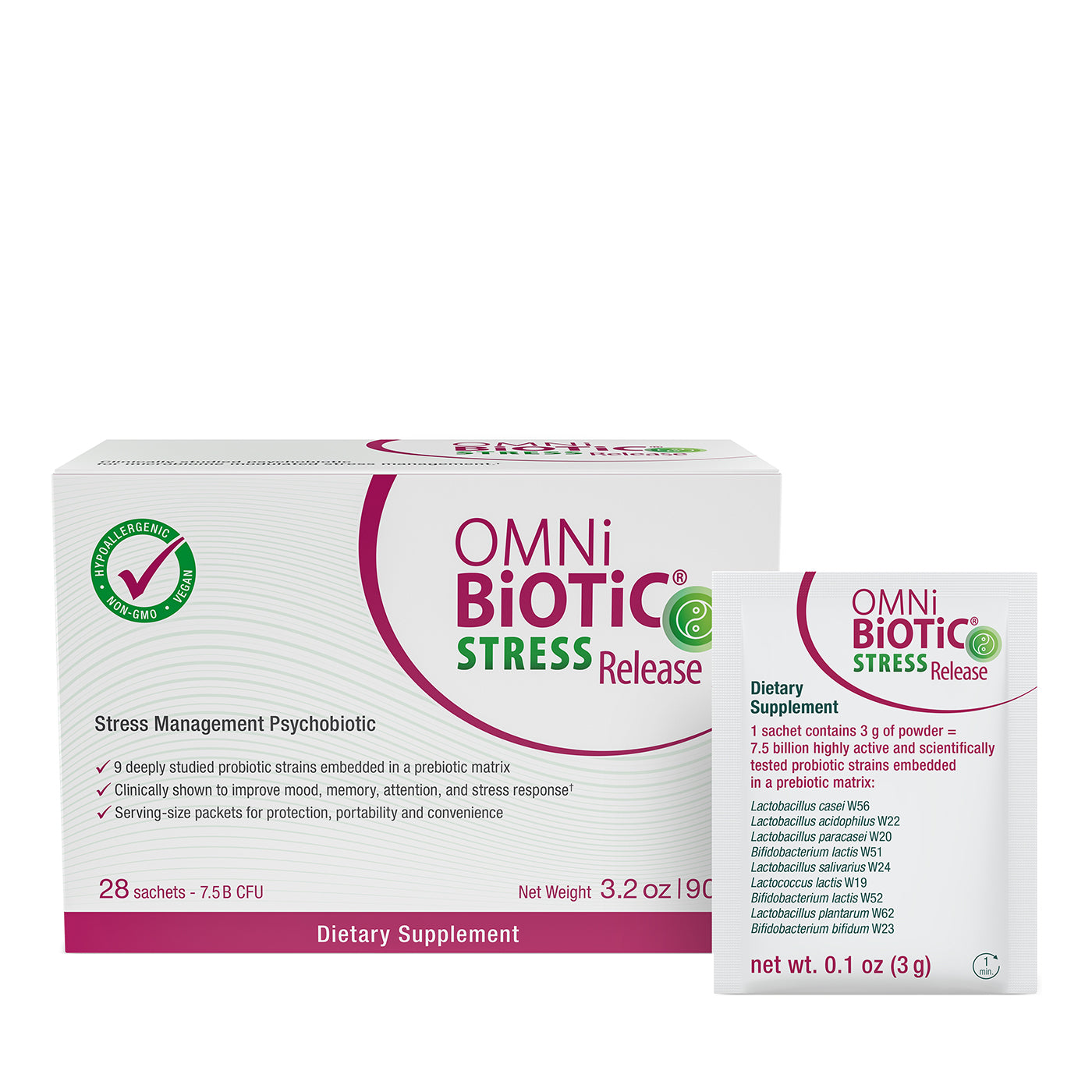 Description
Clinically-tested probiotic supplement for stress relief and improved mood / 28 daily sachets
Omni-Biotic Stress Release is a probiotic supplement specifically developed to support the gut-brain axis and promote the body's resilience in times of stress. 
Omni-Biotic, Europe's leading probiotic brand and one of the most trusted, reliable probiotic brands worldwide, is developed by an Austrian company that takes science very seriously. Each probiotic strain they work with is deeply researched; they then combine the most promising ones in formulas that address specific concerns, completing human clinical trials on these formulas with results that are awe-inspiring. 
The clinical studies on Stress Release, Omni-Biotic's "psychobiotic," demonstrated — through self-reporting as well as brain scans (fMRI) — a marked ability to strengthen the gut-brain axis, improving positive mood, memory, decision making, and cognition as well as reducing rumination and melancholy. Additional research demonstrated its support of gut flora and digestion during times of occasional stress, as well as a reduction in bowel irritability.
Stress Release is Omni-Biotic's best-selling formula, which may come as no surprise given the reams of research that have uncovered (and continue to uncover) the relationship between gut health and stress. The gut-brain axis is a complex, bidirectional, neural-hormonal communications network, and healthy bacteria in our gut play a key role in our brain health. They help keep the gut barrier intact to prevent exaggerated inflammatory response; they communicate directly with networks in the brain via the vagus nerve to influence emotional response; and they encourage the production of neurotransmitters that regulate mood and immune response. Omni-Biotic Stress Release acts as a natural supplement for stress and mood, replenishing the gut flora and strengthening the gut-brain axis.
This probiotic is shelf-stable and doesn't require refrigeration. Omni-Biotic packages its probiotics in powder form that you take by mixing with room-temperature water or another non-acidic liquid (milk, non-dairy milk, apple juice). This form has been shown in multiple clinical trials to significantly outperform capsules in the delivery of live, active probiotics: Omni-Biotic probiotics have shown to deliver 83% of active, healthy bacteria to the intestines compared to an average of only 7% in other top US probiotic brands.
For those of you who are really into probiotics: Omni-Biotic uses human keystone strains (isolated from the human GI tract) rather than spore-based strains. While spore-based strains tend to be more stable and easier to deliver in a capsule form, Omni-Biotic chooses to work with human keystone strains for their improved viability and greater chance of colonization for longer-lasting benefits. 
Dara could not be happier to have stumbled upon this gem in a pharmacy in Vienna — and to have found the company that brought Omni-Biotic to the US. Read more about them in our Brand Spotlight.
How to Use
Stir one sachet of Omni-Biotic Stress Release in approximately 4 ounces of room temperature water or other non-acidic liquid (dairy or non-dairy milk or yogurt, or apple juice). Wait 1 minute for probiotic activation. Stir again and enjoy! Tip: in water, it doesn't taste bad, but it's quite bland. If you're sensitive to such things, you may want to try it in either dairy or non-dairy milk.
Take one sachet daily or as directed by your healthcare practitioner. Omni-Biotic Stress Release is best consumed on an empty stomach, for example right after waking up in the morning or before going to bed in the evening.
Can be taken either as a 1-month course or on an ongoing daily basis. Safe for pregnancy and breastfeeding.
Ingredients
Omni-Biotic Stress Release contains nine specially selected, scientifically tested, well-characterized bacterial strains in a freeze-dried powder.
---
All Ingredients
Omni-Biotic Stress Release contains the following nine strains:
Lactobacillus casei W56
Lactococcus lactis W19
Lactobacillus acidophilus W22
Bifidobacterium lactis W52
Lactobacillus paracasei W20
Lactobacillus plantarum W62
Bifidobacterium lactis W51
Bifidobacterium bifidum W23
Lactobacillus salivarius W24


Other ingredients: Non-GMO corn starch, maltodextrin, inulin, potassium chloride, plant protein (rice), magnesium sulfate, fructo-oligosaccharides (FOS), amylase, manganese sulfate
CFU: 7.5 Billion
Omni-Biotic Stress Release contains the following nine strains:
Lactobacillus casei W56
...
See All