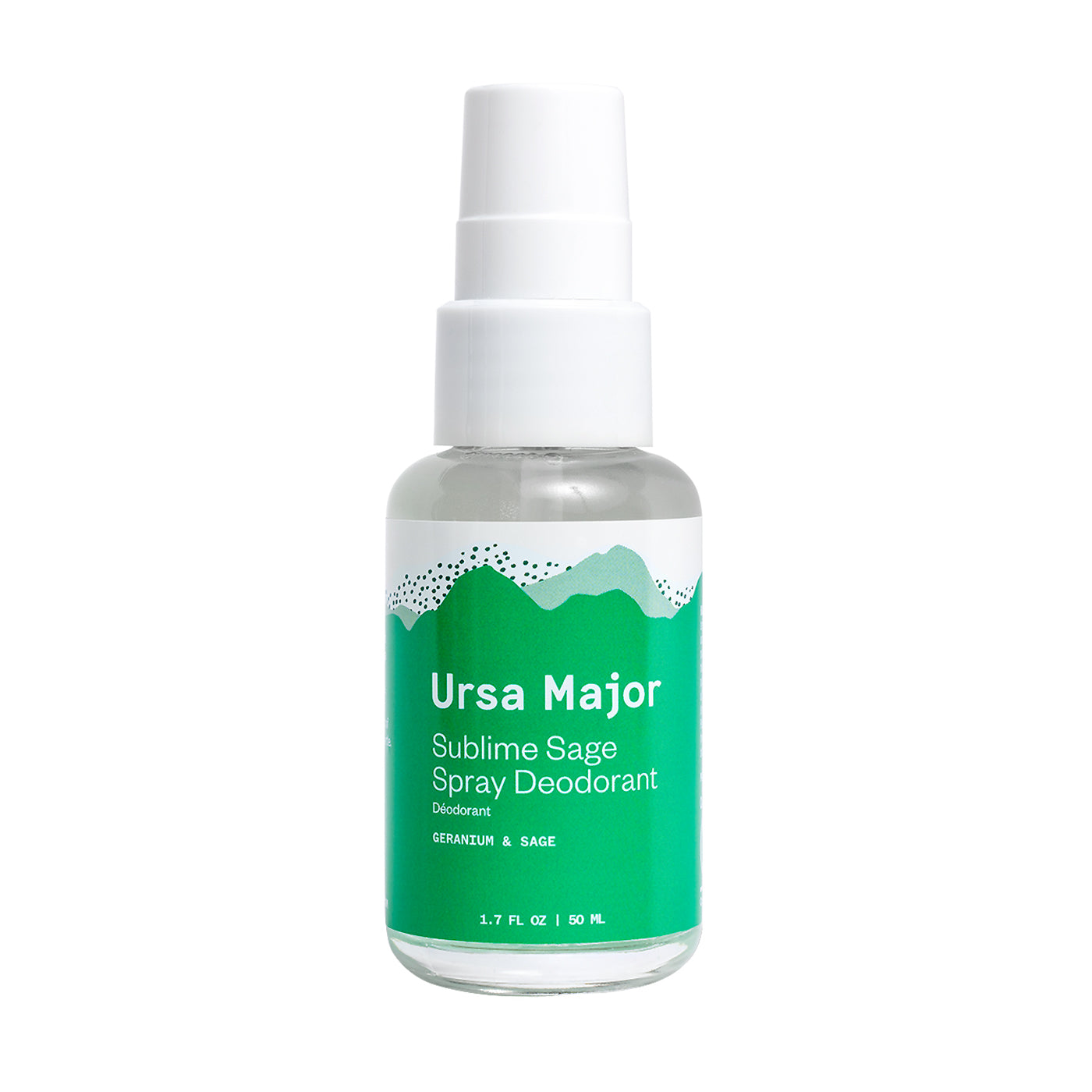 Description
Natural deodorant spray for serious on-the-go odor protection / 1.79 fl oz 
Ursa Major Sublime Sage Spray Deodorant is something we've been excitedly awaiting for months. About six months, to be precise, ever since Dara randomly popped into Ursa Major's HQ in Vermont and their co-founder, Emily, mentioned that it was in development…followed by a whisper: "It's the best one we've made yet. I can't use anything else."
Yes: this from the people who created the best-selling Hoppin' Fresh Deodorant, which we generally tell everyone is the deodorant that will make you switch over from your "sure, it may not be the best thing for me, but it works" drugstore deo.
While Sublime Sage also uses yeast-derived enzymes to neutralize odor, everything else about is different: it's a spray rather than a stick, and it uses a couple of other new, clean compounds to control odor both within the pores and before it even starts. Designed to cover both exertion (exercise) and stress sweat, the lightweight, non-staining, vegan, and (of course) aluminum-free formula dries quickly, leaving behind nothing but long-lasting protection against odor and its related you-don't-want-these-in-your-microbiome bacteria.
While Hoppin' Fresh features a crisp unisex eucalyptus-citrus scent, Sublime Sage features a slightly more herbaceous unisex blend of sage, sandalwood, lemon myrtle, and geranium. We're big fans of both…but if forced to choose, we might have to pick this one. Simply put, once you spray, you can't go back. There's just something about it that's a lot simpler. (And it's shareable and TSA-friendly, too, making it an excellent travel companion.)

PS Ursa Major's clean-as-a-whistle products never contain petrochemicals, sulfates, parabens, synthetic fragrance or color, glycols, silicones or PEGs.  

How to Use
Apply thoroughly to clean, dry skin as often as desired. (A zippy, pleasantly tingly sensation may occur.) Enjoy long-lasting protection as you go about your day.
Ingredients
- Sage: An essential oil rich in naturally-occurring phytochemicals shown to soothe aggravated skin.
- Triethyl Citrate: Made by combining plant-derived alcohol and citric acid; increases the acidity of armpit skin to decrease the production of esterase, an odor-causing enzyme.
- Lemon Myrtle: An essential oil high in citral, a phytochemical known for neutralizing bacteria.
- Saccharomyces Ferment: Produced by feeding plant sugar to yeast, enzymes from this ferment neutralize active odor while inhibiting the formation of body odor.
- Undeyclenoyl Glycine: Uses bio-vectorization technology to neutralize body odor within the pores for comprehensive odor control.
- Geranium: A soothing essential oil with powerful antioxidant properties.
---
All Ingredients
Water/aqua/eau, alcohol denatured*, saccharomyces ferment*, glycerin, sodium citrate, polyglyceryl-2 caprate, polyglyceryl-6 caprylate, polyglyceryl-4 caprate, sodium caproyl/lauroyl lactylate, triethyl citrate, salvia officinalis (sage) oil, undecylenoyl glycine, polyglyceryl-3 caprylate, lavandula angustifolia (lavender) flower oil*, melaleuca quinquenervia (niaouli) leaf oil*, backhousia citriodora (lemon myrtle) leaf oil, santalum spicatum (sandalwood) wood oil, pelargonium graveolens (geranium) leaf oil*, boswellia carterii (frankincense) resin extract, pogostemon cablin (patchouli) leaf oil, bisabolol*, phenethyl alcohol.

*Organic ingredients


Water/aqua/eau, alcohol denatured*, saccharomyces ferment*, glycerin, sodium citrate, polyglycery...
See All