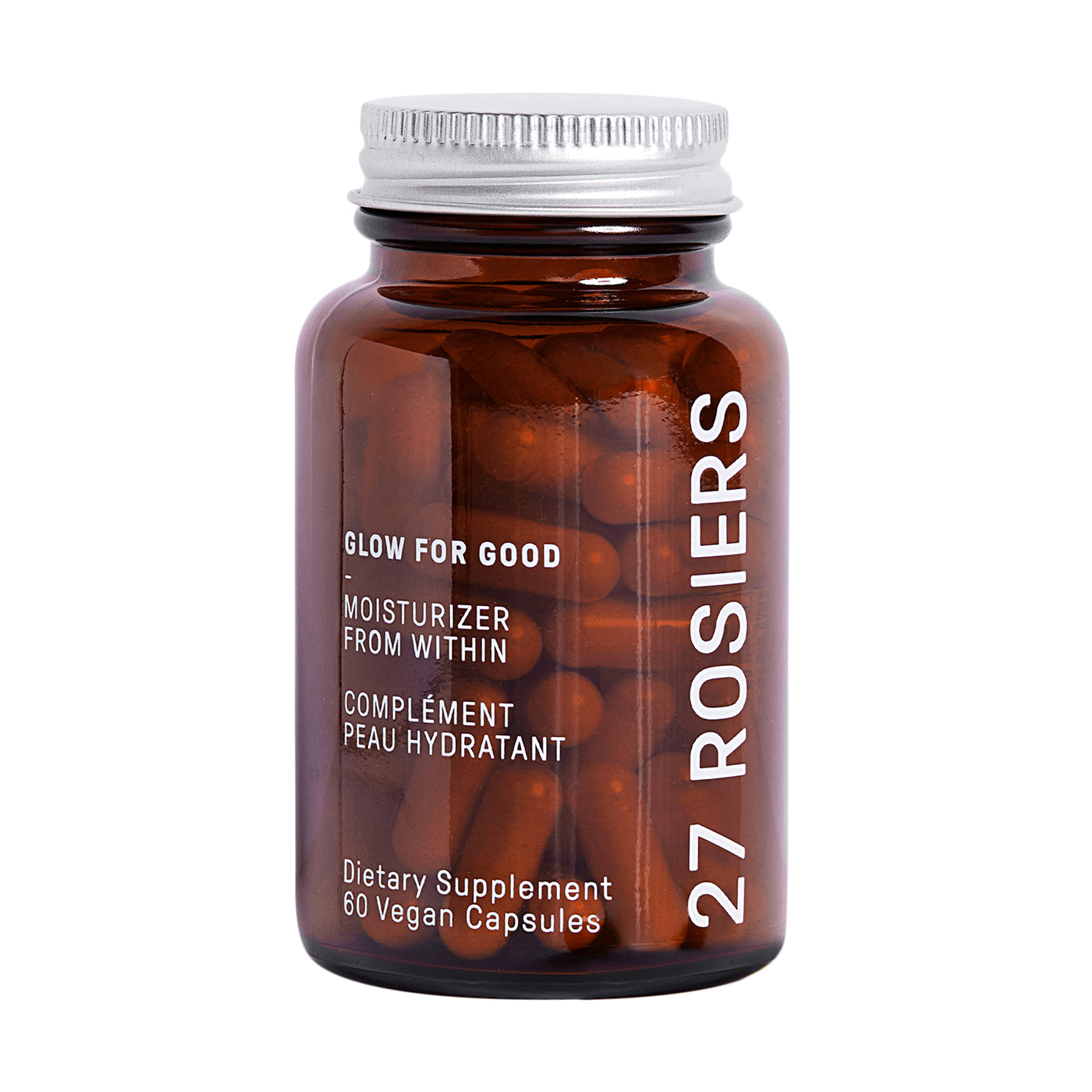 Description
Supplement for a vibrant complexion that's hydrated from within / 60 capsules
27 Rosiers Glow For Good is called a "moisturizer from within," which is a lovely way to think about this supplement. It features one of our longtime favorites for supplementation, hyaluronic acid, to hydrate from within while also supporting healthy collagen synthesis. Added to that are two of our favorite antioxidants for supplementation: CoQ10, a darling of functional-medicine specialists who admire its positive effects on mitochondria, and lycopene, which is beloved for its anti-inflammatory properties.
Glow For Good also features a number of other ingredients that make it a perfect "daily inside-out skincare" product. First, there's the calming 27 Rosiers "core blend," a mix of soothing ashwagandha, calendula, chamomile, and aloe vera that's present in all of the brand's products. Then, there's Vitamin D, a vitamin that many of us could use more of for daily immune support. Finally, there's a team of enzymes and probiotics to keep your digestive system running properly — and your skin looking clear and vibrant.
You can take two capsules daily for as long as you wish, or take one capsule of Glow for Good and one of Gutta Move On if your skin has decided to order everything on the "dry and dehydrated, yet also congested" menu. 
(Trying to decide between Glow For Good and The Organic Pharmacy's Skin Radiance supplement? Both contain hyaluronic acid, as well as their own particular blend of antioxidants and nutrients to support the immune system. But Glow For Good adds digestive enzymes and adaptogens to the mix for overall well-being, while Skin Radiance focuses more on skin firmness and cushioning the joints.)

How to Use
Take 2 capsules daily with a main meal.

For maximum results that last, a 30-day full-on plan is recommended.


Ingredients
- Hyaluronic acid helps to hydrate skin from within and support collagen
- Vitamin D supports a healthy immune system
- Enzymes support a healthy digestive system
- CoQ10 and Lycopene provide antioxidant support
- Ashwagandha, Calendula, Chamomile, and Aloe Vera work together to soothe and energize
---
All Ingredients
Vitamin A, Vitamin C, Vitamin D, Thiamine (Vitamin B1), Riboflavin (Vitamin B2), Niacin (Vitamin B3), Vitamin B6, Folate from Folic Acid (Vitamin B9), Vitamin B12, Biotin (Vitamin B7), Pantothenic Acid (Vitamin B5), Zinc, Hyaluronic Acid, Ashwagandha Extract, Calendula Extract, Chamomile Extract, Aloe Vera 200:1 Extract, Coenzyme Q10, Amylase, Protease, Lipase, Lactobacillus Acidophilus, Bifidus Bifidum Breve, Bifidus Bifidum Infantis, Bifidus Bifidum Longum, Lycopene.
Vitamin A, Vitamin C, Vitamin D, Thiamine (Vitamin B1), Riboflavin (Vitamin B2), Niacin (Vitamin ...
See All