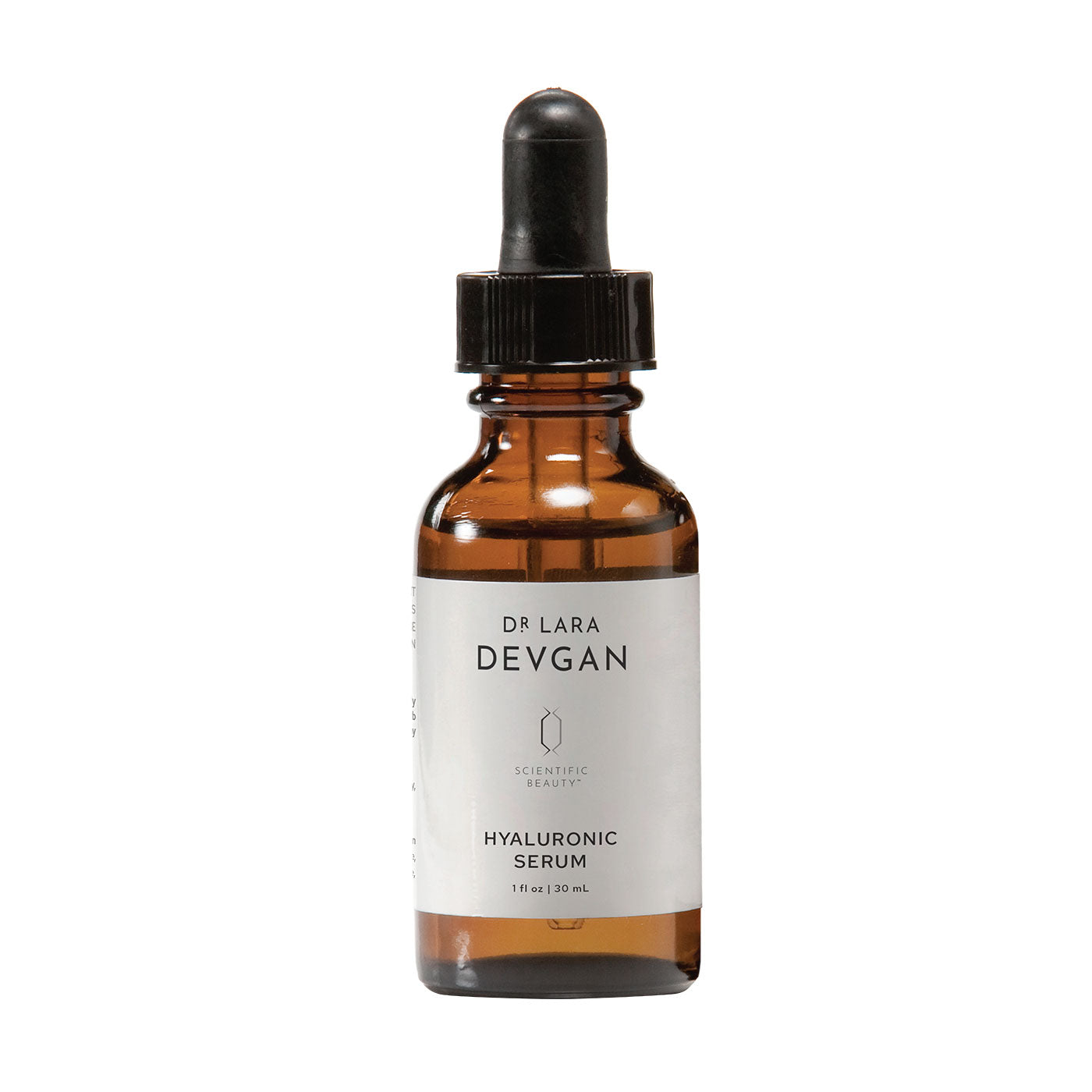 Description
Supercharged, mixed-molecular-weight hyaluronic acid serum proven to significantly increase firmness and reduce the look of lines / 1 oz
Dr. Lara Devgan's Hyaluronic Serum (formerly known as "Platinum Hyaluronic Serum" — same product!) is one of those luxury serums that we really didn't want to love. But the deeper we got into our first bottle, the more we were convinced that we absolutely couldn't live without it.
So here's the thing: skin laxity, or the loss of firmness, is tough to handle. Once skin starts to spring back a little less easily to the touch and gravity starts its inexorable pull downwards, the signs of aging have really taken off their collective coat and decided to stay awhile. But there are very few products that address firmness in a material way, so when we come across one, we grab it.
Dr. Devgan's Hyaluronic Serum is one such product, and it has the clinical studies to prove it. Packed with mixed-molecular-weight hyaluronic acid, it adds niacinamide, lysine, proline, and copper to the mix to trigger mitochondrial energy and address intrinsic aging, reactivating collagen and elastin production. At the same time, glycosaminoglycans protect skin's extracellular matrix from extrinsic aging (caused by things like pollution and UV rays) and improve its barrier function.
The results are remarkable: this serum has been shown to reduce wrinkle appearance and volume by 15% within two weeks, stimulate an increase in production of collagen and elastin of between 179-194% within 11 days, and — the kicker — prompt a 50% decrease in skin laxity after 28 days. And, due to its improvement of the skin's barrier function, it prompts a reduction in the appearance of rosacea over 12 weeks.
Yes, it's got hyaluronic acid in it, but this is more about short-chain hyaluronic acid — the kind that penetrates deeply to firm and plump skin. While some think of it as a hydrating serum, we don't; we think of it as a supercharged skin-firming booster, slather moisturizer on top, and thank our lucky stars that this marvelous product exists.
How to Use
Apply 4-5 drops of serum onto a freshly cleansed face and neck. Allow the serum to absorb fully before applying moisturizer or makeup. May be used twice a day or as often as desired.
Ingredients
- Mixed molecular weight hyaluronic acid dramatically stimulates the production of elastin and collagen, providing real anti-aging results over the long term as it boosts skin's hydration levels.
- Niacinamide (Vitamin B3) reduces inflammation by improving barrier function and stimulating ceramide production.
- Glycosaminoglycans protect the skin from pollution and UV rays.
- Copper glycoproteins promote collagen production and elastin.
- Chondroitin sulfate boosts elasticity.
---
All Ingredients
Water, Glycerin, Niacinamide, Sodium Chondroitin Sulfate, Methyl Glucoside Phosphate Proline Lysine Copper Complex, Glycosaminoglycans, Bambusa Vulgaris Leaf/Stem Extract, Pisum Sativum (Pea) Extract, Glucosamine HCl, Sodium Hyaluronate, Panthenol, Phenoxyethanol, Ethylhexylglycerin, Polysorbate 20, Disodium EDTA
Water, Glycerin, Niacinamide, Sodium Chondroitin Sulfate, Methyl Glucoside Phosphate Proline Lysi...
See All