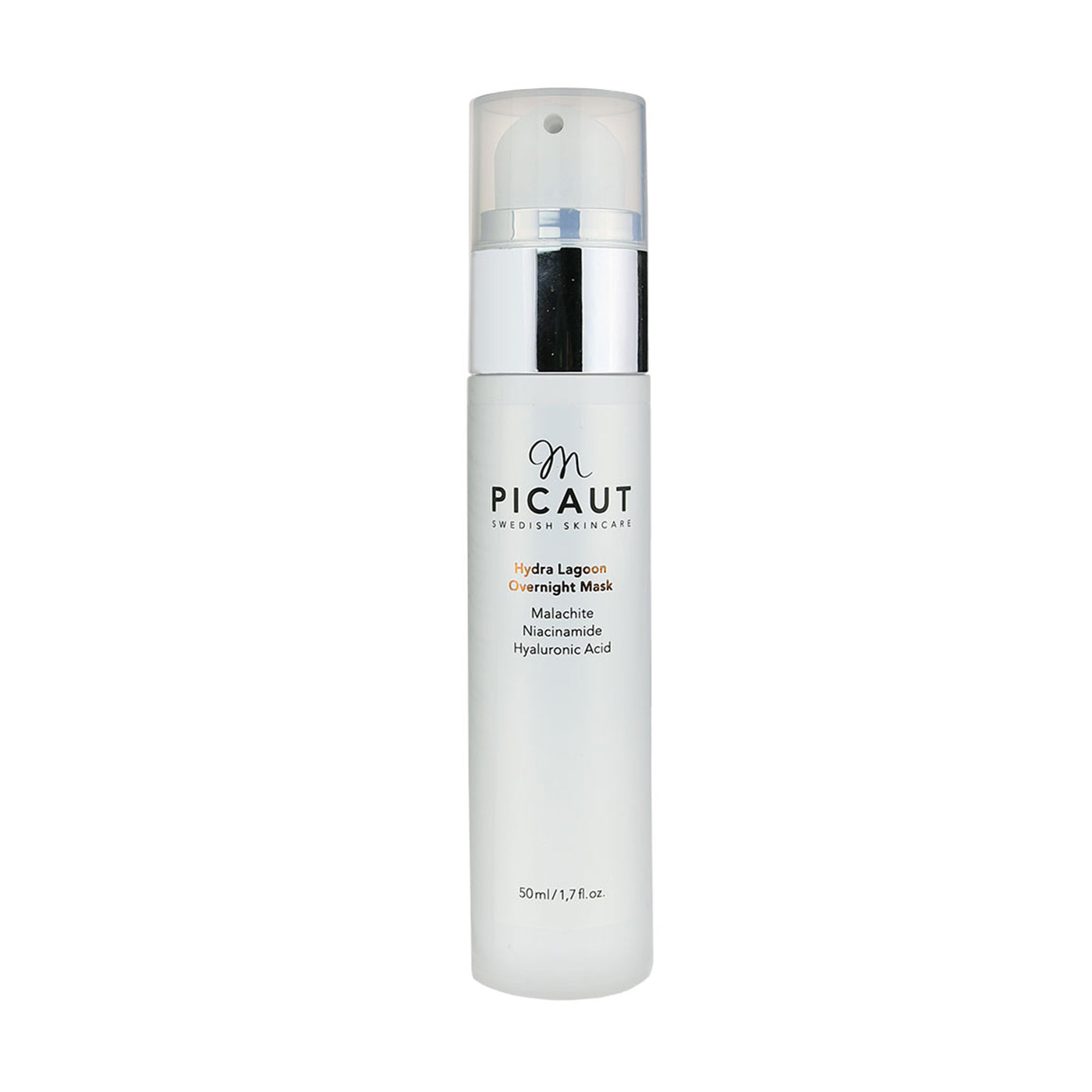 Description
Cushy, deeply moisturizing mask for dry, sensitive skin / 1.7 oz
M Picaut Hydra Lagoon Overnight Mask is one of the creamiest, most versatile, most luxuriously hydrating masks we've ever come across. If you have a dry, sensitive complexion that could use a firming moisture boost, this bottle of malachite-infused, skin-repairing luxury is for you — and it's a must for anyone whose skin could use a deeply hydrating post-ski, post-flight, or post-sun treatment. Hydra Lagoon can be used as a 10-15 minute mask, or you can leave it on overnight for a deeply replenishing and firming moisturizing treatment.
Although Hydra Lagoon is one of the richest products we carry, it doesn't feel greasy or overly heavy. Its secret, we think, lies in the fact that it uses a smart blend of lightweight but long-acting moisture boosters, like hyaluronic acid and pentavitin, along with nutrient-rich avocado and amaranth seed oils, squalane, and a touch of cocoa butter. Sensitive skin is also coddled with soothing oat extract and niacinamide.
But the show-stopping ingredient that everyone talks about in this formula is the malachite that gives it a slight green tint. This green gemstone has a very high copper content, and it's often included in luxury skincare formulas for its abilities to boost skin's firmness; M Picaut also loves the way it soothes and protects stressed skin, mopping up free radicals and helping you make up for a day out in the sun. Far from being a mere talking point ("oooh, crystals"), malachite makes this mask the absolute perfect thing to slather on your skin after a day of being exposed to the elements. Those Swedes do know their way around a long winter, you know.
How to Use
For a quicker daytime moisture boost: Apply a generous layer to clean, slightly damp skin. Leave on for 10–15 minutes. Tissue off excess, or rinse off the mask.
For a deeper, more intensive nighttime treatment: Leave on all night long. Hydra Lagoon Mask can also be applied during the day as a super moisturizing treatment on top of Hydra Miracle Serum and under makeup.

Some tips directly from Mette: "Try a few drops of Hydra Miracle Serum under the mask for a maximum moisture effect — it's like a moisture bomb. Use an extra thick layer overnight if needed as a cure. And don't forget that the neck and hands also need a moisturizing and anti-aging boost."
Ingredients
- Hyaluronic acid & pentavitin provide a long-lasting reservoir of hydration
- Avocado and amaranth seed oils deeply nourish
- Malachite, rich in copper and antioxidants, helps repair skin and boost collagen production for a firmer effect
---
All Ingredients
Aqua Purificata (Water), Persea Gratissima Oil (Avocado Oil)*, Glycerin (From Coconut Oil)*, Olivoyl Hydrolyzed Wheat Protein (From Olive Oil and Wheat)*, Cetyl Alcohol (From Coconut Oil)*, Squalane (Source Olive Oil)*, Theobroma Cacao Seed Butter (Cocoa Butter) *, Cetearyl Alcohol (From Coconut Oil)*, Glyceryl Oleate (From Coconut Oil), Glyceryl Stearate (From Coconut Oil)*, Saccharide Isomerate, (Pentavitin, Plant Derived)*, Backhousia Citriodora Leaf Extract (Lemon Myrtle Extract)*, Avena Sativa Kernel Extract (Oat Extract), Malachite Extract (Malachite Gemstone Extract), Sodium Hyaluronate (Veg. Hyaluronic Acid) , Niacinamide (Vit B3), Beta-Sitosterol (Source Plants)*, Squalene (Source Olive Oil)*, Glycine Soja Oil (Soy Bean Oil)*, Allantoin (Source Comfrey), Xanthan Gum (Natural Thickener)* Phenoxyethanol (Preservation), Ethylhexylglycerin (Preservation), Lactic Acid (pH balance), Potassium Hydroxide (Preservation), Sodium Benzoate (Natural Preservative)*, Tocopherol (Vit E)*, Tocopheryl Acetate (Vit E)*, Potassium Sorbate (Natural Preservative)*, Sodium Citrate (pH balance), Sorbic Acid (pH balance), Citric Acid (pH balance), Citral (From Lemon Myrtle)
* Certified organic ingredients
Aqua Purificata (Water), Persea Gratissima Oil (Avocado Oil)*, Glycerin (From Coconut Oil)*, Oliv...
See All
"I used it for 15 minutes, and my skin felt super soft when I tissued it off. But then I tried it overnight and loved it because I noticed that my skin felt a lot firmer, too. I really like that firming action! (I've used it three times this week.)"
Jodie