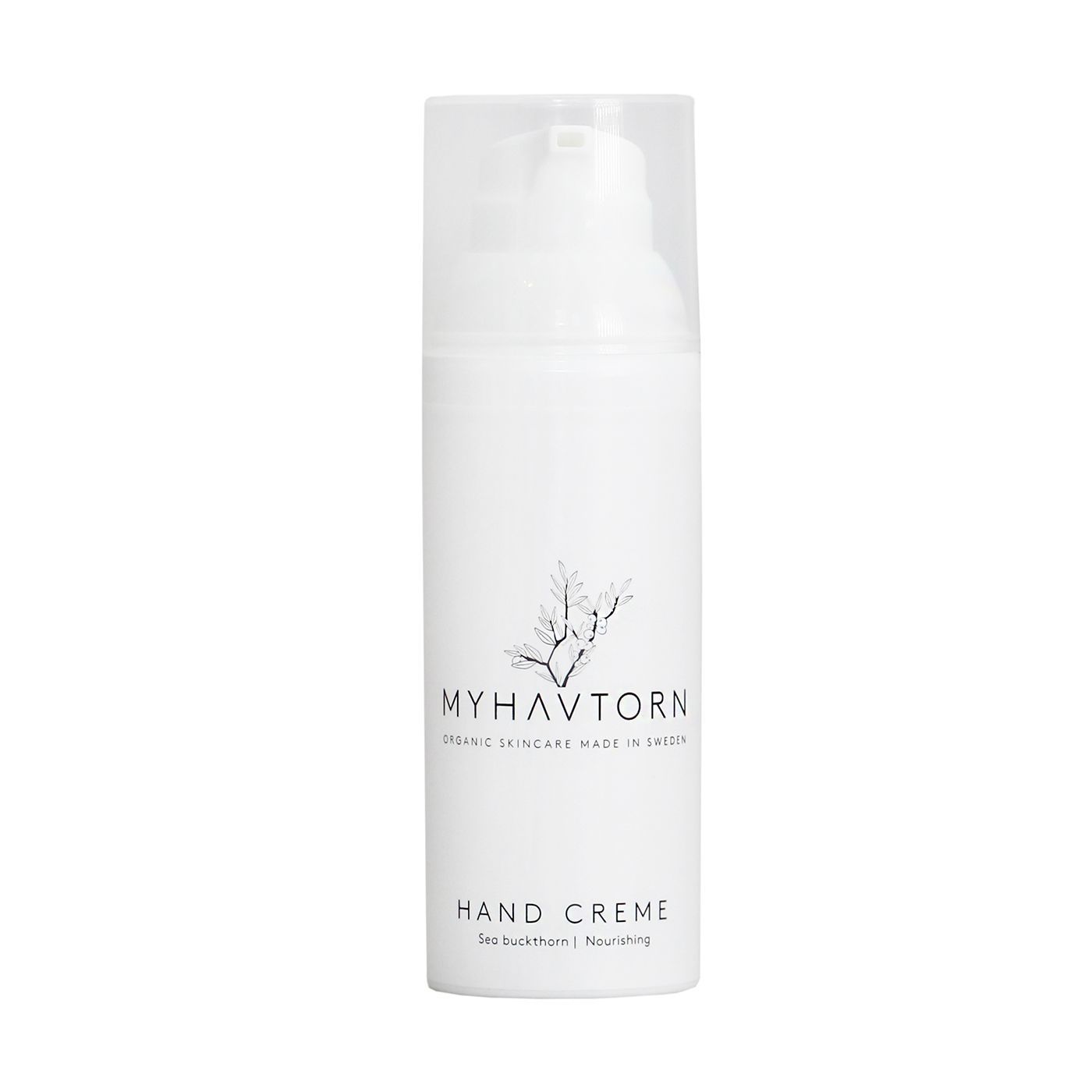 Description
The most perfectly nourishing hand cream / 1.7 oz
If we could dream up the perfect hand treatment, it would be MyHavtorn's Hand Cream. This lovely cream is incredibly nourishing due to its high concentration of organic sea buckthorn oil, which is rich in anti-aging antioxidants as well as a full suite of Omegas — 3, 6, 7, and 9 — that deeply hydrate and heal dry, cracked, rough skin. Sunflower oil, glycerin, and flaxseed extract add to the moisturizing and reparative qualities of this gorgeous non-toxic formula.
MyHavtorn recently updated this cream to be more protective with the addition of beeswax and shea butter to help hold moisture in the skin; it also now contains naturally antiseptic lemon oil and anti-inflammatory sandalwood.
It's absolutely essential for those with sensitive skin and eczema...and everyone else, we think. As Ingrid (half of the adorable duo behind MyHavtorn) mentioned to us, "It is always on my desk at work, in my handbag, or on the kitchen counter. I don't think I could get through the day without it." We couldn't, either.
How to Use
Smooth onto skin as needed.
Ingredients
- Organic Sea Buckthorn Oil is a vitamin- and Omega-rich oil pressed from hand-picked Sea Buckthorn plants in Sweden. Used for centuries to treat burns and eczema.
- Shea butter helps seal in moisture.
- Organic sunflower oil protects and heals skin.
---
All Ingredients
Water (aqua purificata), Rapeseed (brassica napus seed) Oil, Sunflower (helianthus annuus seed) oil, Sea Buckthorn (hippophae rhamnoides) Oil, Safflower (carthamus tinctorius seed) Oil, Glycerin, Tapioca starch, Shea butter (Butyrospermum parkii), Glyceryl stearate, Cetearyl alcohol, Triglyceride,Gluconolactone, Beeswax (Cera alba), Xanthan gum, Sodium stearoyl glutamate, Sodium benzoate, Bergamot (citrus aurantium bergamia fruit) Oil, Rosemary (Rosmarinus officinalis) Antioxidant, Lemon (Citrus Medica Vulgaris Peel) Oil, Limonene*, Sandalwood (Santalum spicatum) Oil, Juniper (Juniperus communis fruit) Oil, Calcium gluconate, Linalool*, Citronellol*, Citral*, Geraniol*
Natural and organic origin
*Found naturally in the essential oils.
Water (aqua purificata), Rapeseed (brassica napus seed) Oil, Sunflower (helianthus annuus seed) o...
See All