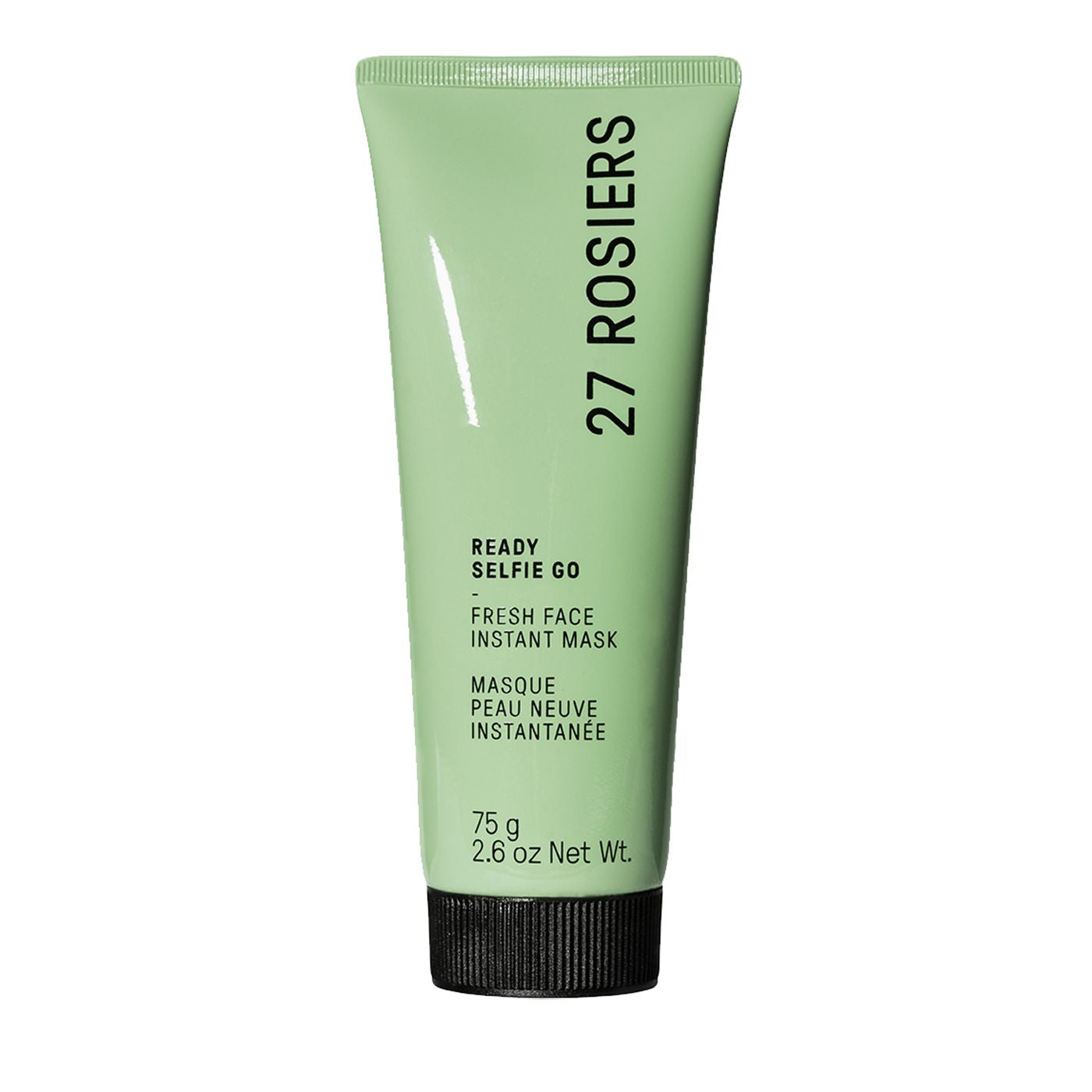 Description
Easy-peasy detoxifying and refreshing face mask  / 2.6 oz 
27 Rosiers Ready Selfie Go Fresh Face Instant Mask is one of those highly satisfying products that makes dreams accessible. In this case, it's the dream of instantly transporting yourself into one of those spa-at-home images, where the subject in the photo is wearing a perfectly gloopy, dark-green face mask and wearing a robe or towel, maybe with a cucumber slice over each eye.
We've all seen those photos, and yet when we think about using face masks, we often think, "Ugh…I just don't have the time." But you do, you see. We can't manifest a cucumber for you, but you can just squeeze out a glob of this mask and basically live the green gloopy masking dream.
Beyond that, though, Ready Selfie Go actually is a great mask. It suits a variety of skin types due to its balanced blend of purifying clays — kaolin and bentonite — with moisturizing ingredients like shea butter and sunflower seed oil, and spirulina not only adds a playful punch of green to the experience but also invigorates skin to provide a healthy glow. The 27 Rosiers core blend of ashwagandha, calendula, chamomile, and aloe vera supports it all, keeping skin soothed and hydrated.
We love Ready Selfie Go not only as a "my first mask" for younger skin, but also as an "I need something fun to break up my routine" mask for those who just want a weekly recharge.
How to Use
Apply 1-2 times a week to cleansed skin. Leave on for 10 minutes. (Don't wait for your mask to dry: its texture will remain silky!) Rinse off. Apply your serum and / or moisturizer.
Ingredients
- Spirulina brings about faster cell turnover, eliminates free radicals, purifies and revives the skin.
- Bentonite and Kaolin clays purify the pores and detoxify the skin. Clay works wonders on irritated or sensitive skin by reducing inflammation and redness.
- Shea Butter forms a barrier on the skin surface to limit water loss.
- Ashwagandha, Calendula, Chamomile, and Aloe Vera work together to energize, moisturize, and soothe.
---
All Ingredients
Water/Eau/Aqua, Kaolin, Glycerin, Bentonite, Glyceryl Stearate, Helianthus Annuus (Sunflower) Seed Oil, Stearic Acid, Propanediol, Arthrospira Platensis Extract, Withania Somnifera Root Extract, Aloe Barbadensis Leaf Juice, Calendula Officinalis Flower Extract, Chamomilla Recutita (Matricaria) Flower Extract, Butyrospermum Parkii (Shea) Butter, Chlorophyllin-Copper Complex, Fructose, Caprylyl Glycol, Pentylene Glycol, Citric Acid, Potassium Sorbate, Sodium Benzoate, Fragrance/Parfum (allergen free), Chromium Oxide Greens/CI 77288.
Water/Eau/Aqua, Kaolin, Glycerin, Bentonite, Glyceryl Stearate, Helianthus Annuus (Sunflower) See...
See All