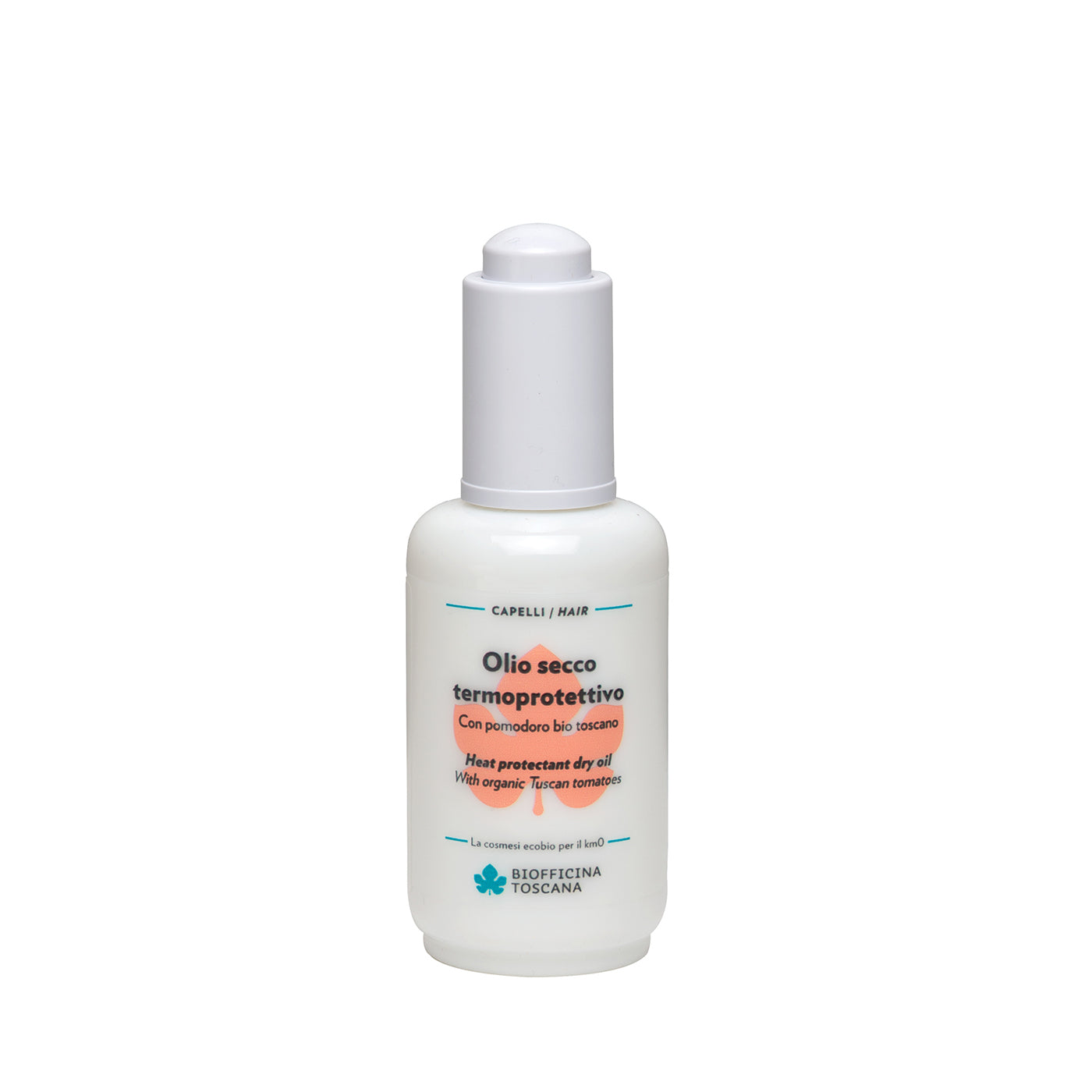 Description
Lightweight, shine-boosting dry oil for heat styling & finishing / 1.69 oz
Biofficina Toscana's Heat Protectant Dry Oil is the updated version of the Radiance Enhancing Dry Oil, and we adore this new and improved formula. Like its predecessor, it is a true dry oil: it provides all the benefits of an oil (smoothness and shine) without the greasy stringyness that oils can sometimes cause.
This product shines most on dry, damaged hair that's prone to frizz — even fine, thin textures. Apply it to damp, towel-dried hair as a heat protectant, or use it as a finishing product to add moisture and take down excess puff. Either way, you only need the tiniest bit, so you'll find that this mighty little bottle lasts an unexpectedly long time.
Biofficina Toscana formulated this product with a varied blend of oils (almond, apricot, jojoba, and coconut) along with organic Tuscan tomato extract and phytosqualane for supercharged heat protective effects. Organic carrot oil provides additional smoothing and protective properties. The super-light, non-greasy mixture forms a protective film on hair that prevents heat-styling damage and creates a barrier to frizz that really lasts: we stress-tested it outside in the rain and not a single bit of frizzy rebellion could be seen.
How to Use
Apply sparingly to wet hair, distributing the product evenly along the hair shaft. Style as usual. Can also be used as a finishing product on dry hair; 1-2 pumps is often plenty.If you really struggle with frizz, try using this product in conjunction with Biofficina Toscana's Anti-Frizz Lotion. Apply the Anti-Frizz Lotion first and style, then finish with the Radiance-Enhancing Protective Oil.
Ingredients
- Organic Tuscan tomato extract, combined with physoqualane, provides a heat protectant effect
- Dodecane is a plant-derived, non-GMO, biodegradable ingredient that provides smoothness along with a "dry" feel
- Coconut oil is included to enhance adhesion of other oils to the hair
---
All Ingredients
Dodecane, C13-15 alkane, Lauryl lactate, Squalane, Helianthus annuus (Sunflower) seed oil*, Daucus carota (Carrot) sativa root extract*, Solanum lycopersicum (Tomato) fruit extract, Prunus amygdalus dulcis (Sweet almond) oil*, Prunus armeniaca (Apricot) kernel oil*, Cocos nucifera (Coconut) oil, Simmondsia chinensis (Jojoba) seed oil, Parfum [Fragrance], Linalool, Limonene, Hexyl cinnamal, Citronellol, Tocopheryl acetate, Citral, Tocopherol.
*from organic agriculture
**The Dodecane used in this product derives from vegetable oils, without using GMOs and it has passed significant tests on environmental biodegradability.
Dodecane, C13-15 alkane, Lauryl lactate, Squalane, Helianthus annuus (Sunflower) seed oil*, Daucu...
See All