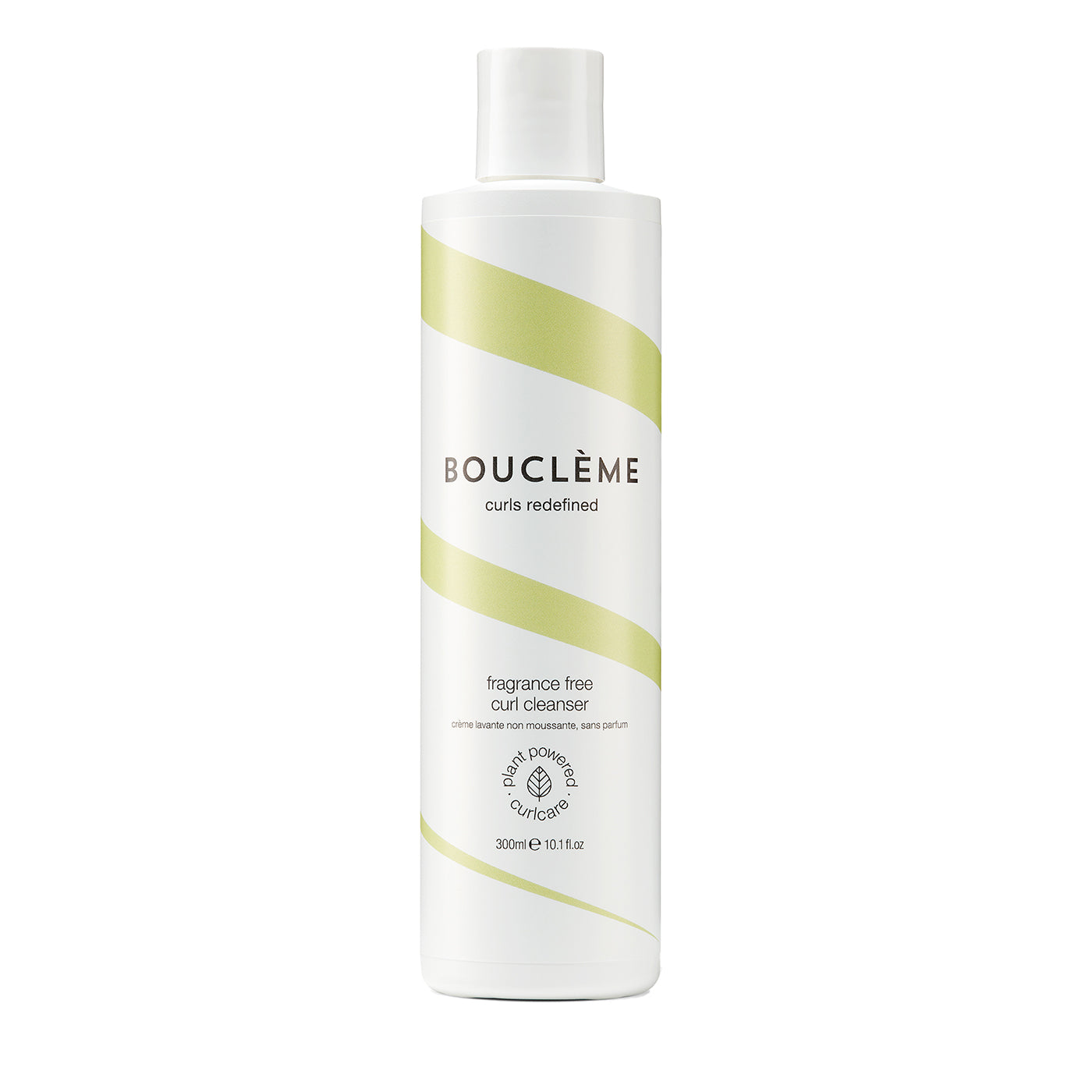 Description
Fragrance free, non-foaming cleanser for perfectly hydrated curls / 10 oz full size
Bouclème's Fragrance Free Curl Cleanser gently cleanses scalp and hair for a clean feel without disrupting moisture levels, even when it's used every day. This co-wash features a blend of argan and coconut oils, aloe vera, honey, and linseed and pomegranate extracts to nourish the hair cuticle from the inside out. 
If you're not used to washing with a non-foaming cleanser, it may be a bit of an adjustment. But if you have thick, curly hair and you're lathering up with bubbles on a regular basis: we know bubbles are fun, but please think about going without. At least as an experiment. Because foaming shampoos can be truly irksome for curly hair — they tend to ruffle the cuticle, strip both scalp and hair of natural oils, and dehydrate already parched curls. Cleansing with a non-foaming formula like this one will help set you up for less frizz and silky, hydrated curls.
This Fragrance Free formula similar to that of Bouclème's popular Curl Cleanser, but doesn't include essential oils or fragrance to be particularly kind to those with sensitivities and allergies.
Both Curl Cleansers are ideal for medium to thick hair textures. If you have very fine, loose waves, you may prefer their Hydrating Hair Cleanser.
Bouclème formulas never include silicones, sulfates, parabens, mineral oils, petroleum, propylene glycol, PEGs, phthalates, artificial colors, or artificial fragrances. They also perform better than anything we've ever seen for curly hair — and we've done a lot of testing. A lot.
How to Use
Apply a generous amount of cleanser to fingertips and massage vigorously throughout the scalp. Apply more to the lengths of your hair and loosely detangle. Rinse hair thoroughly, continuing to massage scalp to ensure all product and dirt are washed away.

Since this cleanser doesn't foam, it can take a little getting used to. If you've been using very foamy shampoos with sulfates, your scalp's oil production, which might be in overdrive, will need some time to reach a new state of balance. As it normalizes, your roots might feel a little greasy for a few weeks. If that happens, be patient! Your curls will thank you for it.
Ingredients
- Aloe's anti-pruritic enzymes destroy dead skin cells of the scalp, reducing scaling and relieving irritation and redness.
- Hydroxypropyltrimonium honey is pure honey with a positive (cationic) charge to reduce stickiness. The positive charge of cationic ingredients enables them to bond to the negatively charged areas of damaged hair for enhanced conditioning and repair. It's ultra-moisturizing, with double the humectant activity of glycerin. It also has a low molecular weight for exceptional penetration to give long-term moisture, shine, and smoothness.
- Coconut oil has excellent moisture-retaining properties and helps reduce the natural protein loss in damaged and undamaged hair.
- Cetearyl alcohol, polyglyceryl-3 dicitrate/stearate and distearoylethyl dimonium chloride are surfactants that help break down the surface tension of oils; they have a cleansing as well as conditioning action.
---
All Ingredients
Aqua/Water/Eau, Cetearyl Alcohol, Glycerin (Vegetable), Polyglyceryl-3 Dicitrate/Stearate, Argania Spinosa (Argan) Kernel Oil, ***Cocos Nucifera (Virgin Coconut) Oil, Linum Usitatissimum (Linseed) Seed Oil, Hydroxypropyltrimonium Honey, Punica Granatum (Pomegranate) Fruit Extract, Guar Hydroxypropyltrimonium Chloride, ***Aloe Barbadensis (Aloe Vera) Leaf Juice, Hydroxyethylcellulose, Distearoylethyl Dimonium Chloride, Benzyl Alcohol, Dehydroacetic Acid, Sorbic Acid, Citric Acid.

***organic
Aqua/Water/Eau, Cetearyl Alcohol, Glycerin (Vegetable), Polyglyceryl-3 Dicitrate/Stearate, Argani...
See All