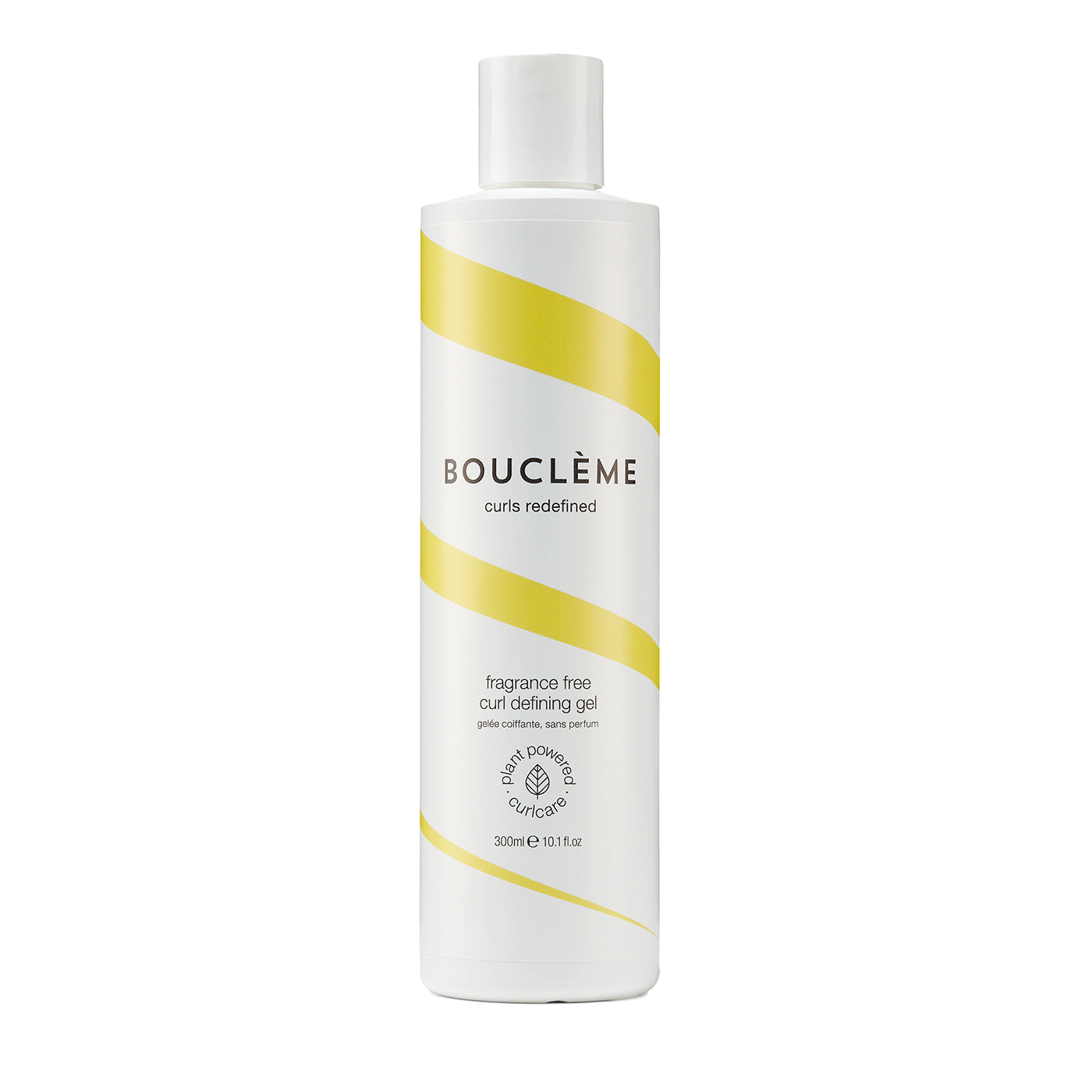 Description
Fragrance free gel for all-day frizz control and incredible curl definition / 10 oz full size
Bouclème's Fragrance Free Curl Defining Gel smoothes and defines curls without any flaking or stickiness. It dries to create a soft cast around curls; scrunch to release the cast, and curls are left shiny, soft, and bouncy without flaking or stickiness (and with zero residue on your hands — amazing).
This miracle product, an Ayla favorite, controls frizz all day and provides incredible curl definition without leaving hair looking or feeling wet, heavy, or weighed down. Once dried, it even allows you to play with your hair or put it up and take it down again without messing up your curls. Please read our detailed usage suggestions below for best results.
This formula is nearly identical to that of Bouclème's best-selling original Curl Defining Gel, but without fragrance to better suit those with sensitivities and allergies.
Bouclème formulas never include silicones, sulfates, parabens, mineral oils, petroleum, propylene glycol, PEGs, phthalates, artificial colors, or artificial fragrances. They also perform better than anything we've ever seen for curly hair — and we've done a lot of testing. A lot.
How to Use
Always apply to soaking wet hair to achieve optimum curl definition. There are two ways to use the product, depending on what you'd like to achieve:
For extra volume, pour gel into your palms and glide over canopy (the outer layer of your hair). Tip head forward and glide palms underneath. Then scrunch more gel into ends, holding each section for 10-20 seconds to encourage curl formation.
For volume control, use fingers to rake gel through hair in sections, starting at the back of the head and working towards the front to ensure even distribution.
Want more tips?
Click here
for Bouclème founder Michele Scott-Lynch's curly hair care primer.
Ingredients
- Aloe is an excellent conditioning agent: it restores shine and silkiness. It also contains active anti-inflammatory enzymes that promote healthy hair growth.
- Linseed is a rich source of Omega-3 fatty acids and proteins and a source of vitamins B1, B2, B3, B5, B6, B9, Vitamin C, Calcium, Iron, Magnesium, Zinc, Potassium and Phosphorous. Vitamin B5 (Pantothenic Acid) is especially beneficial for hair: it conditions and leaves hair moisturized and soft.
- Coconut oil has excellent moisture-retaining properties and helps reduce the natural protein loss in damaged and undamaged hair.
---
All Ingredients
Aqua/Water/Eau, Glycerin (Vegetable), Xanthan Gum, Punica Granatum (Pomegranate) Fruit Extract, Argania Spinosa (Argan) Kernel Oil, Linum Usitatissimum (Linseed) Seed Oil, ***Cocos Nucifera (Virgin Coconut) Oil, ***Aloe Barbadensis (Aloe Vera) Leaf Juice, Polyglyceryl-4 Caprate, Benzyl Alcohol, Dehydroacetic Acid, Citric Acid.

*** organic
Aqua/Water/Eau, Glycerin (Vegetable), Xanthan Gum, Punica Granatum (Pomegranate) Fruit Extract, A...
See All