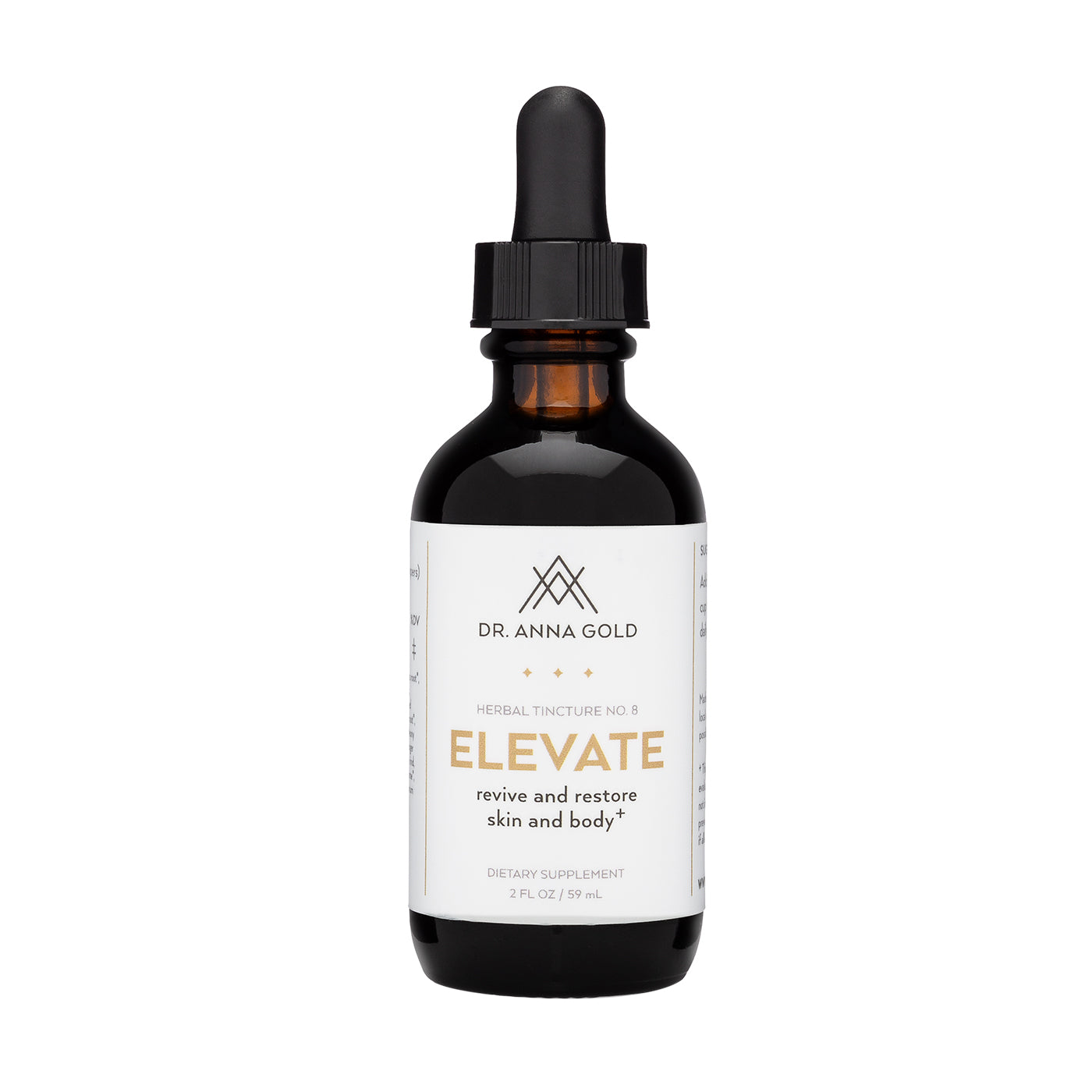 Description
Ingestible elixir that nourishes fatigued, depleted skin and supports a sharp mind / 2 fl oz
Dr. Anna Gold's ELEVATE tincture is designed to revive and restore dry, sallow skin that has lost its luster and elasticity — and a tired brain and body that feel similarly depleted from years of fatigue and hard work. While BALANCE is the formula to address the tightly wound (or as we think of it, those of us with "urban grrr"), ELEVATE is intended to lift energy that's dragging and droopy, and often accompanied with a foggy head and lower back pain.
Creator Dr. Gold tells us, "This formula is my version of the fountain of youth," and it's intended to be taken over the long term to profoundly support health and vitality in body, mind, and skin, with visible benefits: it counts a number of well-known beauties as wild fans. A marvel for menopausal skin and bodies (testers found it to help with hot flashes, too), it works similarly well postpartum to deeply nourish and boost energy.
How it works: This formula contains Yin, Yang, Qi, and Blood tonics, supporting the four different components of the life force that are considered in TCM to be the primary substances that keep us vital. Rehmannia, Dogwood, Chinese Yam, and Ginseng support the Kidney Yin and Yang – life force that is depleted with age. Poria, Ginger, Astragalus, and Tangerine rind aid in digestion, harmonizing the spleen, stomach, and pancreas for better absorption of the herbs.

Dr. Anna Gold's tinctures are made in small batches using organic, wildcrafted, and pesticide-free herbs. Each batch is microbiologically tested by independent labs and certified free of heavy metals.

If you have severe allergies to mushrooms or any other specific foods, please check the ingredient list and consult your doctor if you're uncertain about these varieties.

Note: This product is not intended to diagnose, treat, cure, or prevent any disease. Please consult with your physician or qualified herbalist before using if pregnant or nursing. Keep out of reach of children.

How to Use
Drink 20 to 60 drops (1-3 full droppers) in 1/4 cup warm water 3-5 times daily.
Ingredients
- Rehmannia is used in TCM to tonify the adrenals.
- Peony is used in TCM as a tonic for blood and a "heat reducing" herb for the liver.
- Water Plantain is used in TCM to "drain kidney fire," which can manifest as hot flashes from menopause or overexhaustion.
- Ginseng is used in TCM to support memory and mood. One of the key components in ELEVATE, it helps promote the vitality of both the physical and mental being.
- Angelica is used in TCM to reduce menopausal symptoms and balance mood. In Elevate, it is used to help with deep-seated fatigue and hot flashes.
- Cimicifuga is used in TCM to clear heat and raise Yang Qi, and is often used to support postpartum health.
---
All Ingredients
Prepared Rehmannia root*, Astragalus root*, Rhodiola root*, Asiatic Dogwood fruit, Chinese Yam rhizome, Honey-prepared Chinese Licorice root, Asian Ginseng root*, Asian Water Plantain rhizome, Tree Peony root bark, Poria sclerotium*, Fresh Ginger rhizome*, Dong Quai root*, Tangerine rind, Safflower, Bai-zhu Atractylodes rhizome*, Chinese Cimicifuga rhizome*, Bupleurum root*.

(*Organic)

Other ingredients: Distilled Water, Cane Alcohol.
Prepared Rehmannia root*, Astragalus root*, Rhodiola root*, Asiatic Dogwood fruit, Chinese Yam rh...
See All
"I am in my 70s and my friend recommended me to see Dr. Gold for acupuncture and herbs. Anna prescribed Elevate tincture because I was feeling tired and worn out. Not only does this help my energy, but it helps my concentration and memory recall/focus. Thank you."
H. Pilcrest