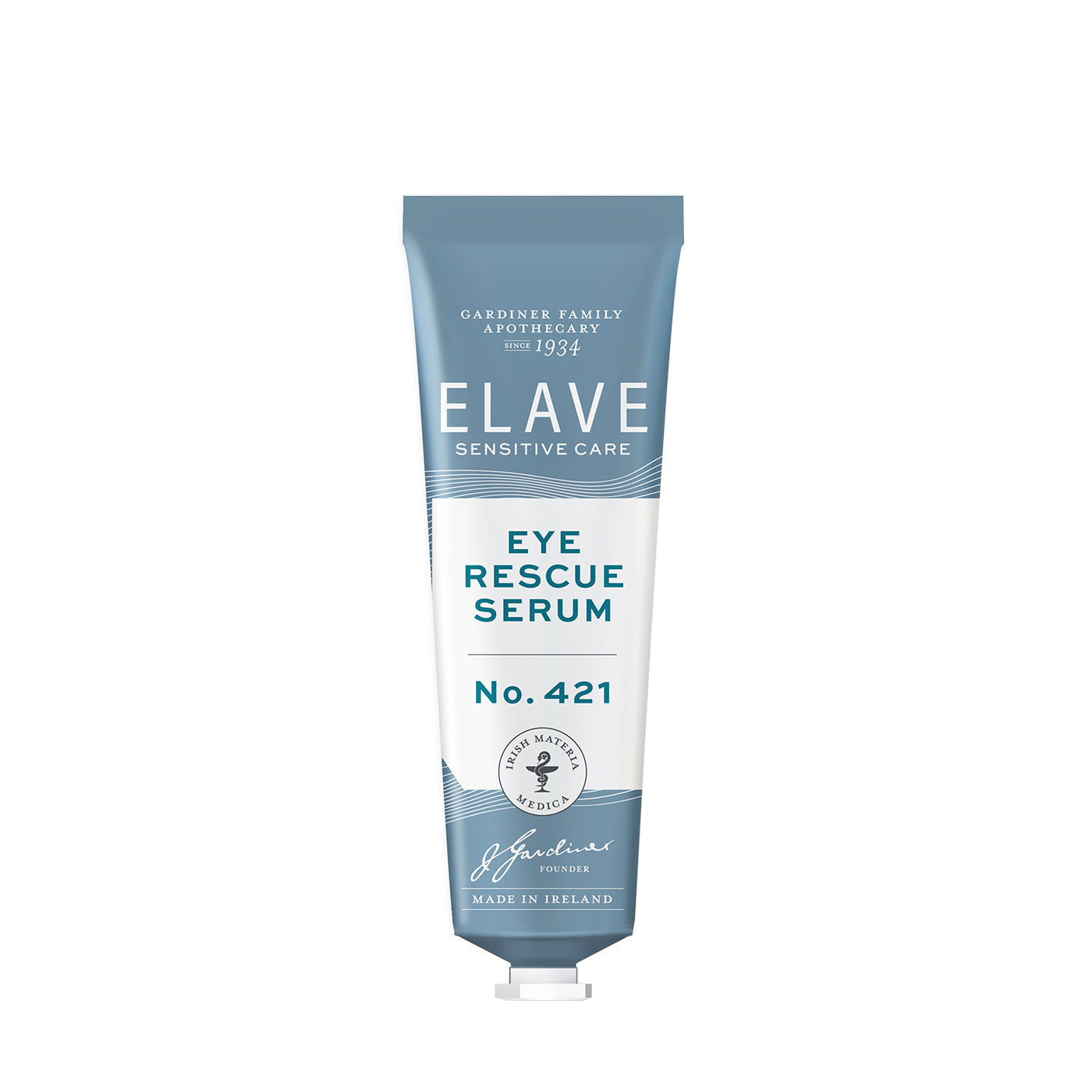 Description
Lightweight lotion that hydrates, soothes, and fights dark circles / 0.5 oz
Elave's Eye Rescue Serum is a light, easily abosrbed balm with a matte finish specifically designed to rejuvenate the delicate eye area. You can imagine our excitement when this Irish brand, which specializes in formulas that are kind to sensitive skin, unveiled a lightweight eye cream; that "lightweight," mind you, just refers to how perfectly non-greasy it feels on your skin, not how it performs. It's a solid all-rounder that provides myriad benefits and works beautifully under makeup. (Our first response when we tried it was a delighted "Ooooh!")
The vitamin-rich formula contains natural humectants and plant extracts to hydrate and smooth the eye area. The unique combination of natural Brazilian Muira Puama and Madonna Lily helps reduce the appearance of dark circles and puffiness, while aloe vera juice calms and soothes the eye area and Vitamins B5, C and E provide antioxidant environmental protection.
If you're looking for a simple but solid eye cream at a nice price, this is the one. Suitable for all skin types, including sensitive; opthalmologist tested and clinically proven to be mild to skin.
Not sure which eye cream you need? Read this quick guide our team put together of all the eye creams on our shelves and what we appreciate most about each one.
How to Use
Apply to eye area skin after cleansing, morning and/or evening.
Ingredients
- Aloe leaf juice, an anti-inflammatory, helps soften, soothe, and gently heal irritated skin
-Sodium ascorbyl phosphate (vitamin C) is a powerful antioxidant that helps improve skin firmness and boost radiance
-Pfaffia paniculata root, ptychopelatum olacoides bark, and lilium candidum flower extracts help lessen under-eye bags and dark circles
---
All Ingredients
Aqua (Water), Glycerin, Aloe Barbadensis (Aloe Vera) Leaf Juice, Caprylic/Capric Triglyceride, Olus (Vegetable) Oil, Dimethicone, Lauryl Glucoside, Polyglyceryl-2 Dipolyhydroxystearate, Tocopheryl Acetate (Vitamin E), Acrylates/C10-30 Alkyl Acrylate Crosspolymer, Phenoxyethanol, Sodium Ascorbyl Phosphate (Vitamin C), Caprylyl/Capryl Glucoside, Pfaffia Paniculata (Suma) Root Extract, Ptychopetalum Olacoides (Brazillian Muira Puama) Bark/Stem Extract, Xanthan Gum, Beta-Glucan, Chitin, Panthenol (Vitamin B5), Lilium Candidum (Madonna Lily) Flower Extract, Mica, Disodium EDTA, Ethylhexylglycerin, Silica, Sodium Hyaluronate, Sodium Hydroxide, Titanium Dioxide.
Aqua (Water), Glycerin, Aloe Barbadensis (Aloe Vera) Leaf Juice, Caprylic/Capric Triglyceride, Ol...
See All