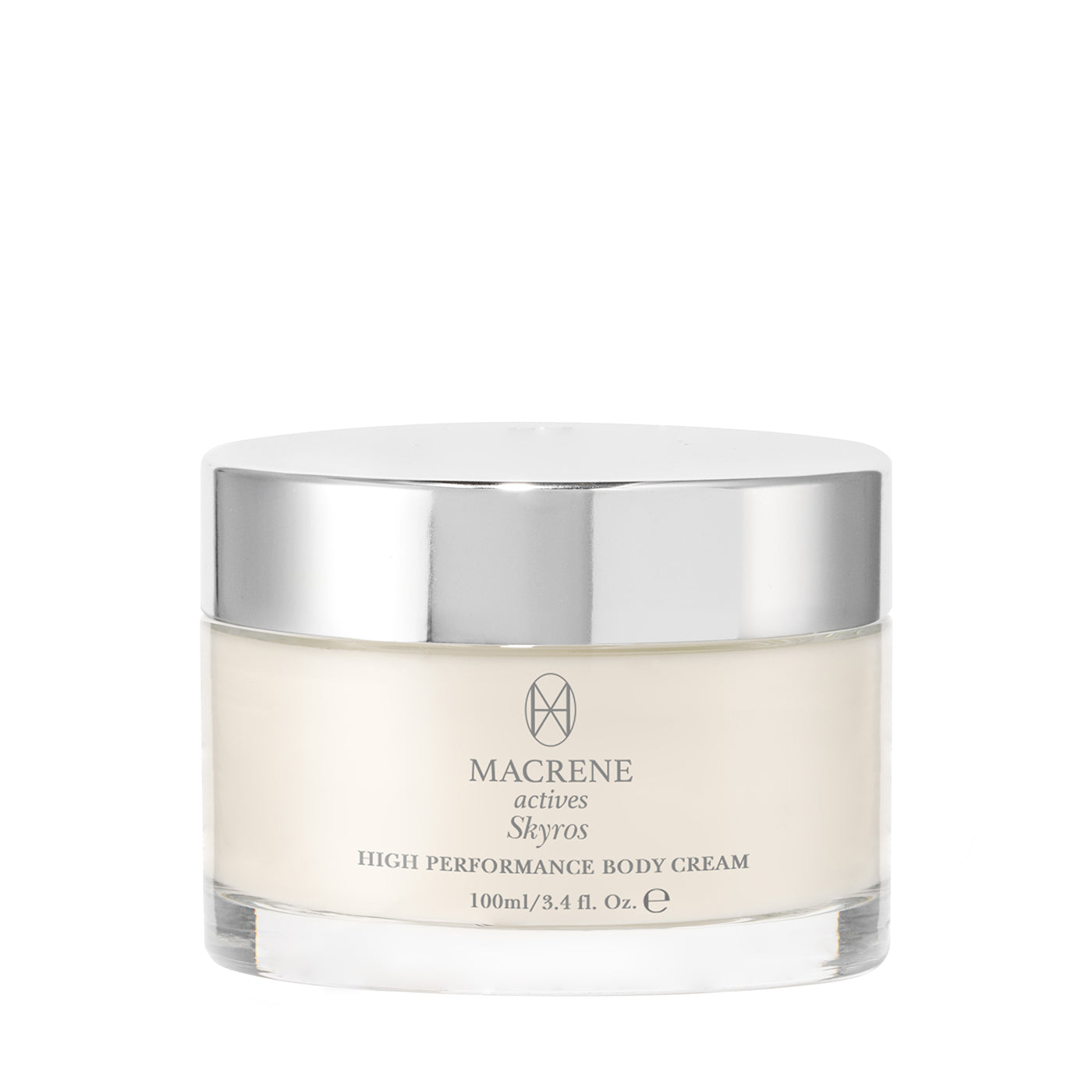 Description
Rich, power-packed treatment for the body with high performance actives & Greek botanicals / 3.4 oz
Macrene Actives Skyros High Performance Body Cream is a rich, fragrance-free formula designed to address body care needs from a 360-degree perspective.
Like all Macrene Actives formulas, it's positively packed with actives (38 of them, to be exact) to target fine lines and wrinkles, loss of elasticity, dryness, and blotchiness. In developing the formula, Dr. Macrene answered our silent prayers for "a way to more cost-effectively slather our entire bodies with the High Performance Face Cream": she included Face Cream formula favorites like plumping hyaluronic acid, wrinkle-smoothing peptides, brightening amino acids and mushroom extracts, and de-puffing coffee seed extract. Dreamy.
But she took it a step further by adding Greek botanicals from the island of Skyros, which seems to be her spiritual home (in addition to one of her actual homes): moisturizing olive, soothing lemon balm, stress-relieving verbena, and antioxidant-rich pomegranate. Dr. Macrene is one of the brightest scientific minds we know, and she's also a big believer in the power of natural remedies. It's a combination we adore, and when applied to body care, the overall effect is lovely — as though you're encasing your skin in a science-backed and spirit-soothing bubble that's saying, "Don't worry. I've got this."
The Body Cream's rich, thick, almost-but-not-quite-balm-like texture is ideal for dry skin (and those who prefer a denser body care formula).
USDA Certified Organic Ingredients | Plant-Based | Vegan | Gluten-Free | Paraben-Free | Phthalate-Free | Sulfate-Free | Fragrance-Free | Acrylate-Free | Glycol-Free | Mineral Oil-Free | Petrolatum-Free | Animal Byproduct-Free | Mica-Free | Talc-Free | Silicone-Free | Packaged in Glass | Made in USA
How to Use
Apply twice daily to body. Dr. Macrene recommends that you continue to use the dust cover insert under the lid of the jar in order to avoid drying of the product.
Ingredients
- Kappaphycus alvarezii (Red Algae) extract: addresses the aging effects of telomerase, an enzyme that causes skin aging
- Hyaluronic Acid Mix, Peptides, Proline: decrease fine lines and improve sagging skin in the neck and chest
- Plant Cholesterol and Phosphatidylcholine, non-GMO Lecithin: close the skin barrier to help repair it and improve skin texture
---
All Ingredients
Water (Aqua), Hydrogenated Ethylhexyl Olivate1, Glycerin1, Squalane1,2,3, Cetyl Alcohol1, Sorbitan Stearate, Dipalmitoyl Hydroxyproline1,3, Hydrogenated Olive Oil Unsaponifiables1,3, Hydrolyzed Hyaluronic Acid, Camellia Sinensis Leaf Extract1,2,3, Punica Granatum (Pomegranate) Extract1,2,3, Chrysanthemum Parthenium (Feverfew) Extract1,2,3, Ilex Paraguariensis Leaf Extract1,2, Coffea Robusta (Green Coffee) Seed Extract1,2,3, Melissa Officinalis Leaf Extract, Verbena Officinalis Leaf Extract, Oryza Sativa (Rice) Bran Extract1, Rosmarinus Officinalis (Rosemary) Leaf Extract1, Helianthus Annuus (Sunflower) Seed Extract1, Tocopherol, Sodium Lactate, Arginine1, Aspartic Acid, Palmitic Acid, PCA1, Glycine, Alanine, Serine, Valine1, Proline1, Threonine1, Isoleucine1, Histidine1, Phenylalanine1, Sodium PCA1, Hydrogenated Lecithin1,3, Hydroxypropyl Methylcellulose Stearoxy Ether, Sodium Phytate1, Sodium Methyl Stearoyl Taurate, Alcohol1, Caffeine, Phenoxyethanol, Sodium Stearoyl Glutamate, Xanthan Gum, Sodium Hydroxide.
1Plant-Derived
2USDA-Certified Organic
3Third Party-Certified
Water (Aqua), Hydrogenated Ethylhexyl Olivate1, Glycerin1, Squalane1,2,3, Cetyl Alcohol1, Sorbita...
See All