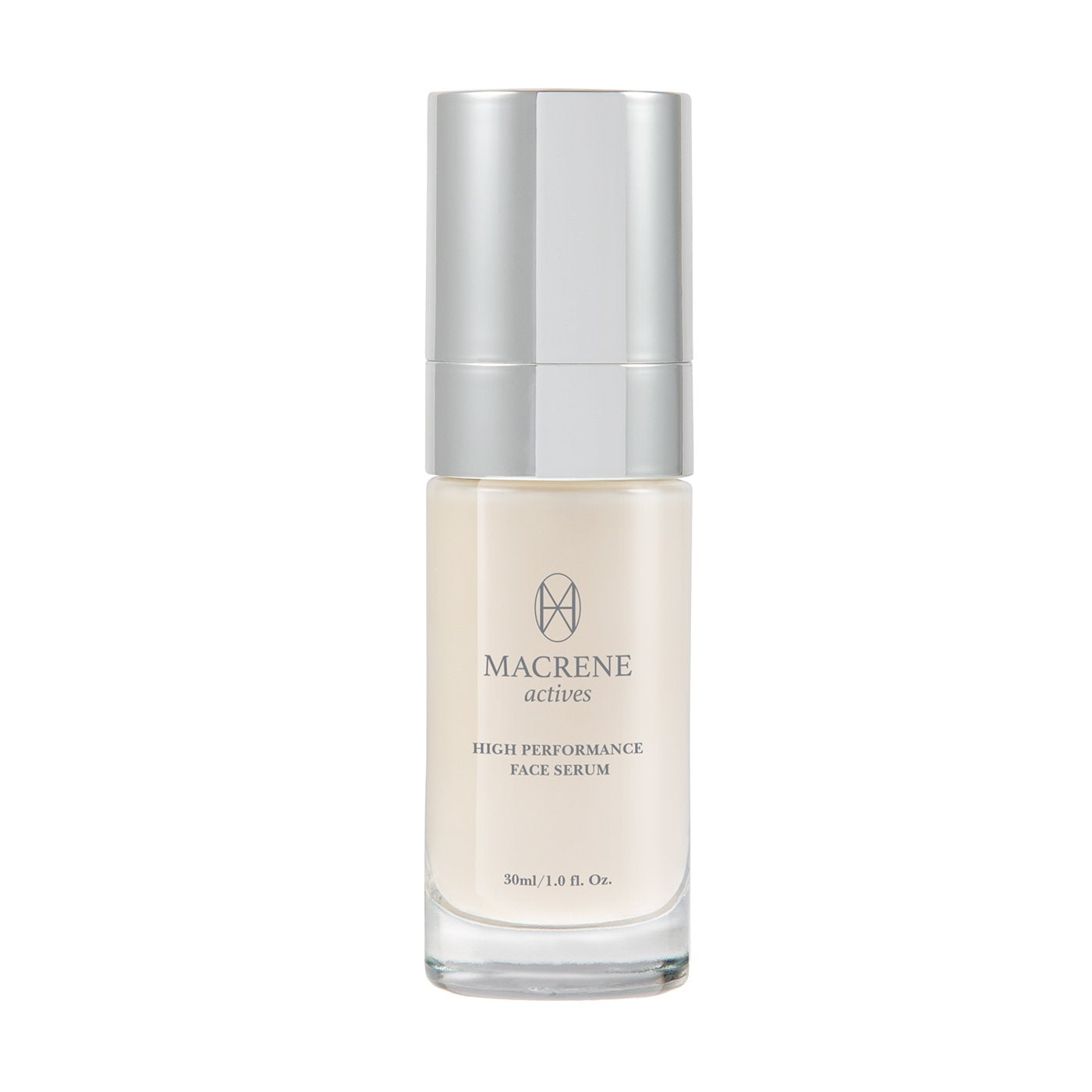 Description
Multi-tasking, uber-effective anti-aging serum / 1 oz.
Macrene Actives High Performance Face Serum is an updated, silicone-free, gluten-free, and even more powerful version of the original 37 Actives Anti-Aging & Firming Serum. And it's just what we were hoping would come next from Dr. Macrene Alexiades.
While we absolutely adore the all-in-one Macrene Actives Cream (which replaces your moisturizers, serums, and eye creams with one supercharged formula), we also like the flexibility of serums, which can be layered underneath richer moisturizers or used on their own on oilier skin types. This particular serum features the powerful active ingredients found in the original Macrene Actives cream formula: peptides, hyaluronic acid, and anitoxidants specifically chosen for their ability to repair wrinkles, brown spots, redness, and sun damage while providing skin with powerful antioxidants, collagen boosters, and barrier fortifiers. Dr. Alexiades originally designed the lightweight, non-acneic serum formula for her oilier skinned, acne prone patients and the humid summers in New York — but we love the fact that you can also layer it underneath any cream or oil for super firming action. 
Like the original cream, the Macrene Actives Anti-Aging & Firming Serum combines the safest and most potent anti-aging ingredients at high enough levels to produce truly visible results — without causing any breakouts. And its unique, patented delivery system means those active ingredients get exactly where they need to go. Even better? Once opened, it stays fresh and potent longer than just about any other antioxidant-rich product on the market. 
Our testers found this serum to be quite "active feeling," even more so than the original cream. It's one of the most powerful serums on our shelves. Proven to lift and tighten crepiness while reducing blotches and evening skin tone, this serum repairs your skin's barrier while assisting in DNA restoration. Use it *after* your Macrene Actives High Performance Face Cream (counterintuitive, we know) for the most power-packed regimen you can get.
USDA Certified Organic Ingredients | Plant-Based | Vegan | Gluten-Free | Paraben-Free | Phthalate-Free | Sulfate-Free | Fragrance-Free | Acrylate-Free | Glycol-Free | Mineral Oil-Free | Petrolatum-Free | Animal Byproduct-Free | Mica-Free | Talc-Free | Silicone-Free | Packaged in Glass | Made in USA
How to Use
Apply twice daily to clean face, including around the eye area. Gently massage into skin until fully absorbed. Follow with sunscreen or moisturizer if needed.
Ingredients
- Palmitoyl hydroxproline peptides: help lift the skin of the face, significantly reducing wrinkles and crows' feet
- Glucosamine, Ergothioneine, Arginine, Amino Acids: reduce hyperpigmentation
- Green Tea Extract, Pomegranate Extract, Vitamins C and E: provide antioxidant protection, fighting environmental stressors and pollutants
- Feverfew, Yerba Mate, Coffee Seed, Cocoa Seed Extracts, Bisabolol: reduce redness
- Microalgae, Mushroom, Citrullus lanatus (Watermelon) Extract: reverse the damage that causes skin aging
---
All Ingredients
Water, Hydrogenated Ethylhexyl Olivate1,3, Hydrogenated Olive Oil Unsaponifiables1,3, Glycerin1, Helianthus annuus (Sunflower) Seed Oil Unsaponifiables1, Jojoba Esters1,3, Dipalmitoyl Hydroxyproline1,3, Cetyl alcohol1, Sorbitan Stearate, Resveratrol1, Camellia sinensis (Green Tea) Leaf Extract1,2,3, Chyrsanthemum parthenium (Feverfew) Extract1,2,3, Ilex paraguariensis (Yerba Mate) Leaf Extract1,2,3, Citrullus lanatus (Watermelon) Fruit Extract1, Punica granatum (Pomegranate) Extract1,2,3, Coffea arabica (Coffee) Seed Extract1,2,3, Theobroma cacao (Cocoa) Seed Butter1,2,3, Tremella fuciformis sporocarp (Silver Ear Mushroom) Extract1, Kappaphycus alvarezii (Red Algae) Extract1, Scenedesmus rubescens (Microalgae) Extract1, Tetrahexyldecyl Ascorbate, Tocopherol1, Bisabolol1, Sodium Hyaluronate, Sodium Acetylated Hyaluronate, Hydrolyzed Sodium Hyaluronate, Sodium Hyaluronate Crosspolymer, Disodium Acetyl Glucosamine Phosphate, Citrulline1, Sodium Lactate, Arginine1, Aspartic Acid1, PCA1, Glycine, Alanine, Serine, Valine1, Proline1, Threonine1, Isoleucine1, Histidine1, Phenylalanine1, Sodium PCA1, Hydrogenated Lecithin1,3, Hydrogenated Phospatidylcholine1,3, Cholesterol1, Glyceryl Caprylate1, Hydroxypropylmethylcellulose Stearoxy Ether, Sodium Phytate1, Caprylhydroxyamic Acid1, Sodium Benzoate, Alcohol1, Sodium Methyl Stearoyl Taurate, Potassium Sorbate, Ethylhexylglycerin1, Tocopheryl Acetate

1Plant-Derived
2USDA-Certified Organic
3Third Party-Certified
Water, Hydrogenated Ethylhexyl Olivate1,3, Hydrogenated Olive Oil Unsaponifiables1,3, Glycerin1, ...
See All