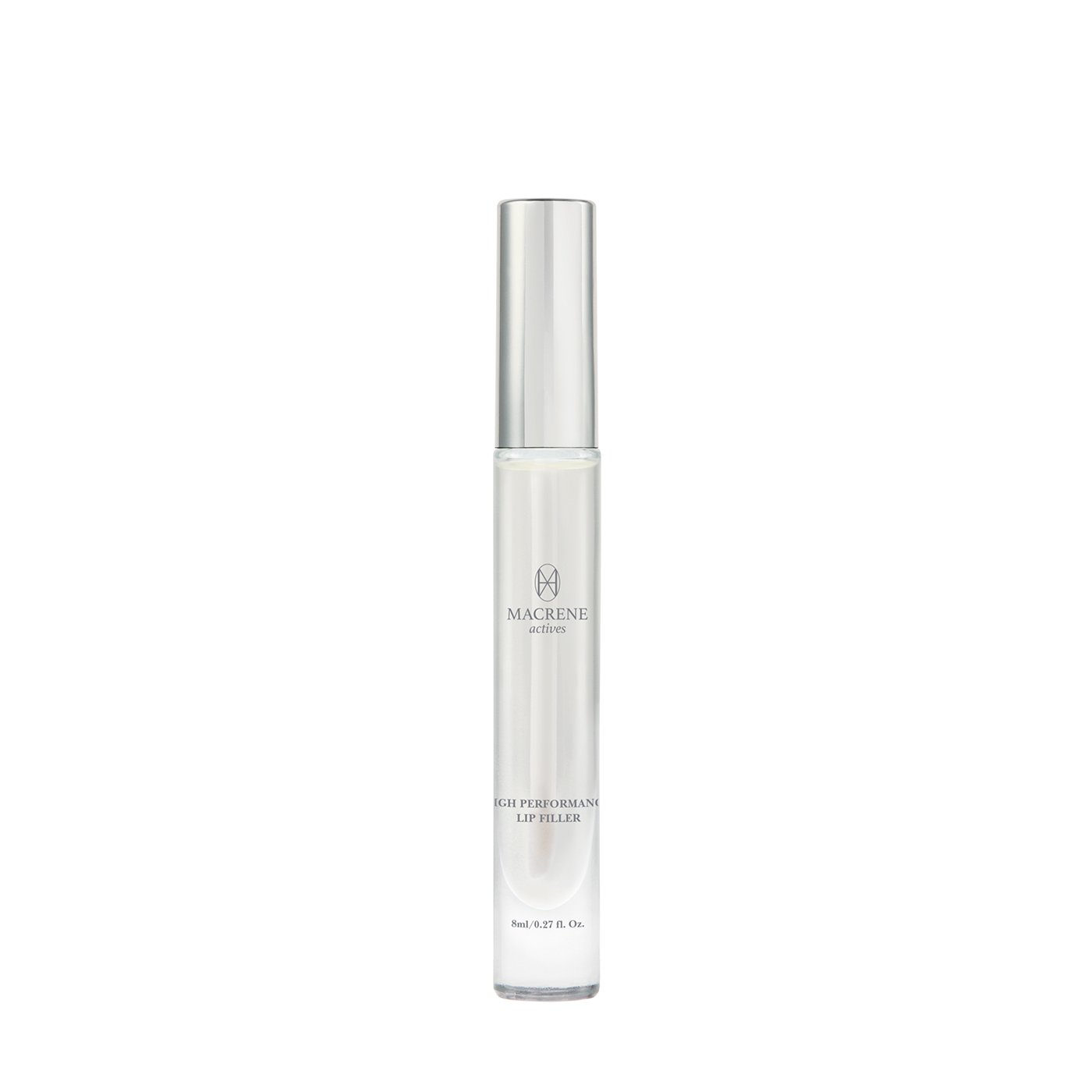 Description
Lip-plumping hydrating serum / 0.27 fl oz
Macrene Actives High Performance Lip Filler is a gently updated version of the culty 37 Actives High Performance Anti-Aging and Filler Lip Treatment. Like all of Dr. Macrene's creations, it's worth every penny; it wouldn't be on our shelves otherwise. This non-sticky, translucent serum, housed in a glass package with a new precise applicator, is packed with lip-volumizing hyaluronic acid spheres, peptides to smooth wrinkles, ceramides to prevent water loss, and Sunflower Seed Oil and Shea Butter unsaponifiables for swift, highly efficacious moisture. 
The unsaponifiables in this formula are notoriously expensive and difficult to formulate with, but the result of the extensive time spent creating this product is a deeply nourishing treatment that keeps lips perfectly hydrated while plumping and treating them to health-boosting antioxidants. 
Still not sure about this "anti-aging and filler" business with a topical treatment? Keep in mind that it was developed by one of the country's most trusted dermatologists after she got frustrated seeing too many poorly-injected lips. As she put it, "I believe that it is superior to prevent and treat wrinkles topically than it is to provide either laser or injectable approaches. Historically, the lip has been very resistant to laser resurfacing. And we all know how strange the lip can look from injectable therapy."
Strange, indeed, and we're all for avoiding that. A little of this formula goes a long way — be sure to read our application tips underneath "how to apply" below. It can be worn over or under any lipstick; we love the minty-fresh flavor, too.
USDA Certified Organic Ingredients | Plant-Based | Vegan | Gluten-Free | Paraben-Free | Phthalate-Free | Sulfate-Free | Fragrance-Free | Acrylate-Free | Glycol-Free | Mineral Oil-Free | Petrolatum-Free | Animal Byproduct-Free | Mica-Free | Talc-Free | Silicone-Free | Packaged in Glass | Made in USA
How to Use
Shake well before use. At least twice a day, apply to lips. May be used as often as desired. Avoid applying over lip color to keep product clear.
Ingredients
- Hyaluronic acid: provides subtle volume over time
- Dipalmitoyl hydroxyproline Peptide: a plant-derived amino acid that helps moisturize and smooth out fine lines and wrinkles
- Ceramide NG: a skin-identical ceramide that can naturally be found in the skin's top layer. It's helpful in the prevention of water loss.
- Sunflower Seed Oil and Shea Butter Unsaponifiables provide a silky feel and highly efficacious moisture

---
All Ingredients
Hydrogenated Polyisobutene, Cocos nucifera (Coconut) Oil1, Squalane1,2, Camellia japonica (Camelia) Seed Oil1, Helianthus annuus (Sunflower) Seed Oil Unsaponifiables1,2, Ethylhexyl Palmitate1, Caprylic/Capric Triglyceride1, Echium plantagineum Seed Oil1, Dimethyl Isosorbide, Butyrospermum parkii (Shea) Butter1,2, Dipalmitoyl Hydroxyproline1,3, Sodium Hyaluronate, Ceramide NG1, Helianthus annuus (Sunflower) Seed Oil1, Mentha arvensis (Peppermint) Leaf Oil1, Rosmarinus officinalis (Rosemary) Extract1, Solidago virgaurea (Goldenrod) Extract1, Cnidium monnieri Fruit Extract1, Sesamum indicum Seed Extract1, Butyrospermum parkii (Shea) Butter Unsaponifiables1,2, Tocopherol, Silica Dimethyl Silylate, Alcohol, Butylene Glycol, Pentylene Glycol, Octyldodecanol1,3, Octyldodecyl Oleate1,3, Octyldodecyl Stearoyl Stearate1,3

1Plant-Derived
2USDA-Certified Organic
3Third Party-Certified
Hydrogenated Polyisobutene, Cocos nucifera (Coconut) Oil1, Squalane1,2, Camellia japonica (Cameli...
See All