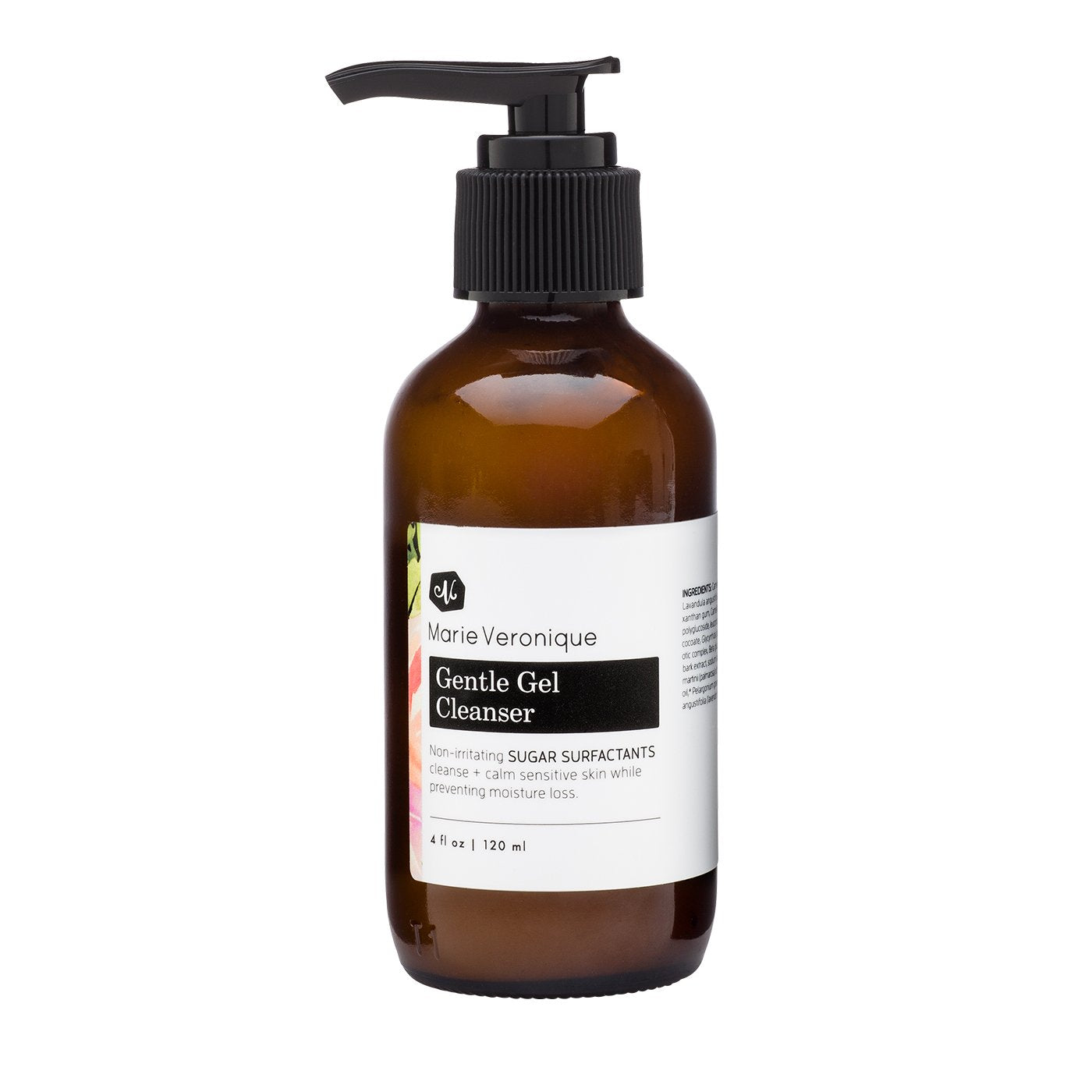 Description
Super-calming, hydrating, non-foaming gel wash for sensitive skin / 4 oz 
What made us bring Marie Veronique's Gentle Gel Cleanser onto our shelves? Well, if you have sensitive skin, you may know this feeling: you want to wash your face, but every gel or foam cleanser seems to be too stripping or irritating, and every creamy or milky cleanser seems like it's not leaving you feeling quite clean enough.
One of our Ayla team members (our founder, to be specific) knows this feeling all too well, and this is one of her go-to cleansers. It's a godsend for those with sensitive, often-itchy, reactive skin who love to have their faces just feel clean and comfortable, and it works across skin types.
The secret to its magic is a duo of sugar surfactants that allow water to spread out and penetrate skin as they clean and calm. Licorice root extract provides extra calming benefits, and a pre/probiotic complex lends support to skin's microbiota, thus reducing irritation.
This is one of those products that we suggest all delicate flowers have on hand for those mornings or nights when your skin just can't even. (And you may love it so much that you start to use it every morning and/or night, because you actually look forward to washing your face again.)
How to Use
Shake well before use and keep in a cool place. Massage gently onto wet skin. Rinse.
Ingredients
POLYGLUCOSE: Effective but mild surfactant that cleans effectively without drying or irritating.
SUCROSE COCOATE: Contributes both extra emollient properties as well as cleansing power.
GERANIUM ESSENTIAL OIL: Keeps undesirable microbes like Staph aureus in check without disturbing microfloral balance.
LICORICE ROOT EXTRACT: A powerful anti-inflammatory that calms sensitive skin.
GREEN TEA: Provides antioxidant support with powerful bioflavonoids.
---
All Ingredients
Camellia Sinensis (Green Tea) Leaf Infusion, Lavandula Angustifolia (Lavender) Hydrosol, Leuconostoc/Radish Root Ferment Filtrate, Populus Tremuloides (Aspen) Bark, Glycerin, Xanthan Gum, Camellia Oleifera (Camellia) Seed Oil, Sucrose Cocoate, Decyl Glucoside, Glycyrrhiza Glabra (Licorice) Root Extract, Cymbopogon (Palmarosa) Martini Oil*, Probiotics, Sodium Salicylate, Pelargonium Graveolens (Rose Geranium) Oil*, Lavandula Angustifolia (Lavender) Oil*, Beta-Glucan, Galactooligosaccharides, Citric Acid, Vetiveria Zizanoides (Vetiver) Root Oil*

* Essential oil
Camellia Sinensis (Green Tea) Leaf Infusion, Lavandula Angustifolia (Lavender) Hydrosol, Leuconos...
See All
"I use this cleanser almost every single morning — it leaves my skin feeling perfectly fresh. PS If your skin tends towards redness and sensitivity, like mine, don't wash your face in the shower — that water tends to be far too hot for your face. Cleanse it with lukewarm water after you step out of the shower. Makes a huge difference!"
Dara