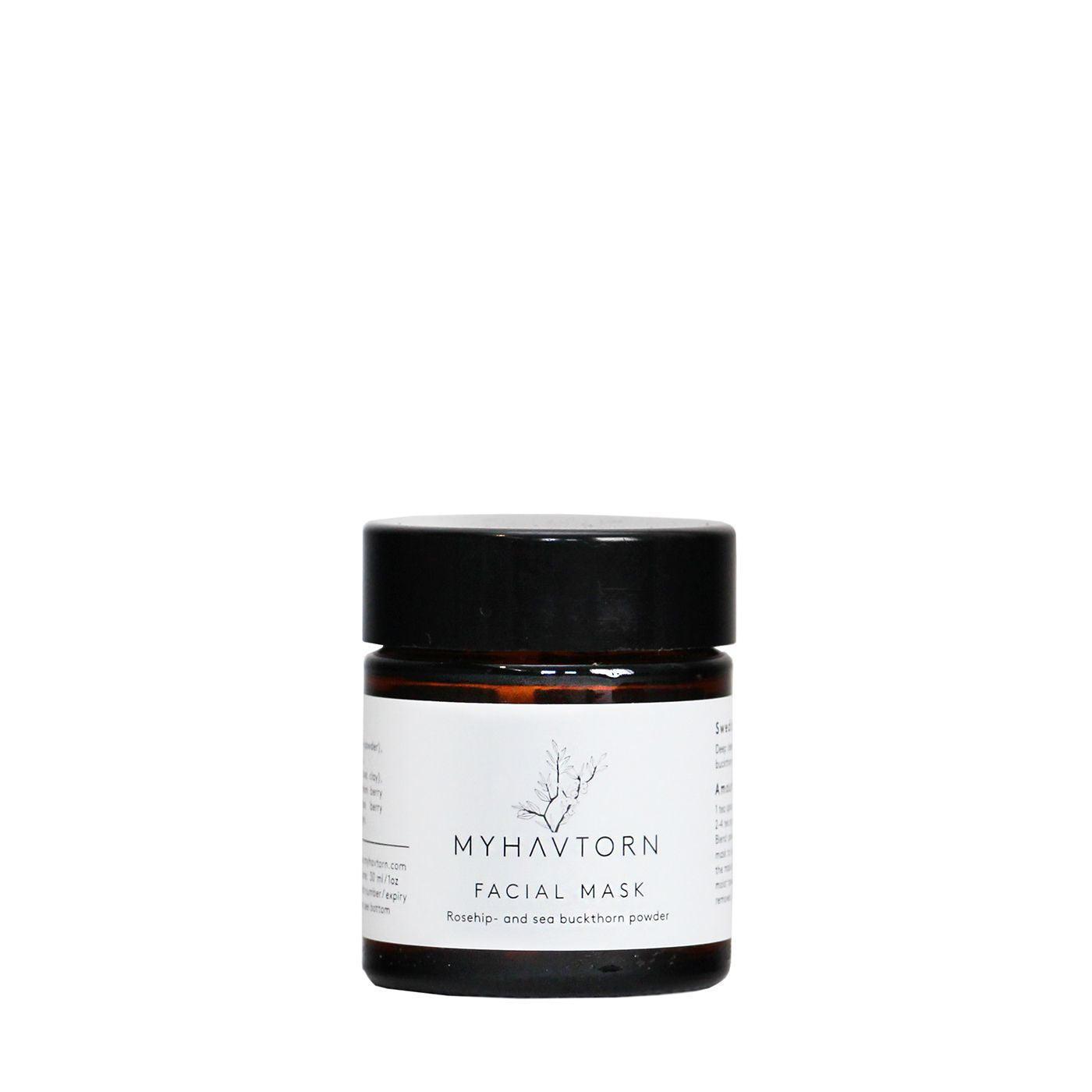 Description
Gently detoxifying, deep cleaning, and soothing mask / 1 oz
MyHavtorn's Facial Mask was a long time coming. Once available only to facialists, we realized how desperately we needed it when their team visited from Sweden to perform a couple of days of facials in our treatment room with this mask as the centerpiece — and everyone emerged marveling at their soft, bright skin. All the MyHavtorn products are remarkable, but this particular one is a showstopper.
How does this little jar of goodness leave skin so glowy? It only contains a handful of ingredients, each one of them thoughtfully chosen to work as a team: the combination gently deep-cleans and detoxifies all skin types, leaving even delicate complexions with an I-just-returned-from-vacation glow. Moroccan rhassoul clay lightly exfoliates and draws out impurities; rosehip powder brightens; allantoin soothes; and the star ingredient — sea buckthorn berries grown on the MyHavtorn family farm in Sweden, then dried and ground to a fine powder — nourishes and calms sensitive skin. 
To completely avoid preservatives, this mask was left as a powder that you mix with water à la minute. After 10 minutes, remove it with warm water, and whatever your skin type, you'll look and feel like a significantly fresher, brighter version of yourself. It is one of our favorite skin-freshening masks, and it was recently updated so that it's even easier to use (less gloopy, easier to blend, easier to rinse).
An essential before any event where you want others to stare enviously at your skin. It's that good. 
How to Use
Mix 1 teaspoon mask with 1 tablespoon of water, adding the water slowly until the mixture becomes a pleasantly thick-but-not-too-thick consistency. Apply to face with fingers or a facial brush. Allow to sit for 10 minutes, then remove with warm water.
Each jar contains 10-12 treatments.
Ingredients
- Sea Buckthorn Berry Powder, made by drying and grinding whole sea buckthorn berries, allows skin to benefit from both the fruit and seed oil — providing skin with a full suite of omega fatty acids in addition to sky-high levels of antioxidants and carotenoids. Sea buckthorn is particularly known for its calming, nourishing effect on sensitive, rosacea-prone, and eczema-prone skin, and the fruit oil is particularly rich in Omega 7 essential fatty acids, which can benefit acne prone skin.
- Rosehip Powder is rich in vitamin C, bioflavonoids, and carotenoids to brighten and calm skin
- Moroccan lava (Rhassoul) clay draws out impurities without disrupting skin's protective barrier
- Allantoin provides soothing and hydrating benefits
---
All Ingredients
Rose hip powder (Rosa canina berry powder), Moroccan lava clay, Allantoin, Sea buckthorn berry powder (hippophae rhamnoides berry powder), Xanthan gum.
Natural and organic origin.
Rose hip powder (Rosa canina berry powder), Moroccan lava clay, Allantoin, Sea buckthorn berry po...
See All