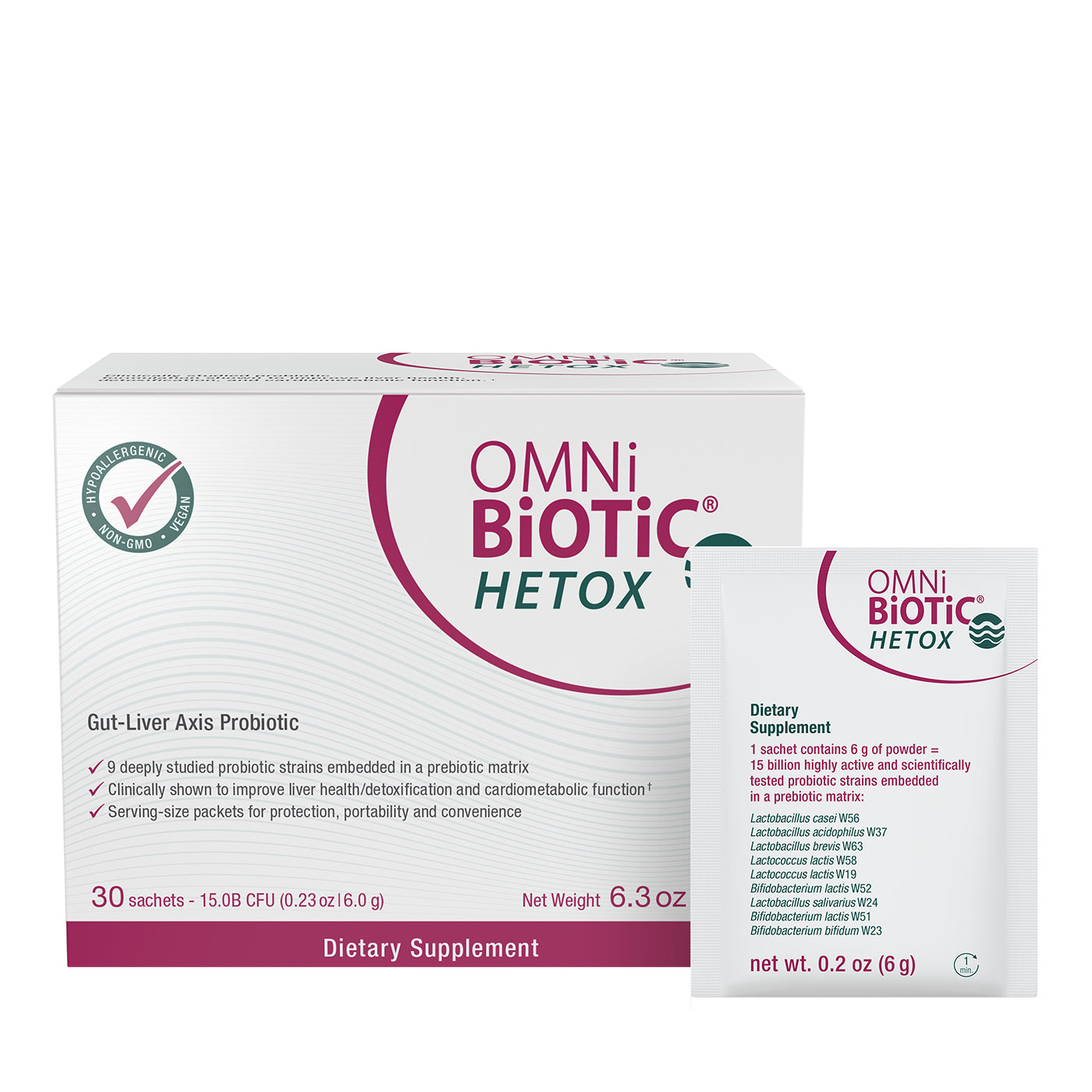 Description
Clinically-tested probiotic supplement for gut-liver axis and detoxification support / 30 daily sachets
Omni-Biotic Hetox is a powerful probiotic supplement specifically developed to support the gut-liver axis and encourage healthy detoxification and metabolism. We love it for anyone who'd describe themselves as "burning the candle at both ends," with a lifestyle that includes travel, lack of sleep, and a diet that might be higher than they'd like in processed foods, fatty foods, and alcohol; it has proven positive effects for those struggling with blood sugar control or other symptoms related to metabolism; and it can even help those who experience migraines and night waking.
Hetox is the most potent probiotic from Omni-Biotic, Europe's leading probiotic brand and one of the most trusted, reliable probiotic brands worldwide. This Austrian company takes science very seriously. Each probiotic strain they work with is deeply researched; they then combine the most promising ones in formulas that address specific concerns, completing human clinical trials on these formulas with results that are awe-inspiring. 
Hetox has several clinical studies to support its efficacy:
- Two different studies demonstrated its positive impact on the metabolic health of Type 2 diabetics. After 6 months of taking Hetox, participants saw a significant decrease in endotoxins and significant improvement in markers for metabolic syndrome: a 48% decrease in triglyceride levels, a 53% decrease in C-reactive protein (a major marker for inflammation), and a 64.2% decrease in HOMA, which is a marker for insulin sensitivity.
- Another key study that won an award in Europe looked at patients with liver cirrhosis. The group taking Hetox experienced significant improvement in macrophage (immune cell) activity, a significantly reduced rate of secondary infections, and improved infection defense.
- Two very compelling studies on Hetox with migraine showed that those taking the supplement experienced a 33% reduction in migraine days after 8 weeks, a 58% reduction in migraine intensity, and a 70-80% reduction in accompanying symptoms.
Additionally, healthcare practitioners working directly with Omni-Biotic have noted that their patients who typically experience night wakings report sleeping much better and not waking up during that time after taking Hetox; it's been a godsend for menopausal women who have trouble sleeping. To learn more about the wide-ranging benefits of Hetox, check out Dara's interview with Omni-Biotic USA's COO, Hannah Kleinfeld, on our blog.
This probiotic is shelf-stable and doesn't require refrigeration. Omni-Biotic packages its probiotics in powder form that you take by mixing with room-temperature water or another non-acidic liquid (milk, non-dairy milk, apple juice). This form has been shown in multiple clinical trials to significantly outperform capsules in the delivery of live, active probiotics: Omni-Biotic probiotics have shown to deliver 83% of active, healthy bacteria to the intestines compared to an average of only 7% in other top US probiotic brands.
For those of you who are really into probiotics: Omni-Biotic uses human keystone strains (isolated from the human GI tract) rather than spore-based strains. While spore-based strains tend to be more stable and easier to deliver in a capsule form, Omni-Biotic chooses to work with human keystone strains for their improved viability and greater chance of colonization for longer-lasting benefits. 
Dara could not be happier to have stumbled upon this gem in a pharmacy in Vienna — and to have found the company that brought Omni-Biotic to the US. Read more about them in our Brand Spotlight.
How to Use
Stir one sachet of Omni-Biotic Hetox in approximately 4 ounces of room temperature water or other non-acidic liquid (dairy or non-dairy milk or yogurt, or apple juice). Wait 1 minute for probiotic activation. Stir again and enjoy! Tip: in water, it doesn't taste bad, but it's quite bland. If you're sensitive to such things, you may want to try it in either dairy or non-dairy milk.
Take one sachet daily or as directed by your healthcare practitioner. Omni-Biotic Hetox is best consumed on an empty stomach, for example right after waking up in the morning or before going to bed in the evening.
Can be taken either as a 1-month course or on an ongoing daily basis.
Ingredients
Omni-Biotic Stress Release contains eight specially selected, scientifically tested, well-characterized bacterial strains in a freeze-dried powder.
---
All Ingredients
Omni-Biotic Hetox contains eight specially selected, scientifically tested, well-characterized bacterial strains:
Lactobacillus casei W56
Bifidobacterium lactis W52
Lactobacillus acidophilus W37
Lactobacillus salivarius W24
Lactobacillus brevis W63
Bifidobacterium lactis W51
Lactococcus lactis W58
Bifidobacterium bifidum W23
Lactococcus lactis W19

Other ingredients: Non-GMO corn starch, maltodextrin, plant protein (peas), potassium chloride, magnesium sulphate, enzymes (amylases), manganese sulphate

CFU: 15 Billion
Shelf-life stability guaranteed up to the expiration date at room temperature.
Omni-Biotic Hetox contains eight specially selected, scientifically tested, well-characterized ba...
See All